I could give you a lot of answers to the question "What do you want to be when you grow up?". An author. A shop owner. A designer. A stylist. A party planner. The list goes on. This is part of the reason why I went all out planning my 30th birthday bash back in June. Putting on my party planner/stylist hat and going hog wild with streamers and garland was immensely satisfying to all the creative parts of my brain.
So you can imagine the glee that spread from head to toe and the grin from ear-to-ear when local party supply boutique Celebrate by Kate asked me if I'd like to style a special section of their shop for September.
Umm, yes. YES.
YESSSSSSSS!!!
First off, the boutique itself is a ridiculous combination of chic and adorable, with shelf upon shelf of coordinated plates, napkins, treat bags and paper straws in all kinds of fab patterns and styles. After 5 seconds of being in the shop, I wanted to throw a party. Or, more like 800 parties. In every color combination imaginable.
I had the opportunity to style this buffet, and naturally, I chose my "signature" color palette: purple, yellow and gray. Guys, it was hard, hard to decide which products to feature! There are SO MANY good ones! The variety in the paper straws alone made me giddy. I nearly strayed from my original color plan when I spotted a shelf full of mint straws.
But how cute did the purple-yellow-gray combo turn out!? Kind of a nod to Fall, but also cheerful and colorful for any time of the year. At least, that's what I think!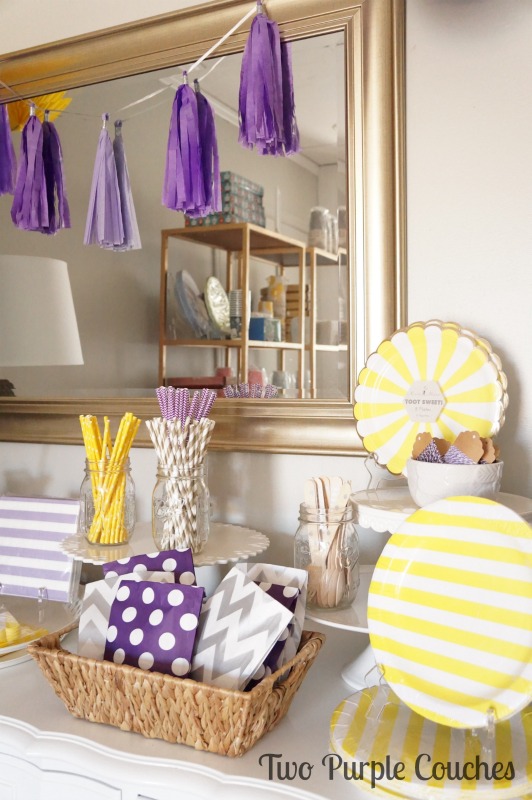 Also, if you are local to the Cincinnati, Ohio area, check this out: the ladies of Celebrate by Kate asked me if I'd like to help them host a Girl's Night Out later this month! Umm, Yes again!!
I'll have more details to share with you in the coming week or so, but let me go ahead and cordially invite you to a special night out at Celebrate by Kate, co-hosted by Yours Truly! I would be so, so excited if you'd come join us and see all of the loveliness for yourself!
While you wait with bated breath for more event details (you are waiting with bated breath, aren't you? oh please say yes!) you can see more party pretties from Celebrate by Kate on Facebook, Instagram, Twitter and Pinterest.
Happy party planning!
Sharing with: Share It Sunday / Creative Spark / Work It Wednesday