This past weekend was sort of a big one: the chill of Fall was in the air, the NFL regular season kicked off (#whodey!), and Tom & I began our next big project: our Master Bedroom Makeover!
We haven't done much of anything with our bedroom since moving in. Really, all we've done is arrange our furniture and hang our clothes in the closet. But we knew we'd get to it eventually, and one of the big new "pieces" of the room would be the quilt my mom and I began working on together last summer.
Now that the quilt is finished, and already adorning our bed, we're diving into a few other projects we've planned for our space: starting the selection process for new paint and framing out the windows.
Tom & I love how our family and dining room windows turned out, but we're changing up the design a bit. Tom's got some fancy ideas up his sleeve!
I'll be sharing a full step-by-step tutorial once we've completed the windows, but here's a peek at our progress so far: new sills (seen above), side trim and a plain board on top that we'll be adding some decorative moulding to!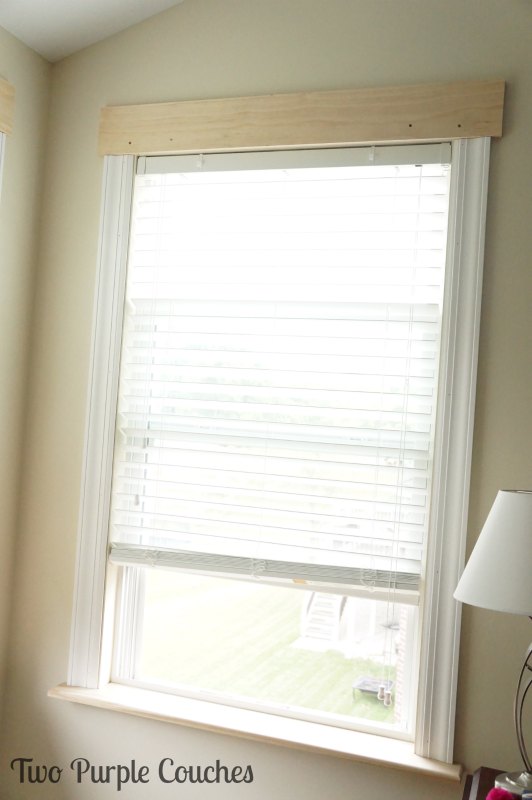 It looks a little funky now, but I can already tell that the results are going to be stunning!
I feel like our home improvement projects are sort of like If You Give a Mouse a Cookie—one project inevitably leads to another, and another and another! A new quilt led to picking out paint which led to trimming out the windows! Do your projects end up going the same way??
There's a bunch of good stuff on deck for Two Purple Couches in September! Just to give you a taste… I've been working on decorating our dining room, rounding up some fab Fall mantels, and I'm working on a super cool collaboration with a local party supply boutique! I think it's going to be an awesome month!
Also, congrats to Abi L. on winning the bracelet giveaway from Some Days Ago! I hope you love your new piece of jewelry!