Thank you to Champion for sponsoring this post. All content and opinions expressed here are my own. Click here to read my full disclosure policy.
Did you catch my announcement a few weeks ago that we're partnering with Champion to upgrade our front door? (If you missed that post, you can find it here). Today I want to take you along on the selections process and share a few tips on what to consider when selecting a new front door.
When Champion first approached me about collaborating on an entry door makeover for our home, I was excited and curious about the kinds of options we'd have to choose from. I don't quite remember what our builder offered, but I don't think the selection was great.
Now, I am the kind of person who enjoys looking over lots of options and imagining what they'd each look like in our space. I loved the process of picking out the finishes for our home (read more about that here). I know this process can be stressful for some, but I enjoy it. So I was more than happy to sit down and pore over the Champion brochure.
What I was surprised to discover as I was flipping the pages was that choosing a new front entry door isn't as straightforward as I thought it might be. I figured it's a door, how complex can it be?  While this was by no means a complicated process, I was surprised and delighted to find lots of options to choose from. Champion offers an excellent range of styles, colors and finishes to help you fully customize your entry door.
This was just the beginning…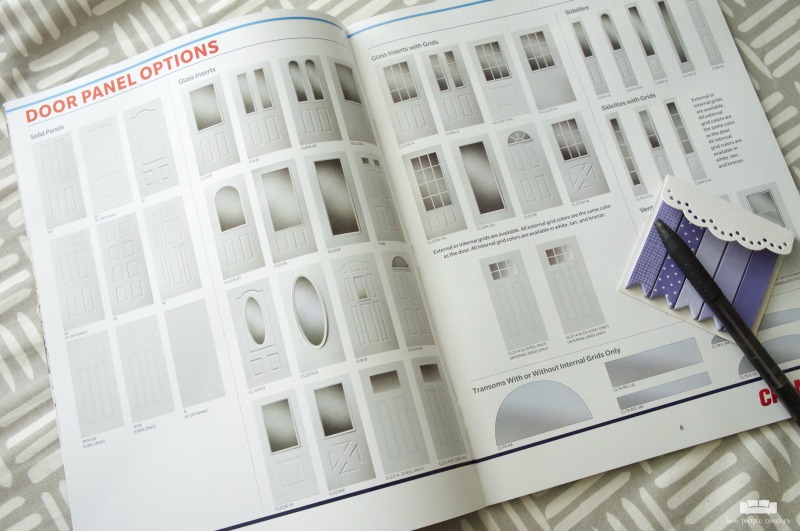 And as I walked through the process with the Champion team, I learned there is so much more to a door! Here are a few tips I've learned that might be helpful to you if you're in the market for a new door as well…
Things to consider when selecting a new front door:
Material
First, let's talk materials: steel, fiberglass or wood. The climate you live in and the level of wear-and-tear your door experiences will help determine which material is best for your house. Consider durability, security, and exposure to the elements (very hot and very cold temperatures) when choosing your material.
House Style
Next, consider the style of your home. For instance, do you have a Craftsman-style or Victorian-style home? Maybe your home's exterior is more modern. The style of your door should complement the style of your house.
I always have a hard time defining our house's style, but I would stay it leans very traditional, with our porch and peaks. While I absolutely loved a couple of Champion's Craftstman style designs, I knew they probably wouldn't work as well for us since our home doesn't have any defining Craftsman features.
Glass Designs
Now let's talk about the fun stuff—decorative glass inserts! Champion offers a beautiful range of decorative glasslites, and I was excited to learn that every single door is hand-crafted and hand-assembled, right here in the USA!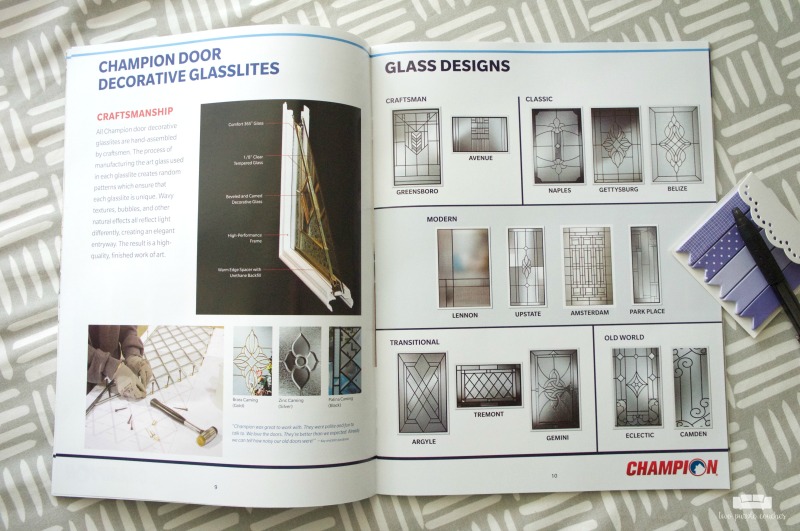 Each glasslite style has its own page in the brochure, so you can see the size options available (such as a half-glass or full-glass door) as well as corresponding sidelites and transoms. Each design also receives a privacy rating, depending on the different textures in the art glass.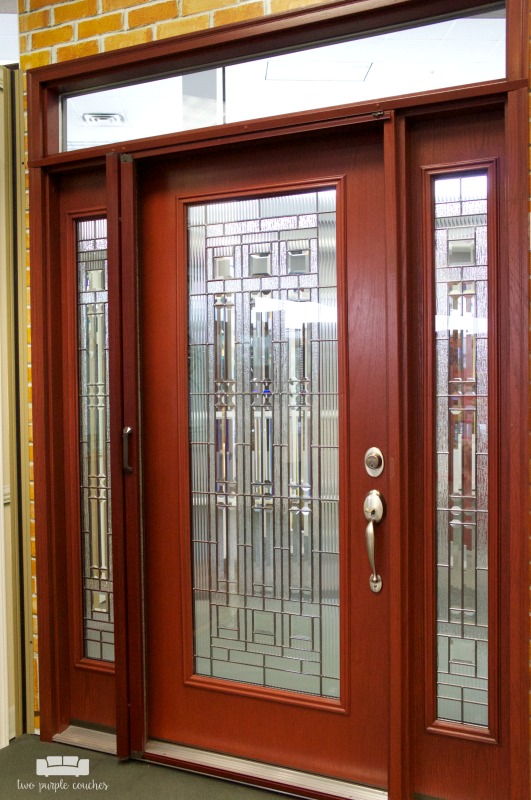 This is where heading to our local showroom was very helpful. We flagged a few designs in the brochure that we really liked, and then went to see them in-person. This also gave us a good opportunity to view Champion's paint and woodgrain options in-person, instead of relying on a small paint swatch.
Once we had our door material and decorative glass selected, there were still a few details to decide on:
Caming
The caming is the metal banding that holds the panels of glass together, and is available in a range of colors from brass to a dark patina black. Take into consideration the door hardware and any exterior and interior light fixtures that are near your front door before choosing the caming color.
Transom and Sidelites
You'll also want to consider size and type of sidelites and/or a transom window. Our door frame has room for two sidelights – one on each side of the door. Each of the decorative glasslite designs had complementary sidelight designs in half, three-quarter and full-length options.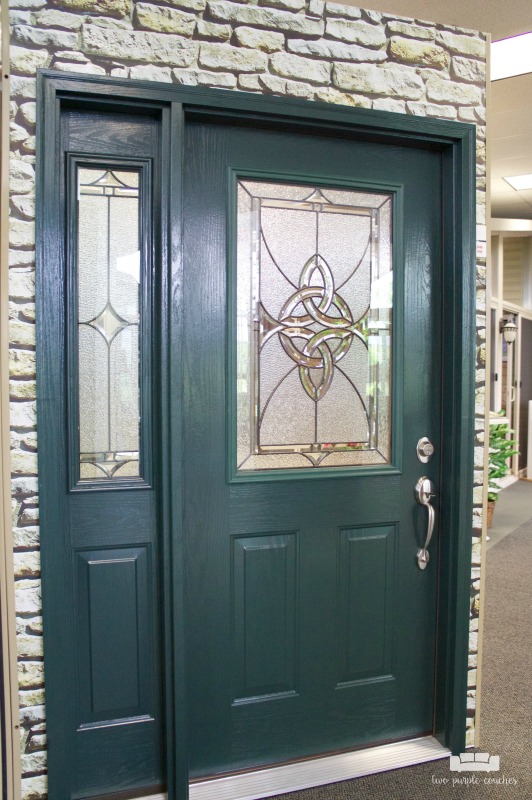 Door Color
The door color was harder to choose that I thought it would be! While there were plenty of great neutral paint colors and wood tone options to choose from, I knew I really wanted a pop of color on our door. Seeing so many first-hand examples on a real door and not to a tiny swatch was super helpful.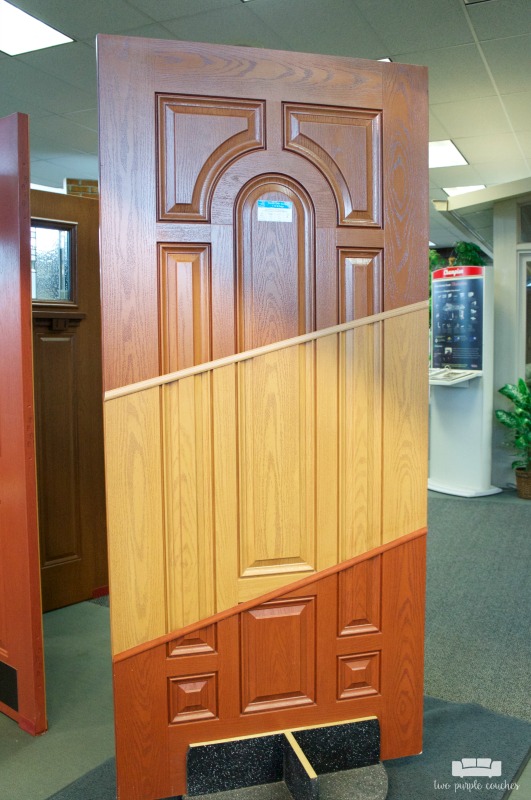 Door Hardware
Last, but not least, we had to choose the door hardware! Champion offers several styles and finishes to choose from, as well as an electronic deadbolt option for the tech-savvy.
While there were more decisions to be made than I was initially anticipating, I really enjoyed the process of picking out our new entry door. There are so many possible combinations of glass styles, door colors and hardware options that I think it's safe to say our door will truly be one-of-a-kind!
If you'd like to see Champion's full selection of entry door options, you can download a PDF of their brochure right here. If you flip through it, I'd love for you to come back and leave me a comment guessing which glass style and door color we chose! Or tell me which one you'd love to select for your home! Designs start on page 10 😉
Love this? Don't forget to pin it!