I know I'm not the first person to come up with these cute Christmas Mason Jar gifts, but I thought you'd enjoy seeing them anyway! The best part is that they can be put together in a matter of minutes with materials you probably have on hand, like buttons, felt and paper!
I had a bit of a struggle finding the kinds of Mason jars I wanted, and then I needed to decide on candy.  I went with Hershey Kisses, because I could get big bags and sort through them to find the colors I wanted.
And yes, if you're curious, I did hand-place each Kiss inside the jars so that the little papers at the top wouldn't show. So, if you do that, it might take a few extra minutes to put these jars together 😉 This post contains some affiliate links for your convenience. Click here to read my full disclosure policy. 
How to make Santa and Elf Christmas Mason Jar Gifts:
Materials Needed:
Tutorial:
Step 1.) Arrange the candy in the mason jars until full. Cut the strips of felt you'll need: one thin strip of black felt (about 1″ to 1.5″ wide) that is long enough to wrap around the jar, and a thick strip of red felt (about 2.5″ to 3″ wide). Then cut out a few triangles along the bottom edge of the red felt.
Step 2.) For Santa's belt buckle, cut a rectangle out of metallic cardstock. Gently fold it in half, without creasing, and cut a slit. Then cut a small square from the center.
Step 3.) For the Santa jar: using a hot glue gun, attach the black felt around the middle. Decide where you want the front to be and glue the paper buckle to the felt.
Step 4.) For the Elf jar: using a hot glue gun, attach the felt collar and a few buttons.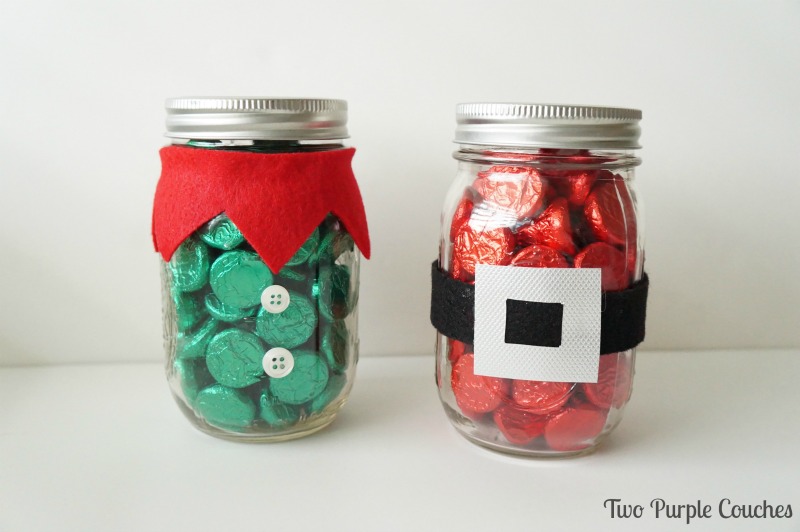 Now all you have to do is screw the lids on and your Santa and Elf jars are ready for gifting! You could also make up a simple cardstock or sticker label for the lid.
I gifted these Mason Jars for a White Elephant exchange, but they'd make great teacher gifts, co-worker gifts, neighbor gifts… the list goes on!