There's no time like the present, right?
I realize that today is December 23rd, and I am just now posting my Holiday House Tour. I'd hoped to have it ready earlier this month, but the cards just didn't fall that way. I'd still love to share my home with you, so hopefully you're not sick and tired of holiday house tours! If you are, bookmark it for next November and pretend I got a head start on things 😉
My sort-of theme for this year is a snowy wintery wonderland. Come on in!
I'll take your hat and coat. Grab a warm beverage and enjoy my 2014 holiday house tour!
Sleigh bells ring, are you list'nin?
In the lane, snow is glist'nin'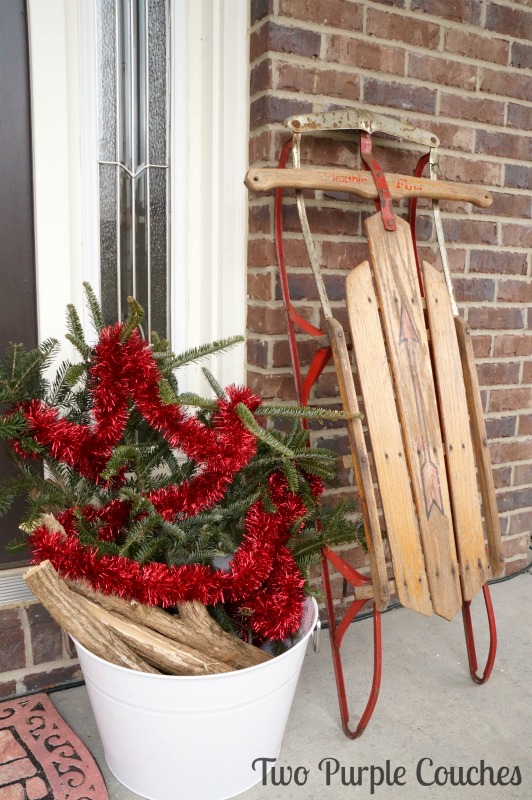 I nabbed this adorable sled at a vintage shop earlier this year for $10! I had visions of re-finishing it in some way. As you can see, I ran out of time. But the original, worn look is growing on me.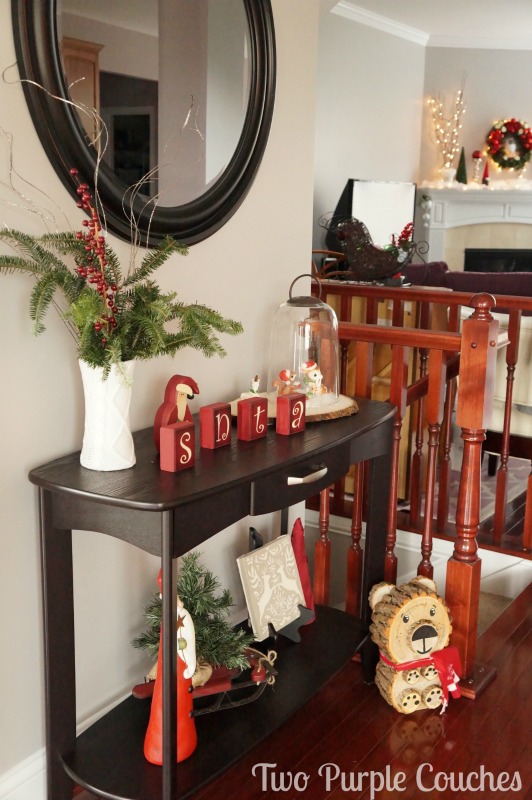 A beautiful sight, we're happy tonight
Walkin' in the winter wonderland
I moved the wood slice from my coffee table to my entryway table and used it as the base for my cloche. I found these little statues in the box of Christmas decorations that were mine as a kid. I love that little deer holding a stocking in his mouth! So sweet!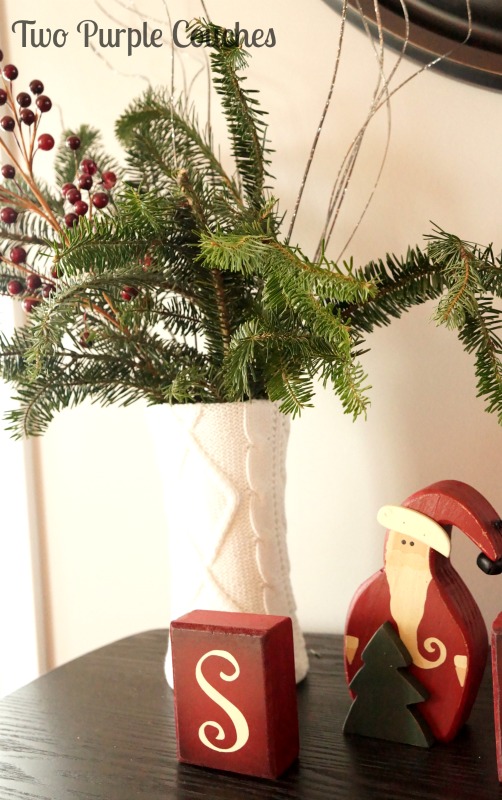 I've always wanted to decorate with greenery. I was originally envisioning swags of it adorning our mantel. But, as I mentioned when I shared my snowy mantel, my vision didn't quite come to life that way. But I'm loving this sweater-covered vase stuffed with greenery on our entryway table. It'll do until I can bring my swagged-mantel vision to life next Christmas 😉
This is our first Christmas with a dining room table! Even though we're not hosting a holiday dinner, I couldn't resist decorating the table with all manner of gold, silver and mercury glass, including my mini DIY ornament wreaths. I shared my "glam neutral" holiday tablescape over on my friend Karista's blog earlier this month. If you love flashy neutrals, then I think you'd love to see it. You can find the full post here.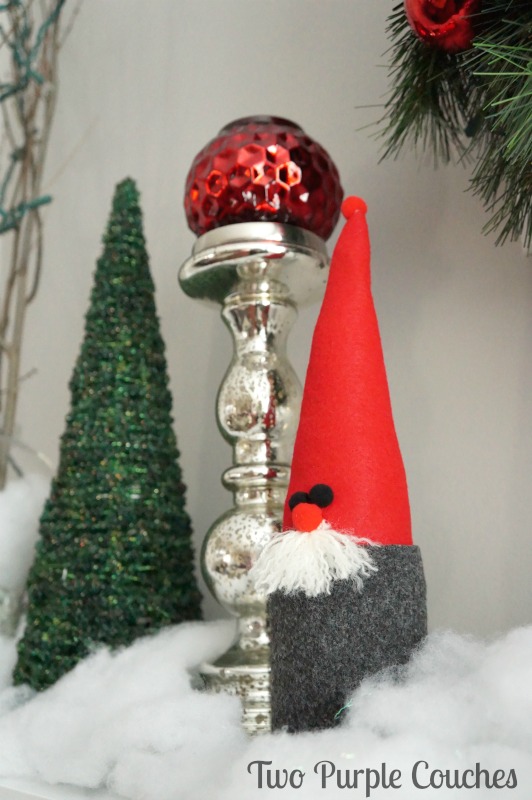 These DIY felt trolls fit in perfectly on my snowy mantel. I love their goofy eyes and bushy beards!
You know what makes great vase and bowl filler? Ornament caps! I removed all of the caps from my ornaments before making my ornament wreaths, and I stashed them away in bowl, pondering what I could do with them.
Thank goodness I saved them, because they're the perfect for filling in decorative plates, vases and even as table scatter, as you can see below on one of the bookshelves in our family room…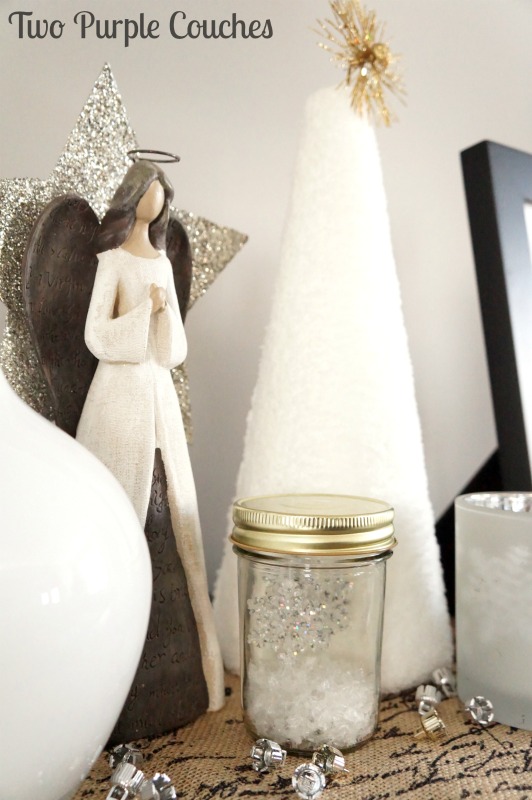 I'm also rather smitten with creating wintery scenes in jars this year. I shared a few with VRAI Magazine earlier this month, and talked about how they were inspired by my favorite holiday movie: White Christmas. What's your favorite Christmas movie? Has it ever inspired your holiday decorating style?
My SNOW throw pillow covers are the perfect touch on our purple couches!  The gray material is sweatshirt fabric, so they're suuuuuper cozy for all of the chilly nights we've been having lately! You can check out the full tutorial post here.
Our Christmas tree is a live Fraser Fir—our favorite type of tree for the holidays. And it's decorated with personal ornaments and memories. Both of our parents collected ornaments for us when we were kids. And now we've started our own collection, gathering ornaments while on vacations, or that symbolize our interests and hobbies. We've got quite a few ornaments; we may need a second tree soon!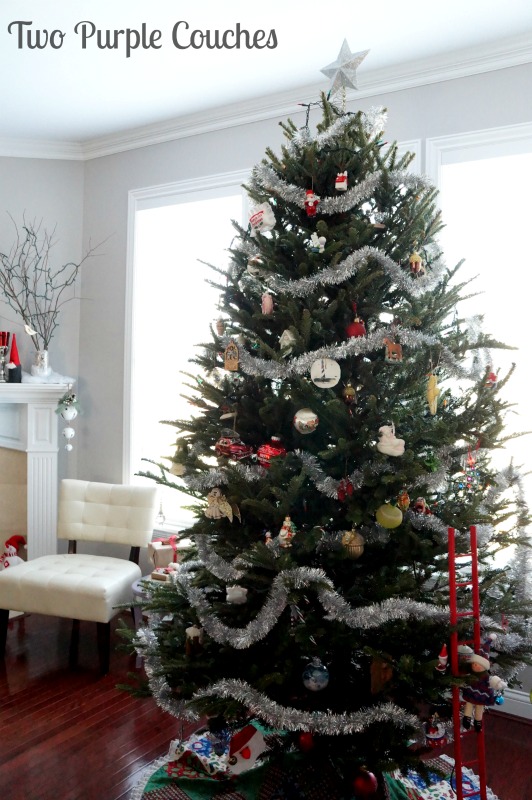 I hope you enjoyed my holiday house tour! I cannot believe that Christmas is just days away; I'm off to finish wrapping gifts and bake up some delicious desserts. Things will probably be quiet around here until after the holiday. But I do have a couple of fun things planned before New Year's 😉
Have a blessed holiday! I hope you get to enjoy it with dear family and friends!