Christmas is my absolute favorite holiday and favorite time of the year. I look forward to decking our halls the way that kids look forward to finding presents under the tree on Christmas morning. It makes me so happy to pull out our decorations each year and reimagine our spaces for the holiday. So of course I am thrilled to bring you this year's Christmas Home Tour with a rustic and cozy vibe perfect for snuggling up on chilly winter nights!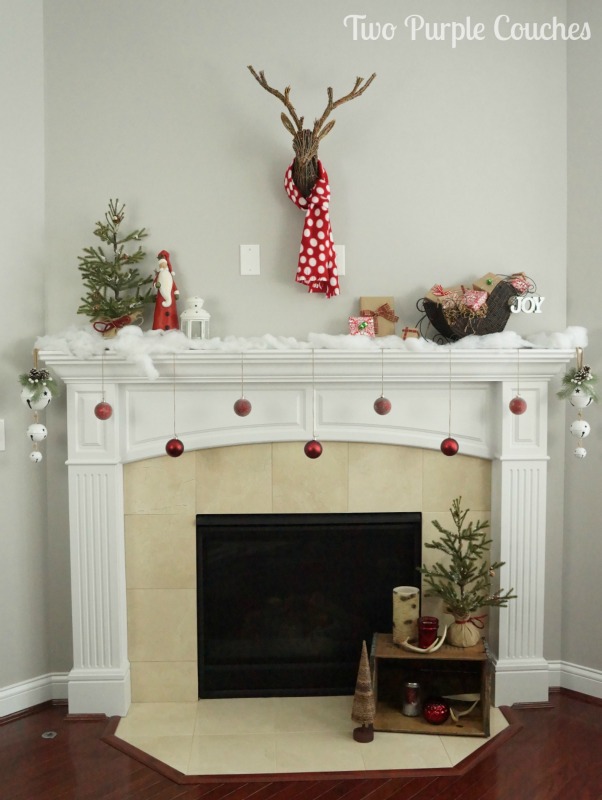 I've already shared our rustic Christmas mantel (if you missed it, you can find the full post here), but this was really the inspiration and starting point for this year's cozy and rustic theme. I just love this grapevine reindeer!
The rest of our family room got rustic-ified as well. The SNOW pillow covers that I made last year have been brought out again. I used sweatshirt material to make these extra soft and cozy. You can find the full sewing tutorial here (I promise they're simple to make!)
I used some shredded paper to create a "bird's nest" for some of my mom's old antique mercury glass ornaments. I love the patina on these ornaments!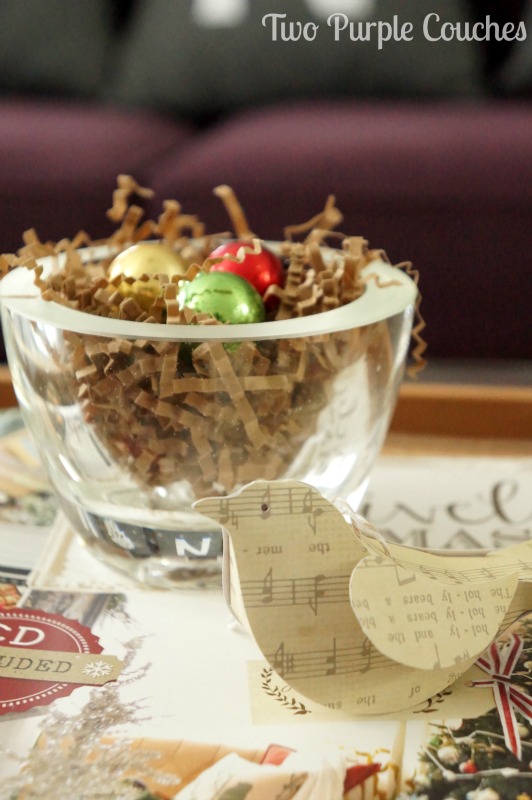 Most of the items and pieces around the house have been in my Christmas decor collection for years, but I did add some new things this year, like this sweet antique holiday postcard I found at the Country Living Fair.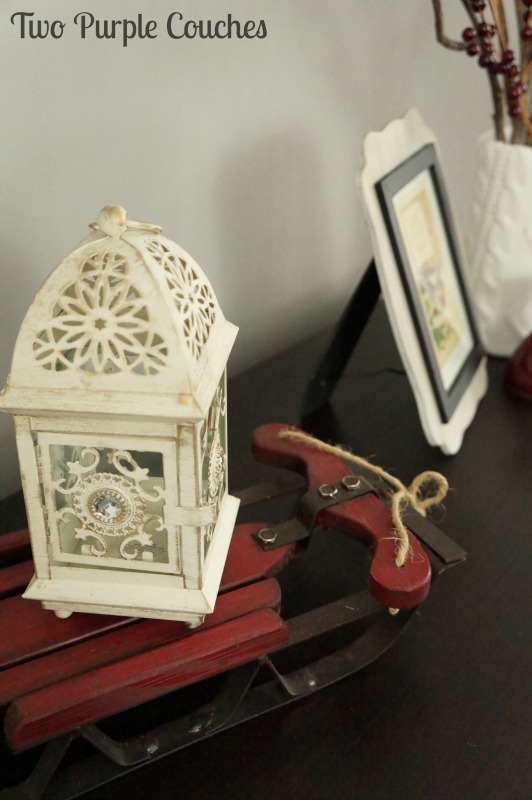 I decided that our stairs needed something festive this year. I was originally thinking garland, but these grapevine stars (found at Michaels) fit so perfectly with our other decor!
The piano is sporting my grandma's ceramic tree, a trio of sweet paper house luminaries (from Paper Acorn) and my new glittery reindeer hoop art (find the how-to here).
One of my favorite DIY projects from this year was our wall shelf with hooks, which also got a sweet little holiday makeover. It's the perfect place to stash our scarves and hats in between taking Molly outside!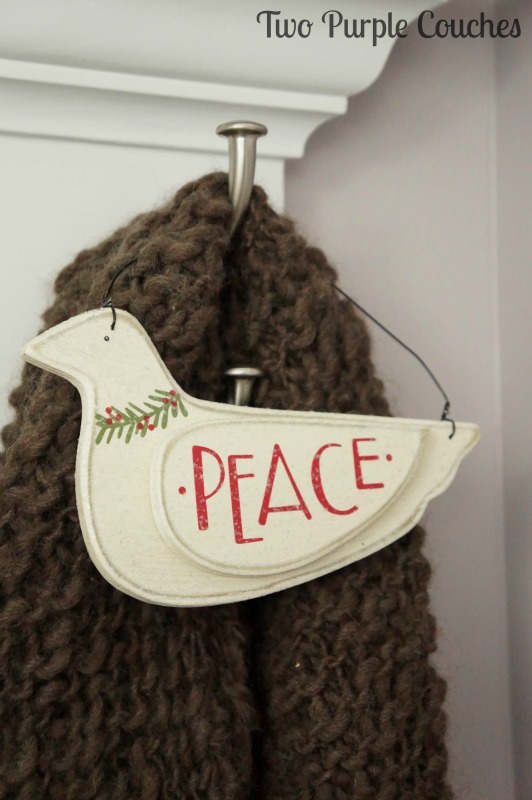 This is the first Christmas that I've really decorated our kitchen, and I love it! These swags (also from Michaels) are the perfect touch on our kitchen cabinets.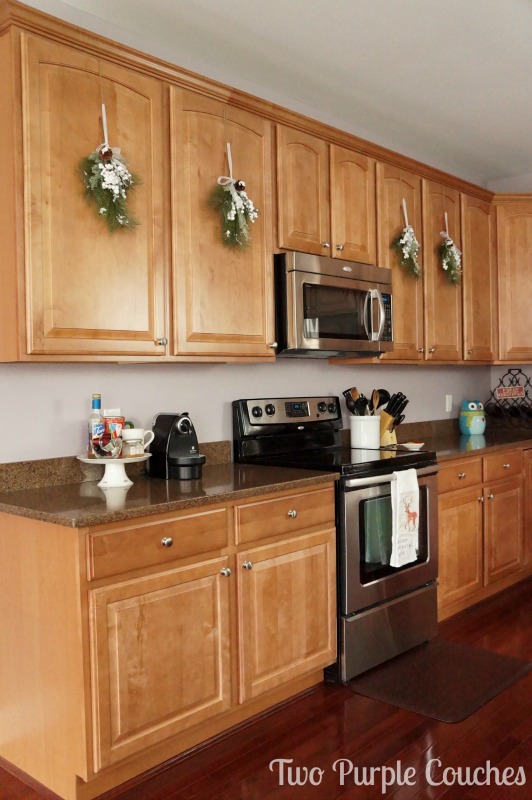 Then, I figured why not display some of my Christmas cookie cutters. I've got a few pretty cut-glass bowls that belonged to Tom's grandma. Filled with some shredded paper and jingle bells, it's a neat way to dress up my kitchen countertop. Plus, I'm going to need these cookie cutters when I make my mom's roll-out cookie recipe soon!
I dressed up our kitchen table, too. I found this galvanized tray at (where else?) Michaels and filled it with some flea market spools, candles, snow and tinsel.
Last year, I made up a similar cloche for our entryway table, and I loved it so that I wanted to do it again. But instead of the entryway, I placed it on our kitchen island: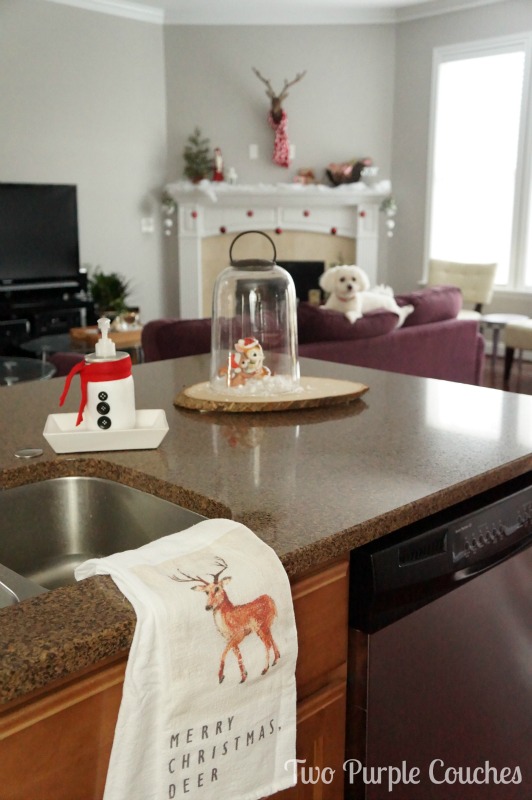 I made the snowman soap dispenser out of a Mason jar for last month's Holiday Craft Party (see the how-to here). It's a small touch, but so festive for our kitchen sink area!
So, there you have it! My cozy and rustic Christmas Home Tour for 2015! Do you have a special theme for your holiday decorating? I'd love to hear what it is!
Love rustic holiday decor? Then you may also like:
Christmas Trees Pallet Wood Sign // Hot Cocoa Sign
Don't miss my holiday home tours from seasons' past!