Happy December, friends! I hope you had a wonderful Thanksgiving holiday weekend and were able to spend it with friends and family. I am so excited to begin sharing our Christmas decor with you, starting with our rustic Christmas mantel!
The idea for this year's holiday mantel decor all started back in September when I came across the cutest grapevine reindeer heads at the Country Living Fair. From the moment I claimed one of these stags for myself, I began scheming about my Christmas mantel. You have no idea how excited I am that December is finally here, and I'm able to revel in all of this Christmas decor glory!
Rustic hasn't typically been my go-to style of decorating, but I'm noticing it creeping in more and more. And it seems to be a style I fully embrace around the holidays. I think because rustic decor gives off such a cozy, lived-in vibe; it feels warm and welcoming, and that's exactly how I want my home to feel at the holidays.
Now let's take a look at the details of our rustic Christmas mantel!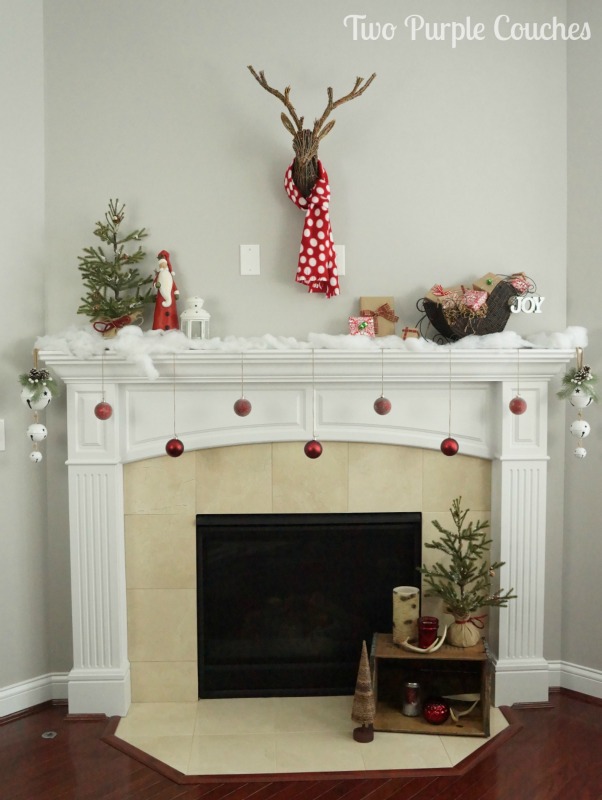 I decided to add a scarf around the reindeer's neck, and it couldn't have been an easier project. I purchased 1/4 yard of fleece fabric, tied it around the deer's neck, and then trimmed and fringed the edges.
For the mantel top, I decided to go with a simpler arrangement—a sleigh full of gifts, a rustic Santa and tree, and a small white lantern. I
think in year's past, I've always felt the need to add, add, add when it comes to decorating our mantel. But this year, I went with a "less is more" approach.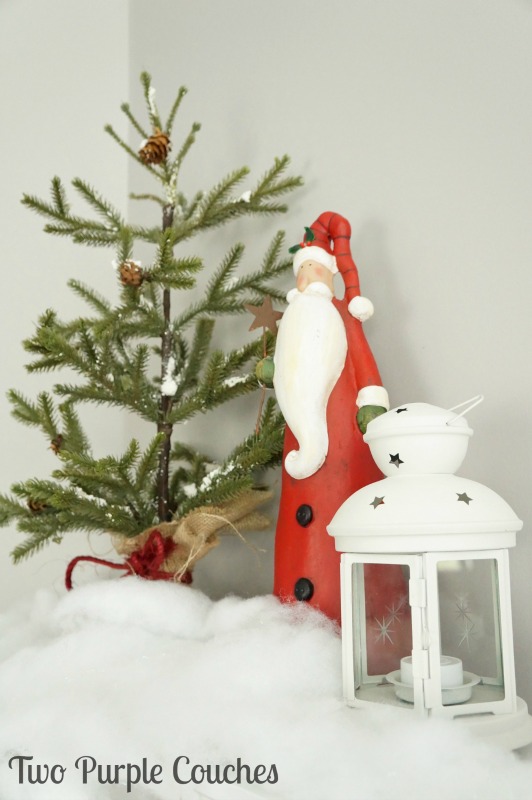 Santa's sleigh is packed and ready for Christmas Eve deliveries!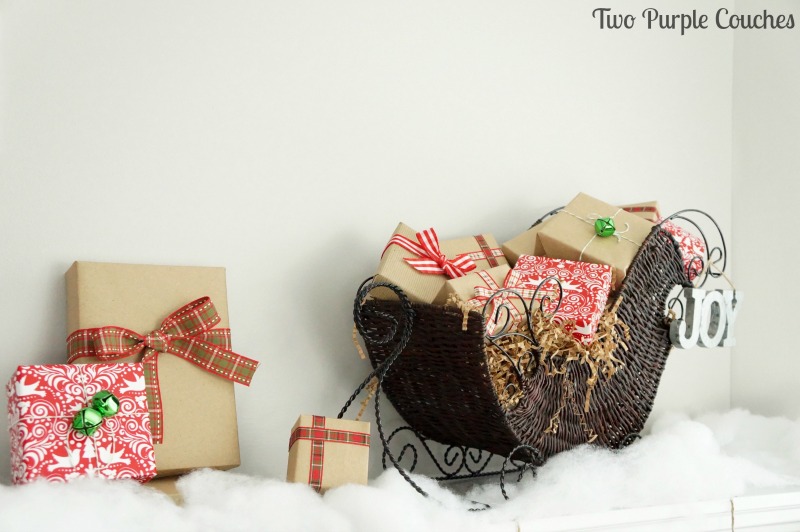 I've had these red ornaments for years, and they always come in handy as filler for a bowl or vase. This year, they bring a bright pop of color to the front of our mantel.
Moving down to our "hearth", my beloved flea market beer crate is the perfect prop for creating a rustic display of antlers, trees and red mercury glass.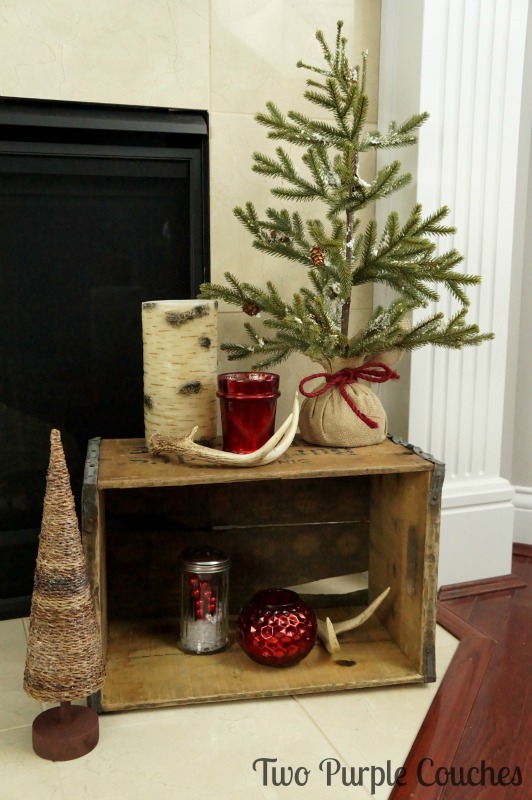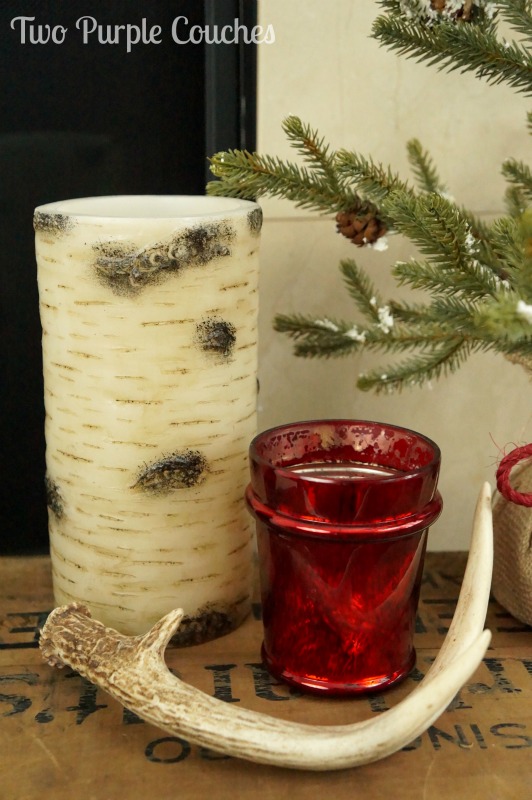 This might be my favorite part of the whole display!
I love how our mantel came together, and this is just the beginning of our rustic Christmas decor! There's more to come in our full Christmas home tour (wink).
Do you have a theme for your Christmas decor this year?
Love this Christmas mantel? You may also like: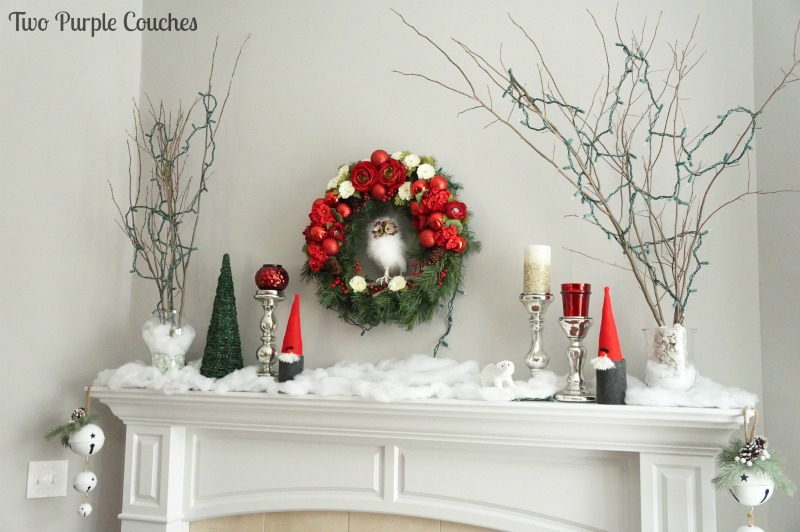 2014 Snowy Wonderland Christmas Mantel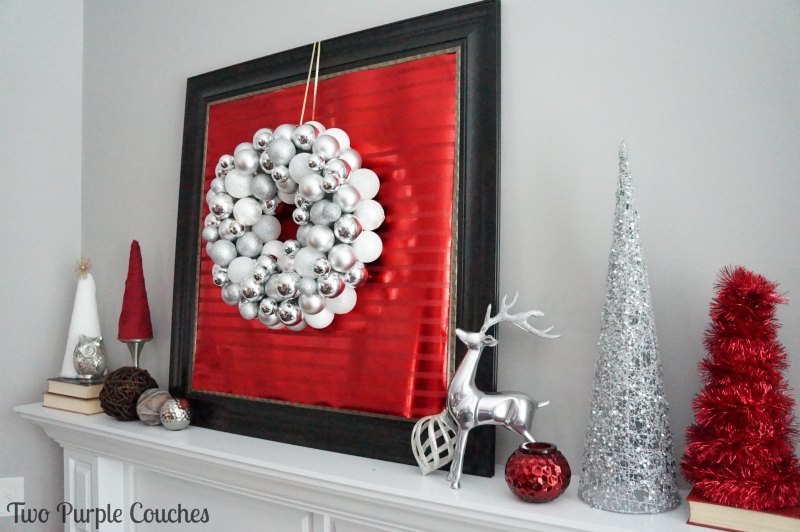 2013 Red and Silver Christmas Mantel