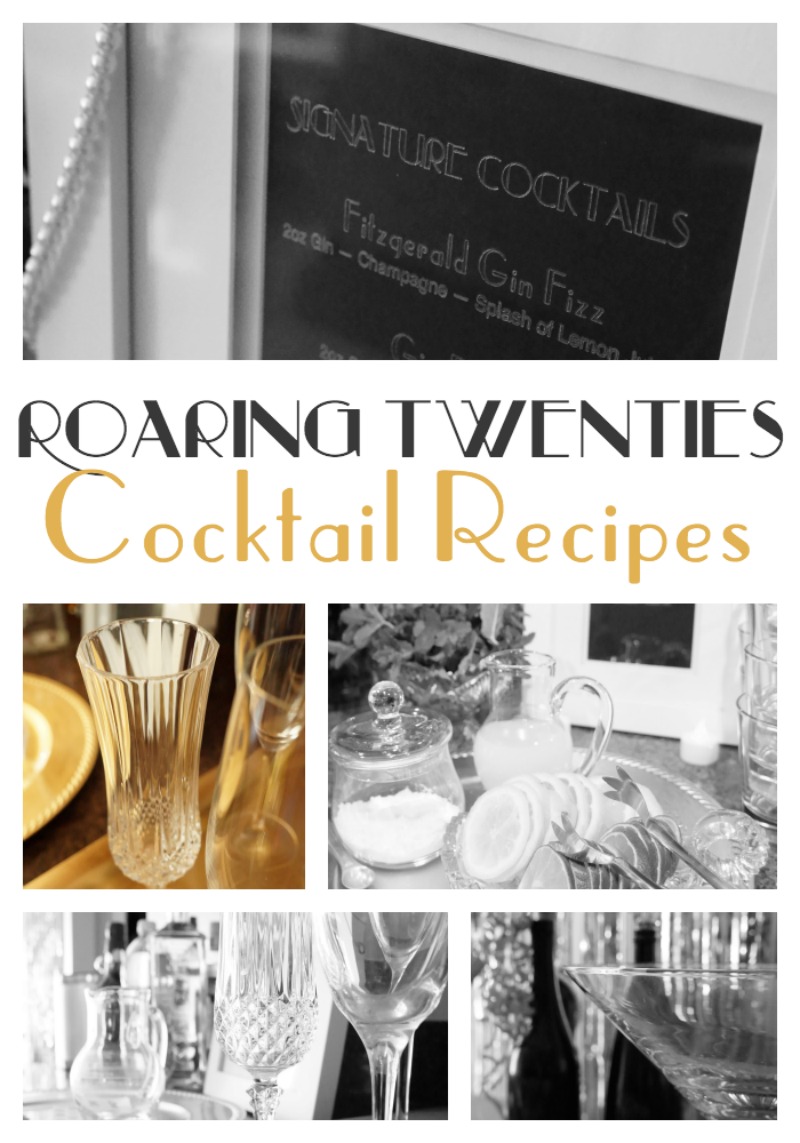 A Roaring Twenties party certainly isn't complete with signature cocktails! So I did a bit of research for authentic Roaring Twenties cocktail recipes to serve to my guests. Gin and champagne were the alcohols of choice—and good ones if you ask me—so clearly these two needed to make an appearance.
And as my luck would have it, I found this cocktail recipe that included both gin and champagne! Plus a twist of lemon juice. You know, to even things out a bit.
I also decided on two other Twenties classics: Mint Juleps and Gin Rickeys (similar to today's gin and tonic).
Once I had my cocktails set, I needed to create a cocktail recipes card so my guests would know how to create their libation of choice. (Yea, I know you're disappointed that I didn't hire a bartender for the event. You gotta draw the line somewhere!)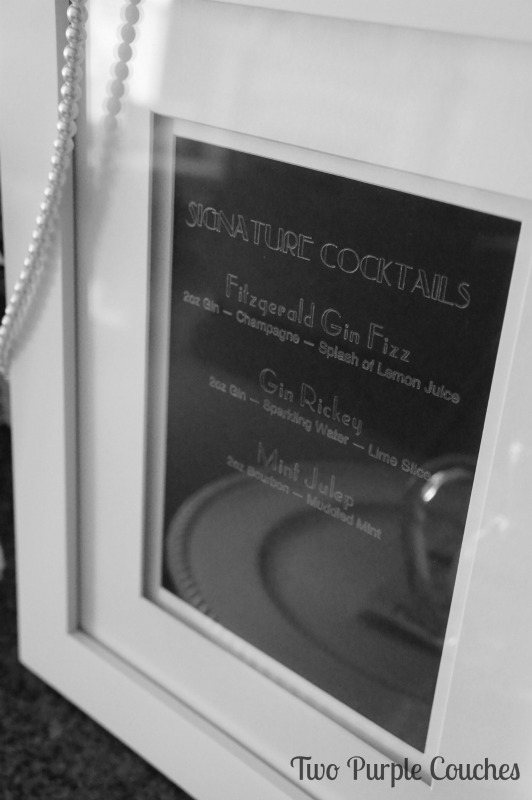 And my Silhouette Cameo was the perfect solution.
Guys, I was on a roll with this thing! I've been so intimidated by the Silhouette Studio design software, but I buckled down and figured it out, and I am sooooo glad I did. I learned how to download and install free fonts (!!!) and then used them to create this cocktail recipe card, as well as two themed typography prints to use as part of the party decor. Are you proud of me? Because I'm proud of me!!

I had so much fun searching for Art Deco-style fonts. I downloaded five or six and had to stop there because I would've spent my entire day looking for them.
The cocktail recipes card was pretty simple. I selected a font for the cocktail name, then a different font for the measurements. The trickiest part was trying to make sure things were properly aligned so it would all look right once it was printed and framed.
I decided to go with black card stock and a golden brown color Sketch Pen from my Sketch Pen Starter Kit*. In retrospect, the gold wasn't all that easy to read on the black paper; a simple white-paper-and-black-pen combo probably would've looked better, but oh well! It worked well enough.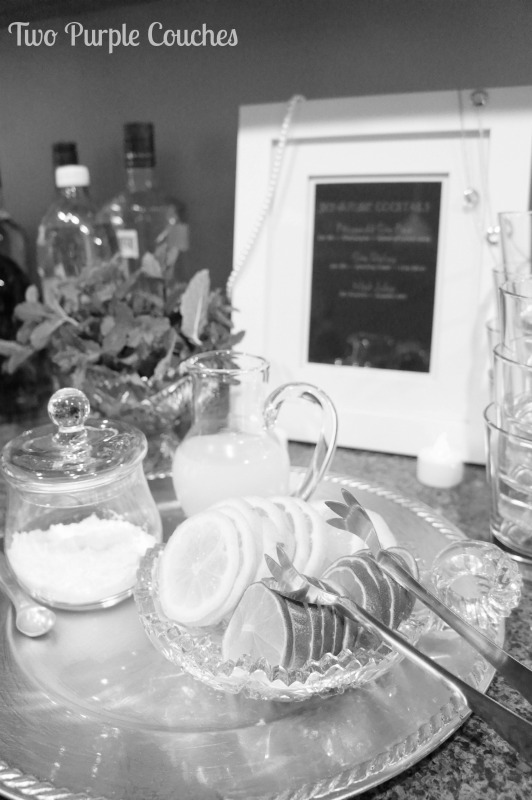 Once I got my cocktail station set up, I decided my frame needed some accessories. I grabbed some necklaces out of my jewelry stash, and I think these totally took the cocktail station to the next level!
PARTY-THEMED ART PRINTS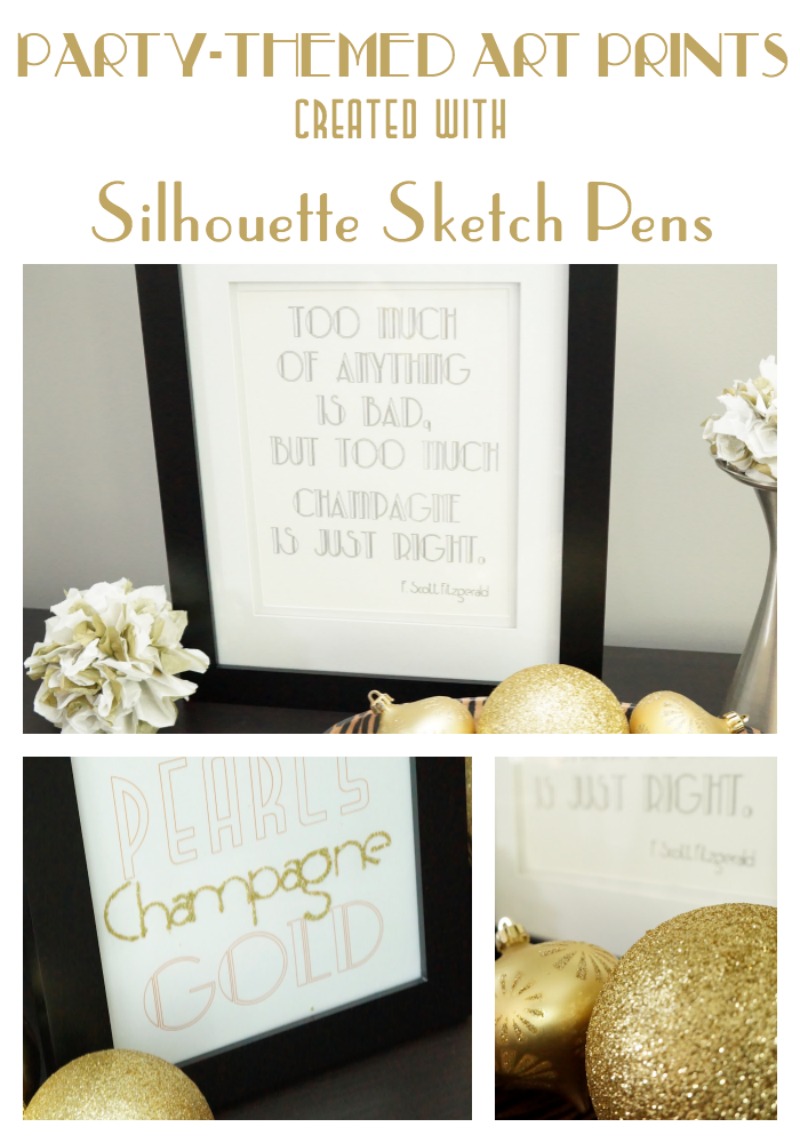 I was having so much fun in Silhouette Studio that I couldn't stop with just the cocktail recipes card! So iI came up with two party-themed prints to help set the mood.
I found this quote from F. Scott Fitzgerald that was just too perfect not to use, especially considering the gin and champagne cocktail I was serving!
And same as with the card, I laid out my text, printed with my Silhouette Sketch Pens, and popped it into a frame.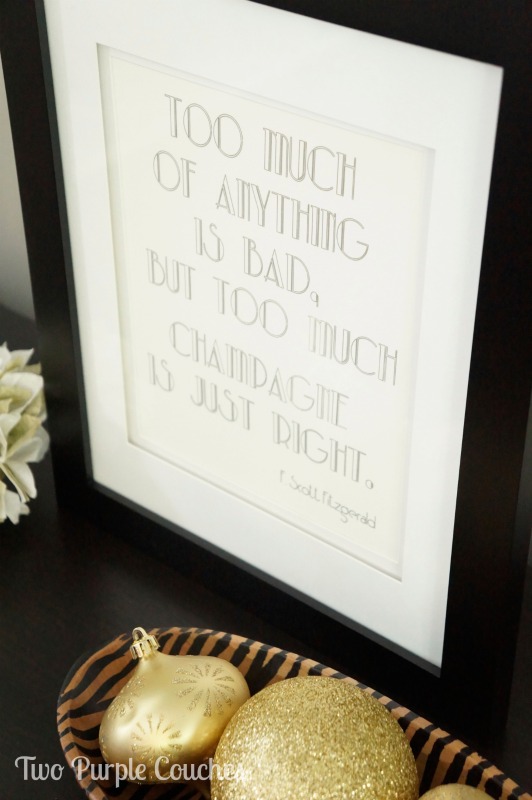 The second art print was one I dreamed up: just some simple word art featuring "key themes" of the Jazz Age:
I used four different fonts, playing around with it for a while to get this final look. I also decided to use some gold glitter to accent one of the words, similar to what I did on the peony prints I made a little while back.
Aren't they the bees knees? I think they're pretty swell. So swell that I think I'm going to leave them out for a while, especially that champagne quote!
You can find my Pinterest board full of more Roaring Twenties party ideas right here.
Sharing with:
*Some links contained in this post are Amazon affiliate links, meaning if you click through to Amazon and make a purchase, I receive a small commission (at no extra cost). Thank you for helping to support Two Purple Couches!