Today is another Silhouette Challenge day! Which means at the end of this post, there's plenty more inspiration and ideas. And this month's theme? Our favorite things. And while I'm totally humming the tune in my head from one of my favorite musicals, one of my favorite authors, and one of her novels in particular, is the inspiration behind today's Silhouette project: subway style art that I created using Silhouette Sketch Pens.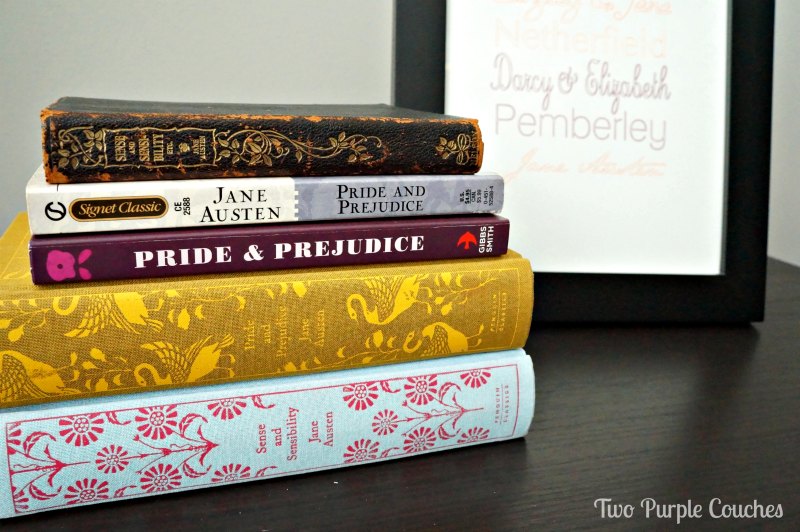 I have always loved classic literature. I read Gone with the Wind during our cross-country vacation at the age of 12. I read Dickens in junior high. When I finally discovered Jane Austen in high school, I fell head-over-heels for Darcy and Elizabeth. I'm proud to own multiple copies of Pride & Prejudice, and I've read each at least once. One of my most prized possessions is a leather-bound 1907 edition collection of Sense & Sensibility, Emma and Persuasion. Sadly, I don't own the corresponding volume containing Pride & Prejudice, Mansfield Park and Northanger Abbey.
I don't know what it is about this now-classic tale, but every time I read it, I am mesmerized, and I find that I get something new out of the text. A different perspective on a character, on their motivations, or on their relationships. Oh, and there's Darcy. So, umm, yeah……..
Whaaa!! Where was I? Oh yes! Enough of me drooling over Darcy, let's get on to the Silhouette project!
Earlier this year, I bought this beautiful hand-drawn print of Jane Austen mounted on handmade paper. So I thought I'd made a corresponding subway style art print of my favorite novel of hers, containing my favorite characters and their estates.
As I did with the prints I designed for my recent birthday party, I searched for and downloaded some fonts (free for personal use) that embodied the feel of the time period. The font I used to write out "Jane Austen" is actually called Jane Austen!
Then I set my workspace to 8.5″ x 11″ and started playing around with the layout.
Once I was happy with my fonts and word placement, I popped a Sketch Pen into my machine and watched her go. I got a little crazy this time around and sketched in two different colors (I know, I'm quite the rebel). I referenced Lauren's post here to figure it out. The first attempt was a #craftfail on my part, but the second time worked perfectly!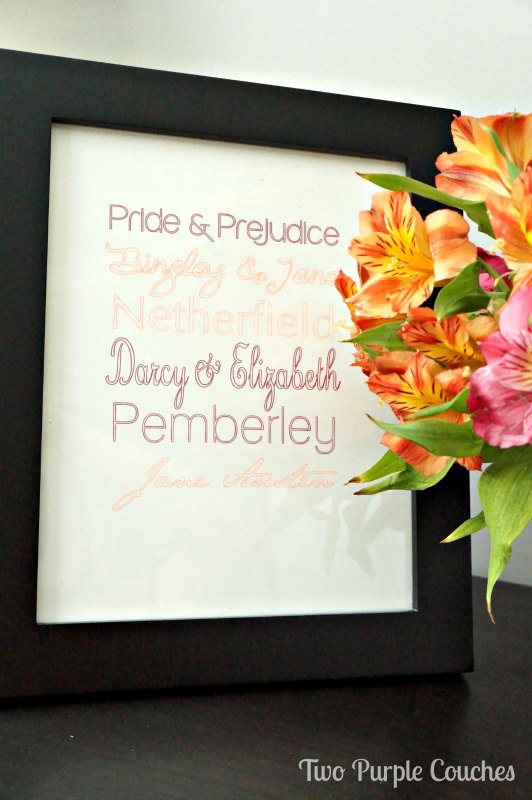 And there we are! A lovely print to complement Jane and her fine eyes.
Now that you know about one of my favorite things, visit my fellow Silhouette crafters and see how their favorite things inspired them this month:
1. Just a Girl and Her Blog // 2. The Frill of Life // 3. A Time For Seasons // 4. The Thinking Closet // 5. Ginger Snap Crafts // 6. Grey Luster Girl // 7. Simply Kelly Designs // 8. Home At Eight // 9. Please Excuse My Craftermath… // 10. My Paper Craze // 11. Mama Sonshine // 12. Practically Functional // 13. Adventures in All Things Food // 14. Two Purple Couches // 15. Dragonfly & Lily Pads // 16. Sowdering About // 17. Cutesy Crafts // 18. My Mom Made That // 19. Pitter and Glink // 20. Pineapples And Pinecones // 21. Dream a Little Bigger // 22. McCall Manor // 23. TitiCrafty // 24. unOriginal Mom // 25. Persia Lou // 26. Lil Mrs Tori // 27. Home. Made. Interest. // 28. Sandpaper and Glue // 29. Silhouette School // 30. Creative Ramblings // 31. My Favorite Finds
Sharing with: