Player Piano Roll Art is a such unique way to display and upcycle a vintage player piano roll! Add a favorite hand-lettered phrase to make it your own.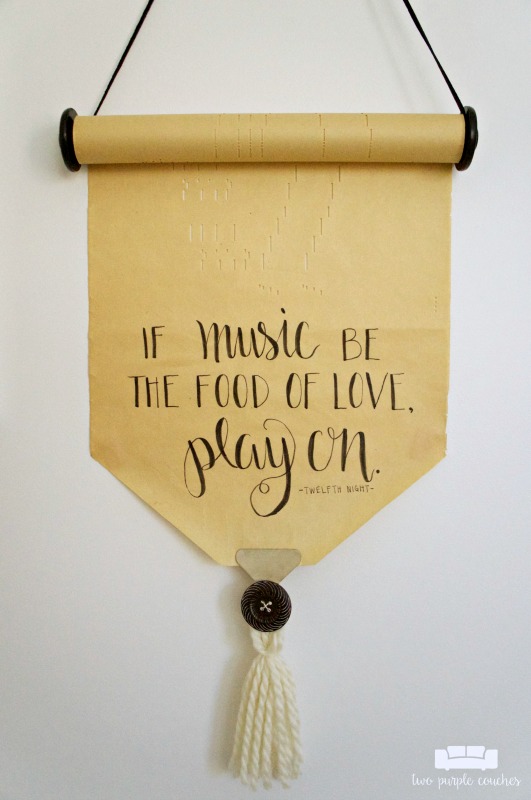 I came across a bin full of vintage player piano rolls at the Country Living Fair back in September. For $5, at least one of them had to come home with me. I wasn't quite sure what I'd do with it, but it was one of those unique, vintage things I just had to have. (Does that mood ever strike you?)
While I've never owned a player piano, I do own (and know how to play!) a regular upright piano. I actually come from a family of musicians. My grandpa worked for Baldwin and was the organist/pianist in a small band called The Roy-Cliffs in the 1950s. My aunt is also a pianist and was a professor of piano before retiring several years ago. So I guess you could say that these piano rolls spoke to the musician in me as well as the lover of cool old things!
I saw a similar idea for wall decor from a lettering artist at a local fair and knew this is what I wanted to do with my vintage find. A quote about music seemed appropriate, and after some searching, I found a beautiful line from Shakespeare's Twelfth Night to letter onto my player piano roll.
I had to give my piano roll a trim first – this roll contains the music for "Alexander's Ragtime Band" and someone had written the song title at the bottom of the scroll. I trimmed this section off and re-created the pennant point because I like this detail. I also saved the tab so I could re-attach it.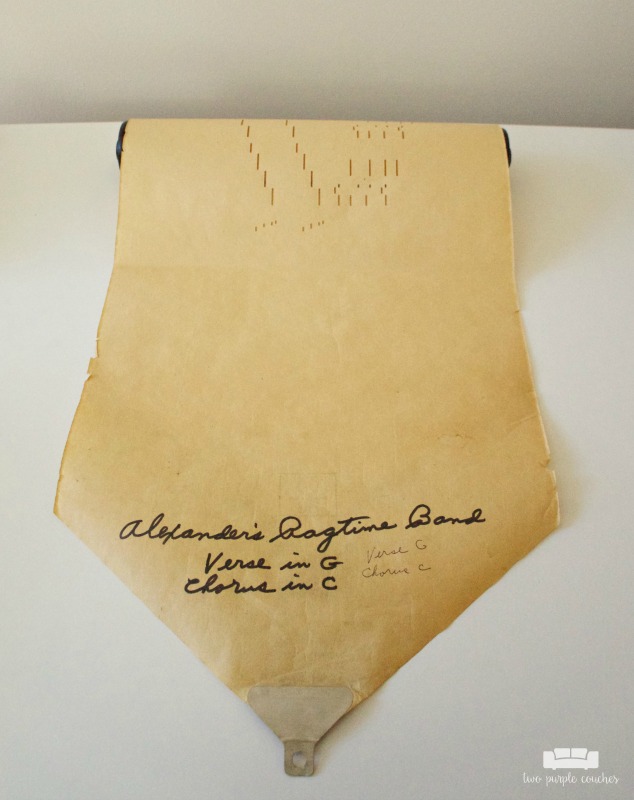 This post contains some affiliate links for your convenience. Click here to read my full disclosure policy. 
How to make your own Player Piano Roll Art:
Materials Needed:
Vintage player piano roll
Pencil
Ruler
Button, tassel, vintage key or other embellishment(s)
Tutorial:
1.) Decide on a word or phrase to letter. I'd suggest sketching it out in a notebook first to decide on the placement and style of each word. I wanted to do a mix of a simple, modern font with a few key words highlighted in a brush lettering style. If you're new to hand-lettering, I highly recommend Hand Lettering for Relaxation by Amy Latta.  It is full of easy exercises and tutorials to help you teach yourself modern lettering styles like brush lettering and more. 
2.) Use a pencil to sketch out your design. I divided the blank area at the bottom of my piano roll into three lines for my phrase.
3.) Now go over your sketched letters using a Tombow Fudenosuke Brush Pen.
4.) You will probably need an embellishment to add a bit of weight to the bottom of the piano roll to keep it unwound once hung. I dug through my craft stash and found a large button and made a simple yarn tassel to give it some extra flair.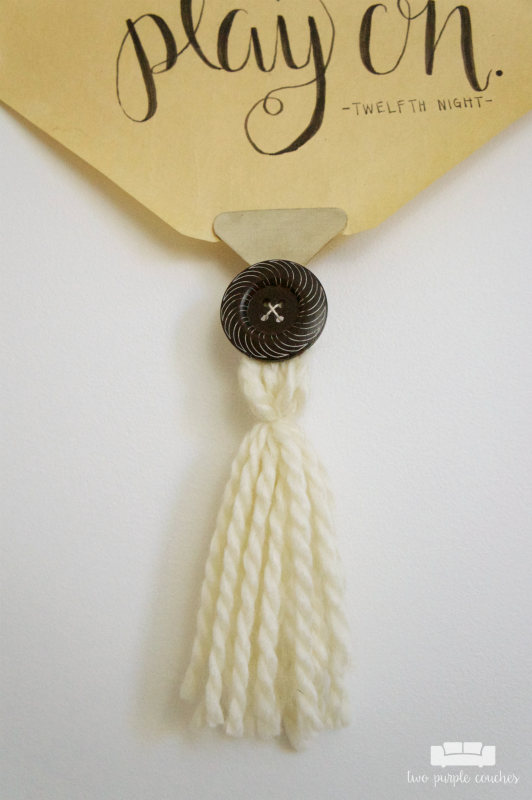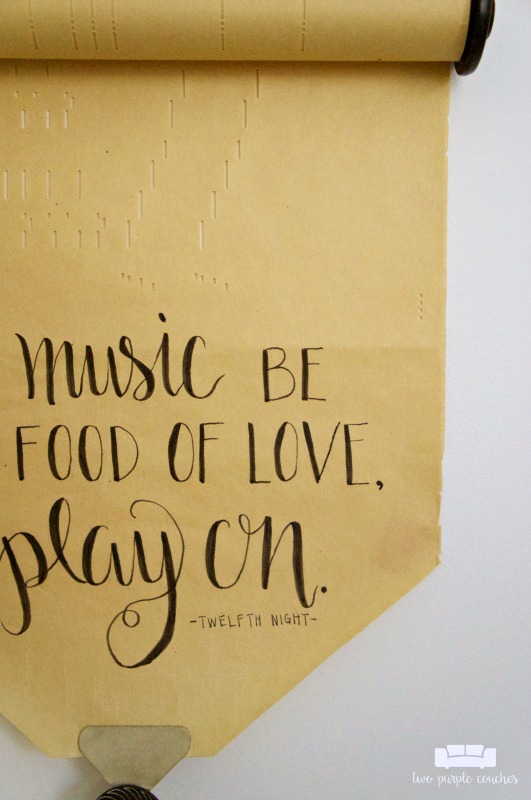 I'm kinda wishing I'd picked up an armful of these player piano rolls—I absolutely love how this turned out, and I think they'd be so neat for holiday decorating, too! What would you choose to letter onto a piano roll?
Love this? Don't forget to pin it or bookmark it!