Caramel Apple Cider Floats are the perfect treat to celebrate the Fall season! A simple recipe of caramel sauce, fresh local cider and vanilla ice cream.
These Caramel Apple Cider Floats taste like Fall in a frosty mug! Sweet cider and salted caramel sauce mingle together to create this deliciously easy Fall treat.
Guys, I am finally starting to feel like I'm getting my blogging mojo back! (In case you missed it, we shared some big news a few weeks ago!) My creativity has been slowly coming back and I've started brainstorming holiday posts and projects to share with you throughout the remainder of the year. Hopefully this keeps up!
I wanted an easy project to share with you today, but instead of a DIY or home-related project, my brain went to food. There was half a carton of apple cider calling my name in our fridge, begging to be turned into these yummy Caramel Apple Cider Floats. It's a simple recipe, and oh-so-yummy this time of the year!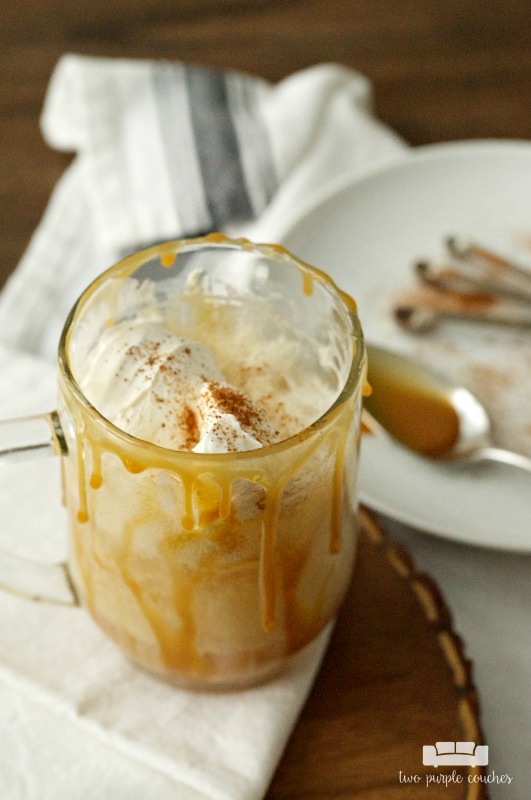 Caramel Apple Cider Floats Recipe
Ingredients:
Salted caramel sauce
Vanilla ice cream
Apple cider
Club soda (if you like a bit of fizz)
Whipped cream
Cinnamon
Nutmeg
Directions:
Drizzle a glass or mug with warmed Salted Caramel sauce. Add a couple scoops of vanilla ice cream and enough apple cider to cover the ice cream. Add a splash or two of club soda (if you like some fizz). Top off the glass with whipped cream and a sprinkle of cinnamon and nutmeg and enjoy!
If you'd like to turn these into treats for the 21+ crowd, add a shot of bourbon! Mmmm…
Love this? Don't forget to pin it or bookmark it!