After weeks and weeks of cut-nail-paint-repeat, we finally have something to show for our efforts! Thank goodness, especially since it's already Week 5 of the One Room Challenge! That means just one more week to go before the big reveal… gulp…
I have to be honest with ya'll. Last weekend I hit a major wall. A wall of frustration and despair. Which I think is totally normal when tackling a project of this magnitude… and being crazy enough to think it is even remotely possible to accomplish within a 6-week timeframe—cue the maniacal cackling. My husband, on the other hand, was totally re-energized and inspired. Funny how those roles find a way to flip, huh?
Here's what happened…
The hubs graciously took vacation days last Thursday and Friday so we could power through our projects. On Friday, after pulling away and cutting the carpet in my office, we were *finally* ready to bring in the bench and cabinet base. Cue the angels singing the Hallelujah Chorus—wait! Not yet!
We got the bench in place on our now-exposed plywood floor and then started sliding the cabinet in next to it. It slide about 2 centimeters before we realized there was noooo way this thing would fit.
So we resorted to the only fix possible – cut a hole in the drywall in order to scootch the bench down a few centimeters. What started around 4 or 5 p.m. as removing a small section of drywall turned into a 2-ft x 2-ft section of drywall removed by 8 p.m.
But it worked! The bench is now resting comfortably against the studs of our exterior wall, and the cabinet fits with some room to spare. I don't think a piece of furniture can be more "built-in" than these pieces are!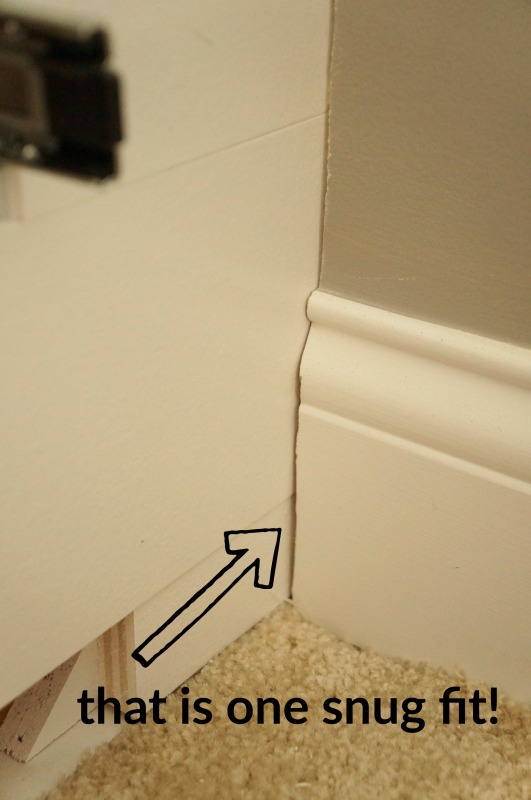 I also had to come to terms with the fact that our plans for the opposite side of the room just aren't feasible on this timeline—BUT! We are not going to stop working! We'll be finishing up this portion of the room for next week's reveal and then continue on with Part II.
We made alot of progress on some other elements for the room; the bench drawers are finished but awaiting hardware (need to get longer screws to attach the knobs), the cabinet doors are under construction, the cushion is almost complete, and we're working on the shelving unit that will be installed on top of the cabinet. I also ordered, received and assembled my new desk! (If you missed my round-up of 10 modern and affordable desks, go check it out and guess which one I picked!).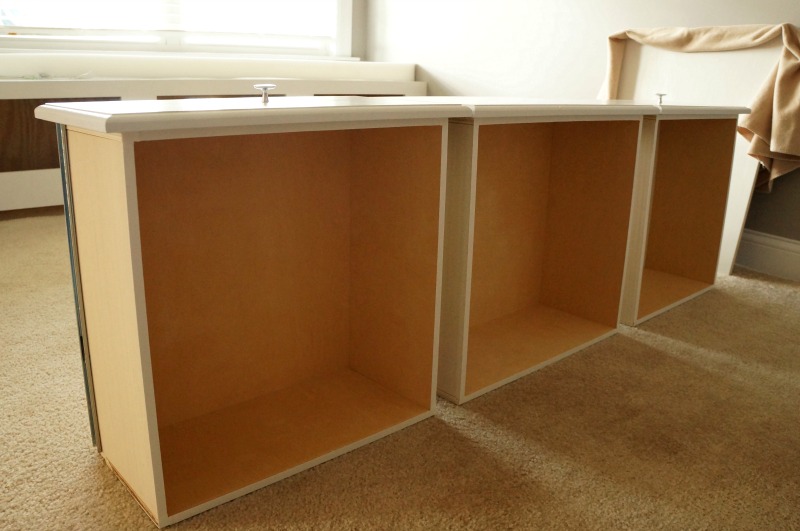 There's still a good amount of work to be done in the next several days, but here's hoping it all comes together. Here's what's left for Part I:
Trim out window
Remove baseboards
Buy a new desk chair
Buy or make a new desk
Build window bench
Build drawers for window bench
Build cabinet bases
Build cabinet doors
Select cabinet hardware
Build bookshelf
Paint cabinet, window bench and shelves white
Paint window trim
Re-install baseboards
Build cabinets for second wall (Part II)
Build bookshelves for second wall (Part II)
Install and paint crown moulding (Part II)
Sew bench cushion
Sew throw pillow for bench
Build ladder for bookshelves (Part II)
Art & decor for shelves (I'm sure there will be some DIYs included here!)
Additional furniture or lighting (tbd)
Catch up on previous weeks: Week 1 / Week 2 / Week 3 / Week 4
Be sure to head over to Calling It Home to check in on the Featured Designers progress as well as my fellow Guest Participants! Coming next week… (what I hope will be) the big reveal of my modern, artsy home office-slash-library!
And lastly, I want to say "thank you!" to my sponsors!
Minted // D. Lawless // Wagner