It's Week 2 of the One Room Challenge and things are well underway! Today I'm sharing some inspiration along with my home office design plans and the full to-do list for the room.
If you want to catch up on what we're starting with, you can see my Office "Before" tour here.
Like I said in that first post, I have been dreaming of and planning for this room for y-e-a-r-s. I have talked about it so much that I think the hubs caved just to shut me up 😉
These are some inspiration images from Houzz that I keep coming back to. You can view my full Office/Library Ideabook here.
Wanna see the design plans I've come up with for my home office slash library? This post contains some affiliate links for your convenience. Click here to read my full disclosure policy.
office chair // gray paint color // Summer Fun Fabric // Zig Zag Fabric // hardware // decor // art // end table
The look I am going for is a mix of modern, artsy and traditional. I'm really gravitating towards white shelving and cabinetry. I think this will keep the room feeling light and bright and will give a fresh, modern twist to the traditional idea of a library. And we're definitely taking our built-ins all the way to the ceiling!
To keep things clean and modern, all the furniture will be white. I found that white chair for an incredible deal at a local store—Bargains & Buyouts. If you're in the Cincinnati area, check them out! (I'm giving away a $100 gift card to their store here!)
The walls are staying medium grey (Cathedral Gray by Behr), and my pops of color will be black and tones of bright fuchsia to deep plums. You know I had to bring some purple into the room, right!?
The hubs drew up a sketch of what the window seat wall will look like. Isn't it fabulous!?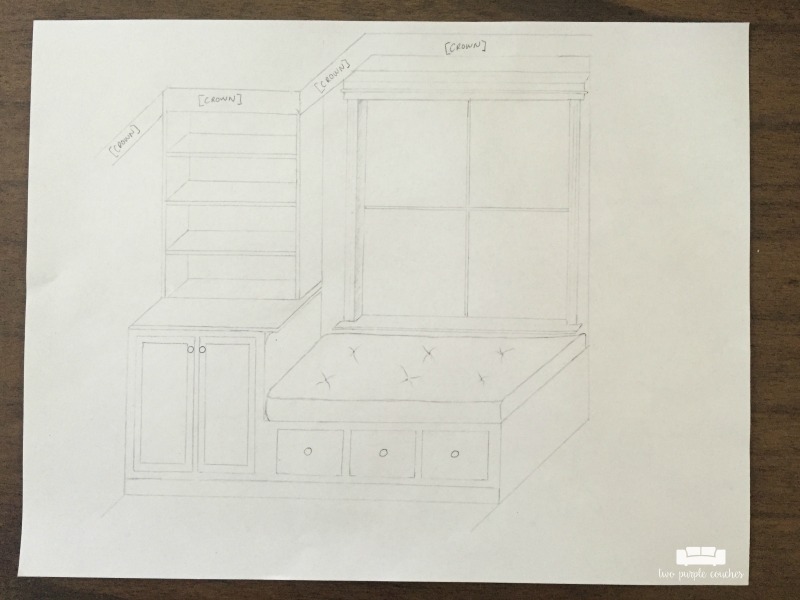 We're still working out the opposite wall, which will have cabinets on the lower section and shelving to the ceiling. As you can see in the inspiration images, there's lots of variety when it comes to cabinet height, so we're still deciding what ratio of cabinet-to-shelving will work best for us.
Now let's go through the crazy laundry list of projects we need to tackle in the next 4 weeks (yikes!!)
Trim out window
Remove baseboards
Buy a new desk chair
Buy or make a new desk
Build window bench with drawers
Build cabinet bases
Build cabinet doors
Select cabinet hardware
Build bookshelves
Paint cabinets, window bench and shelves white
Paint window trim
Install and paint crown moulding
Sew bench cushion
Sew throw pillow for bench
Build ladder for bookshelves
Art & decor for shelves (I'm sure there will be some DIYs included here!)
Additional furniture or lighting (tbd)
Whew! That's quite a list! Thankfully, we've already made some progress—we added custom moulding and trim around the window over the weekend—we trimmed it in the same style that we designed for our master bedroom, which you can see here.
We also removed the baseboard along the window wall. We're hoping to be able to re-use them along the bottom of the cabinets and bench. I'll be sharing "behind-the-scenes" looks at my office makeover on Instagram, so be sure to follow me over there!
Lastly, I can't talk about our plans for my office without giving a huge shout-out to the awesome brands I'm partnering with for this project! Thank you so much for your support!
Minted // D. Lawless // Wagner
Don't forget to head over to Calling It Home to see how my fellow guest participants are coming on their room makeovers!