Week 2 of the One Room Challenge, hosted by Calling it Home, is already here! Today, I'm sharing my craft room design plans and some of the furniture and accessories I've already picked out. for my room.
In case the "before" image of this room hasn't been burned into your brain, here's a little reminder of where things started: (see more from Week 1 here)
Aside from being a total unorganized mess, this room is as blank a slate as they come. It needs paint, lighting, furniture and accessories = the whole she-bang.
I knew I needed a balance of neutrals and color for this room. Now, since I started working on this room back in January, some of these decisions have already been made. But I've pretty much had this vision for the room since I began:
This post contains some affiliate links for your convenience. Click here to read my full disclosure policy. 
I adore fuschia and tangerine together; I've been saving this color palette for my home office/library on our main floor, but then I decided why wait? These colors inspire and energize me, so what better spot to use them than in my craft room?
While the walls will be white, the main accent colors will be bold pinks and bright oranges, but there will also be hits of teal/turquoise. I already have some storage bins and different accessories in this shade, and instead of spending money on a bunch of new items, I am crossing my fingers and hoping everything comes together well and doesn't wind up looking like a crazy hodge podge. I already own the art print in the bottom left that incorporates all of these colors, so this is serving as my starting point for the rest of the room.
For the wall paint, I chose Snow Storm by Olympic: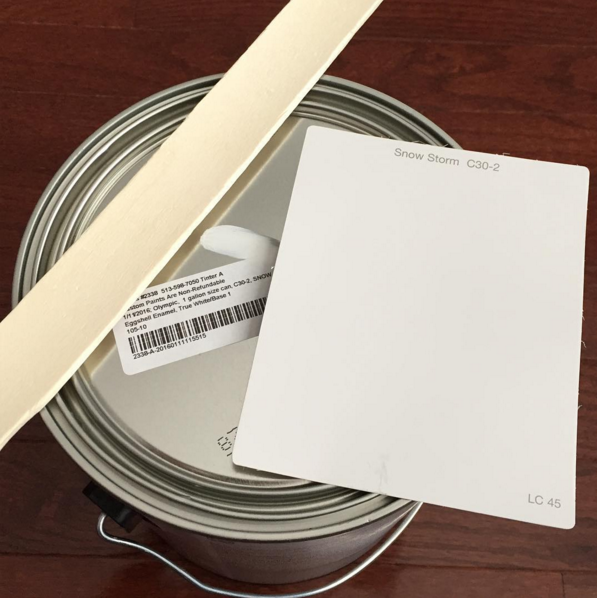 This was a big decision for me because I am not a white walls kind of girl, but I think this space requires white walls for a couple of reasons: 1.) While this room does have a window, it gets zero direct sunlight, so the more ways I can brighten up the space, the better, and 2.) I plan to set up a photo studio in one corner, and I think having white walls will create a sort of natural light box effect.
As you can see in the "before" photo, this room lacks a light fixture. The reason being that we didn't want to pay a large up-charge to buy ceiling fixtures from our builder, so we only had them rough in fixtures in the rooms we wouldn't be using right away. You can read more here about where we spent vs. saved money while building our home. For my craft room light fixture, I knew I wanted something with punch and personality. I chose this gorgeous gold metal drum pendant, and it's everything I hoped it would be! It's by Young House Love for Shades of Light, and of course I love channeling a little bit of Sherry every time I flip on the light.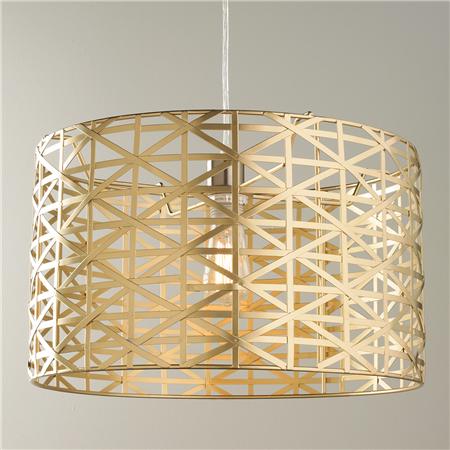 Now, moving onto the main piece of furniture in my room – my craft table. My previous surface was a 6-ft-long folding. Fine, but not an ideal work surface, and it obviously offered no storage. So I decided to treat myself to a brand new craft table that would get the job done right. I chose this Crea Craft Table that I found on Wayfair. It's specifically designed for storing and organizing crafting supplies, with plenty of drawers and cubbies. Plus the two bases are modular, so they can be assembled in a couple of different ways to best suit your needs and your space. The table top is large and sturdy, so it'll be a great space for crafting and sewing.
Here's what I've accomplished so far in my craft room makeover:
paint the walls 
install a real light fixture
choose a craft table/work surface
install shelving unit or bookcases
space for sewing machine
storage solutions for various craft supplies & materials
create a photo studio in one corner
wall art and colorful accents