Earlier this week, I got to check out a new shop in town – Hinge.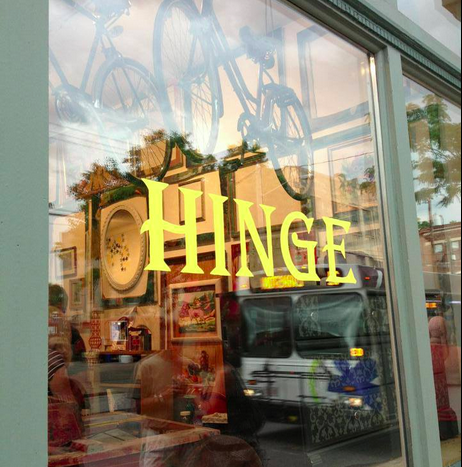 [source]
It's like an antique store meets diy makeover warehouse (!!!).
The shop is chock full of thrifted amazingness, from beautiful turn-of-the-century furniture to modern accessories. Or, as I'd say, a pretty kick-ass mishmash of irresistibleness. Oh, and they'll either hunt down pieces to your specifications, or you can select an item in-store and have them give it a makeover for you! How cool is that!?
The awesome folks of Hinge – Amanda and David – are super pumped about getting to know the community and getting them involved. One way they're doing that is through diy classes. My friend Kris told me about Hinge back in the summer, and when their 2nd diy class was announced, we knew we had to check it out! The diy we'd be attempting? Adorable fabric pumpkins!
In true Emily fashion, I neglected to take photos of the process AND the store, until the very end, when we were all admiring our little collection of fabric pumpkins. D'oh. BUT! The Hinge Facebook page and Instagram feeds here and here have tons of pictures of the store and all its goodies. So, go check them out!
The best part is that Amanda sent us home with extra adorable-fabric-pumpkin-making supplies!  So, I owe ya'll a how-to! Because if you have fabric, a needle and thread, and something to fill your pumpkin with, you can totally make these guys!