We hosted a Narwhal birthday party to celebrate our daughter turning one! Check out these DIY narwhal birthday party ideas and narwhal party decorations.
We hosted our daughter's first birthday a few weekends ago and today I'm sharing a look at her narwhal birthday party decorations. I had so much fun with this theme and coming up with narwhal birthday ideas for the party!
Several people asked "why narwhals?". A narwhal birthday may seem like a strange choice for a first birthday, but here's why: a few months after I found out I was pregnant, I bought a stuffed narwhal from a local maker. I'd been seeing her cute stuffed animals at shows for years, and now that we were expecting, it was the perfect excuse to get one of her sweet narwhals (anyone else a fan of the movie Elf??). After Celia arrived, I decided to take her monthly photos with her stuffed narwhal, and it only seemed fitting that her first birthday be a narwhal birthday!
I tend to go all-out when it comes to planning and hosting parties. I reeled myself in just a bit this time, considering it was her first birthday and she won't remember any of it.
Let's be honest, this party was really for me!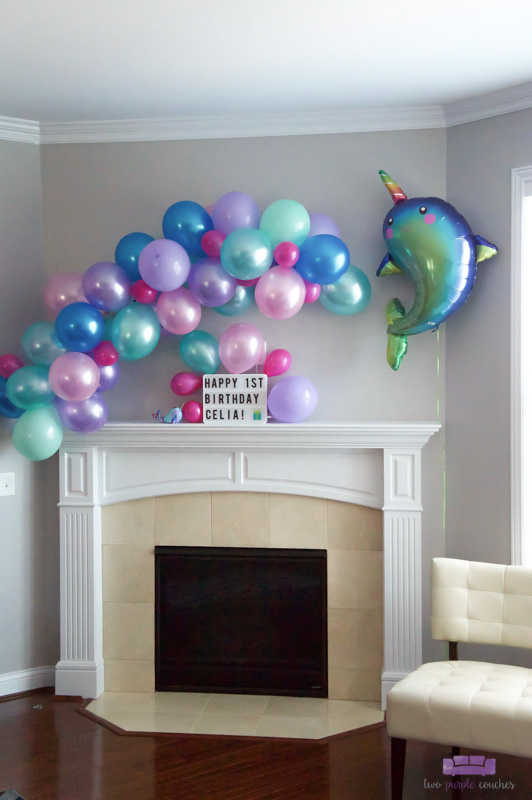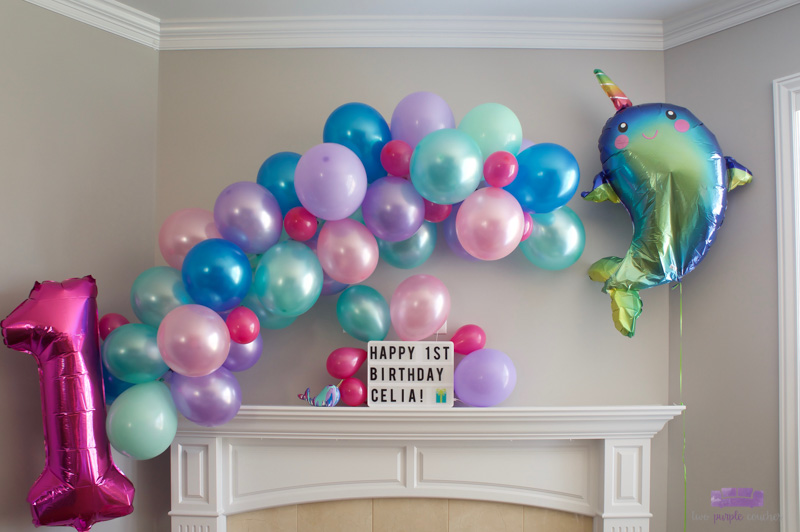 The focal point of our family room is our fireplace wall, so I wanted to do something really cool here. I made this balloon garland the day before the party and added a lightbox, narwhal balloon and #1 balloon. Click here to see how I made the balloon garland.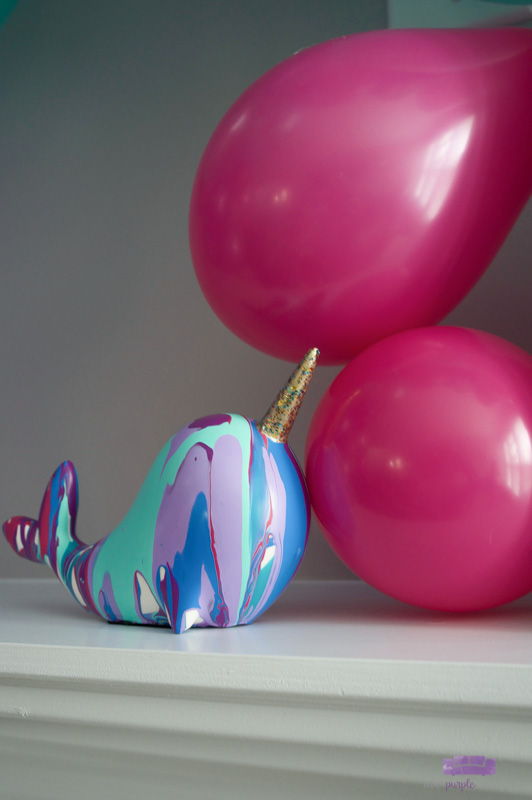 To add to the sea-inspired atmosphere, I made up these paper lantern jellyfish and we hung them throughout the house. Click here to see how I made the paper lantern jellyfish. 
We set up a separate table for food in the kitchen underneath our chalkboard, which I decorated with some of her first-birthday milestones.
Since this was a narwhal birthday, I wanted to display her monthly photos with her stuffed narwhal. I printed up her photos and taped them to these narwhal cut-outs. I lettered the months on myself.
My favorite part of her narwhal birthday was her adorable narwhal cake. I opted for a smash cupcake instead of a tiny cake, which was perfect for her. She really enjoyed smooshing the cake and icing between her fingers!
SOURCES:
Narwhal Invitations – Bryna Cumplido via Etsy
Balloons – Party City
Cake – Lulu's Sweet Bites
Narwhal Dress – Evie 'n Lizzie
Stuffed Narwhal – The Happy Groundhog Studio