We're trucking away at our decorative moulding projects… gotta have it up before our painters arrive in the next couple weeks!
When we last left our heroes moulding project…
(insert wavy tv flashback screen here)…
we had completed the crown in our dining room.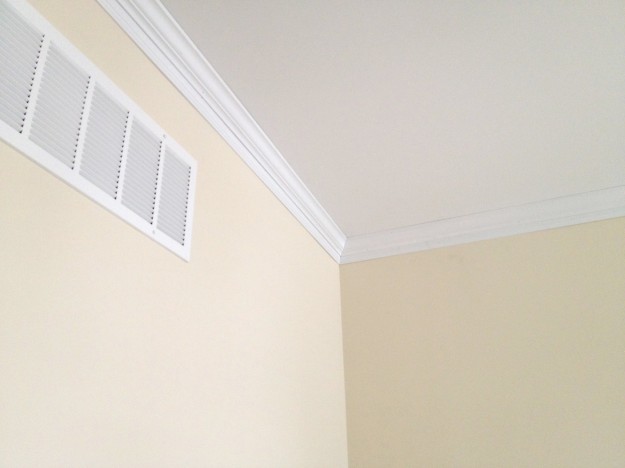 Aaaannd, that's kind of where things have sat ever since. If you clicked that link, you may have noticed that the date on that post was August 14. Oops.
Nothing like a painting deadline to light a fire under you, am I right? Especially a fire fueled by trips to the hardware store, piles of wood trim lying haphazardly around your house, and the constant pi-choot of the air-compressor-powered nail gun. Of which our poor Molly dog is terrified.
We also had to edit down our Trim and Moulding Wish List a bit. (Does anyone else have a trim-and-moulding wish list?) While we've had visions of beadboard, wainscoting and board-and-batten dancing in our heads, we also have to be realistic with what we can get done in the time left. I know, a lesson in procrastination is to be had here… eventually.
In addition to our fancy-pants two-piece crown concoction for our dining room, entryway, and family room, we decided on a chair rail in the dining room, and trimming out all our windows in those rooms (which is only 4). This is something Tom's really been wanting to do.
And… it looks awesome.
Did you notice the sill? That's new, too! Can't have crappy, wimpy little sills when there's such lovely trim around the window!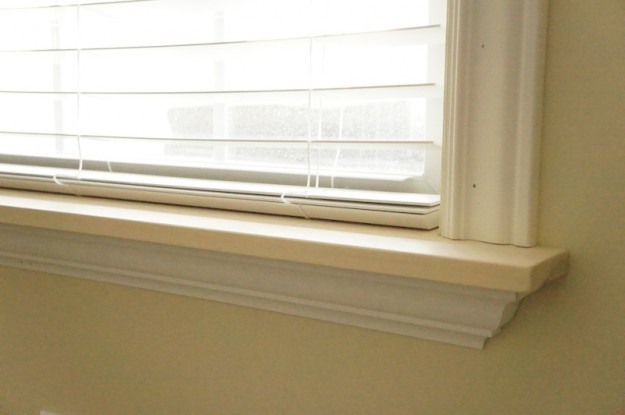 We couldn't pry the old sills off, so Tom jig-sawed and glued a piece of poplar on top, then added a trim piece underneath to hide the old sill and finish it off. Doesn't it look fancy? I think we're on our way to having a new home that boasts all the trim and finery of a big ole Victorian! Be still my heart!