I thought I'd try something different today. I've been blogging for about 6 months, and I figured it's time you learned a little more about  the girl behind the purple couches, err.. sitting on the purple couches? I dunno. Here's some random tidbits about me!
I'm linking up with the Me, Myself & I party via My Beautiful Crazy Life.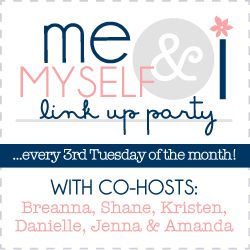 What is your favorite season? Explain.
Hmmm..  there are aspects of every season that I love, but I think I will go with Spring. Why? The anticipation of "new"… the fact that Nature is suddenly in full Technicolor, the days get longer. And, Tom & I got married in the Spring (April 28, to be exact), and of course, that makes it a very special season 🙂
Me, in Portland, OR in 2006. Really excited to see tulips blooming.
Talk about a moment that changed your life.
A moment that sticks out the most was when I found out that my mom had lung cancer. She had gone in for a surgery – a biopsy for a spot on her lung that her doctors had been monitoring for years. The surgeon took my dad and me into a consulting room, and I knew immediately that his news wasn't going to be "she's all clear." It was really surreal, having him tell me what I somehow already knew. I remember stopping for dinner on the way home that night. Being so hungry, but so unable to eat. Chewing seemed like an insurmountable task. I still find it a little difficult to eat at that restaurant. (I don't want to end this on a sad note, though – my mom is healthy and in remission).
If you could be any Crayola crayon color, what would you be & why?
I would be Mango Tango, because oranges are warm, friendly and optimistic. Plus, this one is just fun to say!
Describe yourself as a superhero: Superpower? Name? Sidekick?
Gosh, there are so many super powers that would rock – like being able to do stuff in hyper-speed (like washing dishes), or to have a real Time-Turner like in Harry Potter. Or even just being able to grow really tall to reach things on the top shelf. Ha. That sounds lame. But when you can't even clear 5′, it's the little things that matter 😉
If you had all the money in the world and could only shop at 3 stores, where would you shop?
Oh boy, this is a tough one! For clothes, JCrew, because their cuts are classics, so you'd always be comfortable and stylish. For handbags, Michael Kors. Because I would have all the money in the world and not feel (too) guilty for spending $400 on a purse or a wallet. For homegoods, Pier 1, because there is always something fun and fabulous to be found.
Hope you enjoyed learning some random stuff about me! Check out the other Link Party-goers – maybe you'll make some new friends 🙂