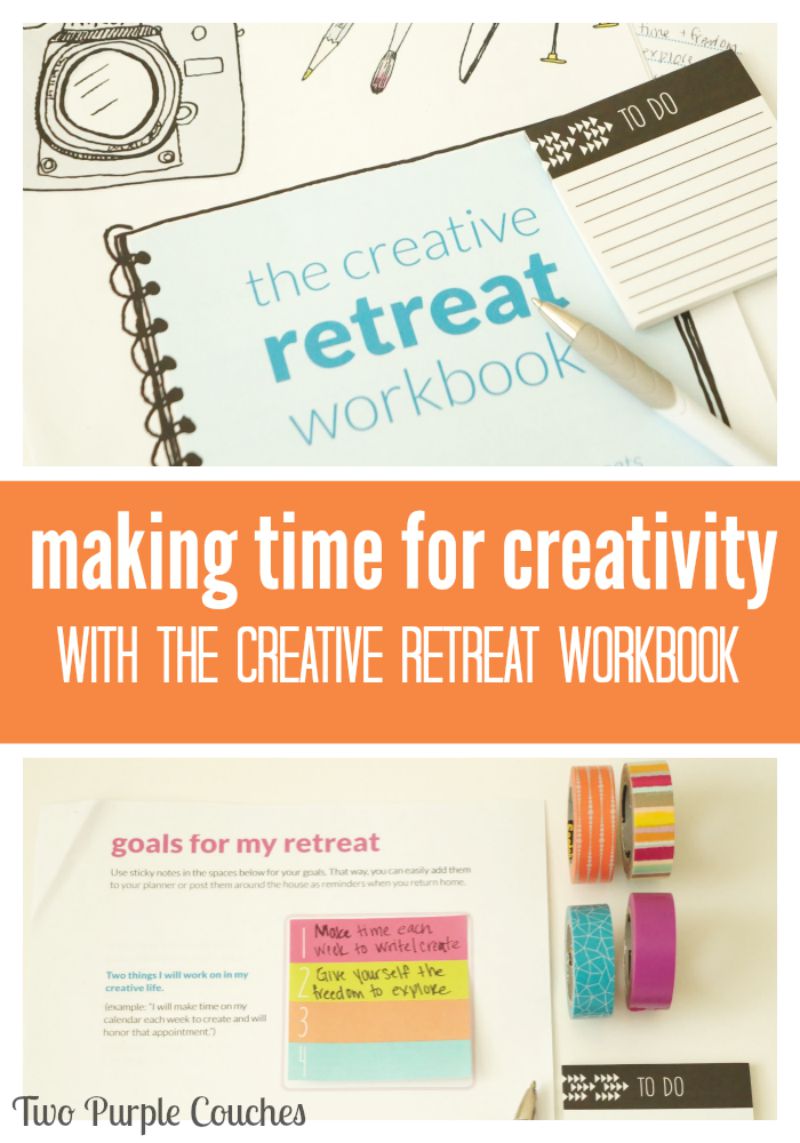 I've been noticing lately that I often feel like I never have enough time. (I know I can't be alone in this feeling, right?) Not enough time for housework (but meh, who really cares about that?), not enough time to try out the new recipes I've bookmarked, and certainly not enough time to tackle my ever-growing list of crafts and creative projects. This made me take a good hard look at my time and how I spend it. And here's what I've uncovered: the issue isn't that I don't have time, because everyone has 24 hours in their day; it's how I budget those 24 hours.
So when I received a note from my friend Jennie Moraitis about her new e-book The Creative Retreat Workbook: A Simple Guide to Planning Retreats to Recharge, Reassess and Create, it punched me right in the gut, in a good way. Or maybe better said, it was a total "lightbulb" moment for me. I realized that I wasn't I wasn't budgeting my time to nurture my creativity.
I used to think that if I had a specific thing, I would spend more time crafting and creating. Some people paint. Some people sew or knit. Some are avid scrapbookers. But I've never had just one thing. I like to try different craft and art forms. Maybe I haven't landed on my thing yet, but more likely, this is just my nature: to explore and try new things.
So this concept of setting aside time for a special Creative Retreat is so intriguing and attractive to me. As a creative person, I need to give myself the freedom to just make. I often feel that if I'm going to sit down to craft, I need to have a "blog-worthy" project when I'm finished. And I also have a hard time giving myself the permission to play and practice; wasting supplies gives me a major guilt-trip for some reason!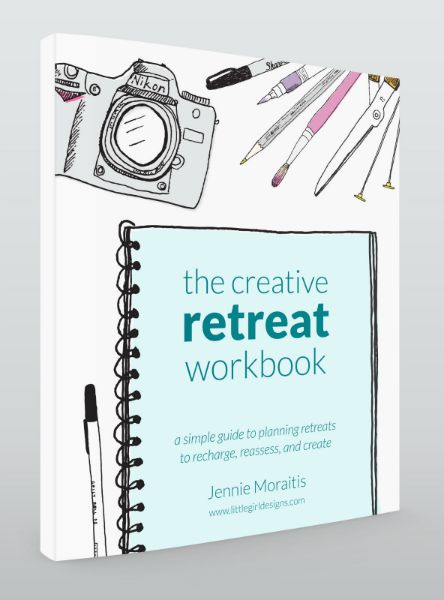 "Allow yourself to let your creativity escape". – The Creative Retreat Workbook, Jennie Moraitis
When I read these words, I knew that the workbook pages to follow were going to be good for my creative soul. And they do not disappoint! Not only does Jennie offer ideas and suggestions for different types of creative retreats, like a photography retreat or a writing retreat, her workbook gives you pages and pages for discovering what type of retreat works for you, setting creative goals and scheduling time throughout the year to accomplish those goals.
The section I love best is "Goals for My Retreat". It's easy for me to come up with ideas of things I want to try; it's a challenge for me to actually follow through on them. But within these pages, Jennie suggests making your goals measurable, honoring this time that you've set aside, and giving up the habits that interfere with your creativity (i.e. the supply guilt-trip).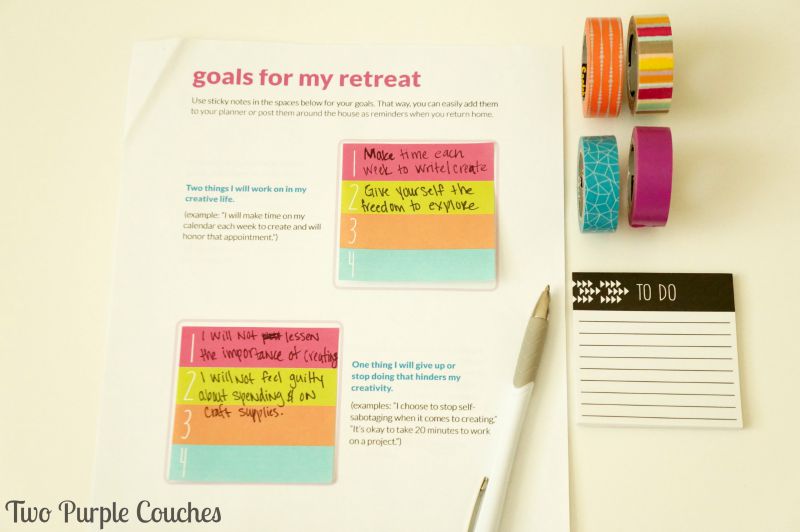 So I dove right in and set my first creative goal: to learn how to watercolor. I've long been admiring the watercolor talents of many artists and bloggers, but convinced myself that I wouldn't be good at it because I've never considered myself to be "good" at traditional art forms like painting and drawing. I saw how much I got in my own way and decided that enough was enough! If I wanted to learn how to watercolor, then I was going to learn how to watercolor! I did some research on paint sets, set a supply budget and gave myself permission to spend a few hours one afternoon playing with my new set of paints.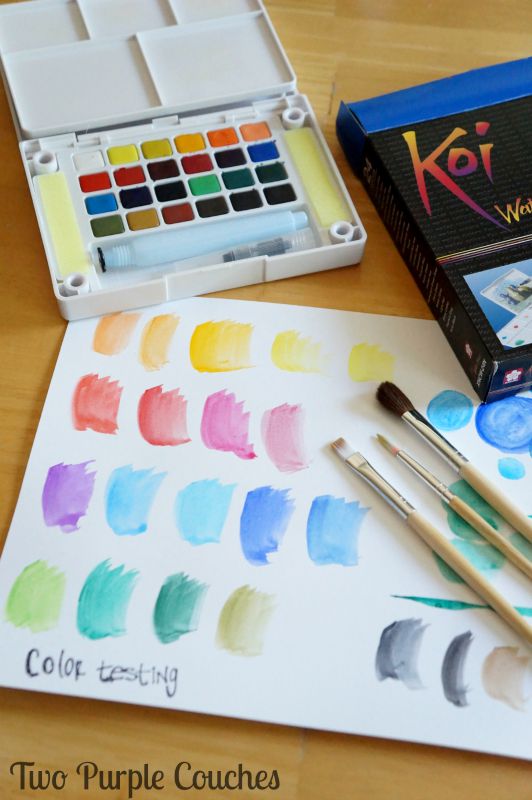 It was glorious. And I'm totally in love!
I couldn't wait to sit down and paint again! I feel like my creative floodgates are beginning to open. Just this simple act of giving myself a few hours each week is shifting my perspective on my creativity and time management. And it's given me the confidence and encouragement to try out other types of creative retreats throughout the rest of this year.
While out shopping last week, I came across a printed canvas at HomeGoods that said "Follow Your Heart". This message speaks loud and clear to me right now. And I came home and created my own version with my new watercolors and a permanent marker (hand-lettering is another of my creative goals for the year!).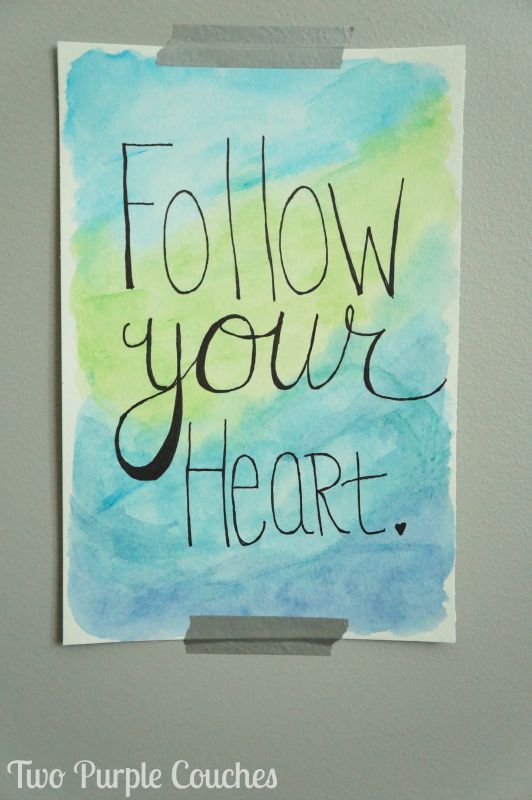 So now I want to know, what are your creative goals for the year? Could The Creative Retreat Workbook help you define and achieve them? (I bet the answer is "yes!")
You can get your own copy of the workbook right HERE. And let me highly encourage you, maybe even challenge you, to schedule your own retreat this month. It doesn't have to be a whole weekend or a trip out of town, just some time alone for you to spend doing what you love! I promise it will be worth it!