Baby girl dresser makeover DIY idea for a nursery. Check out this before and after and learn how to paint a chest of drawers with a paint sprayer.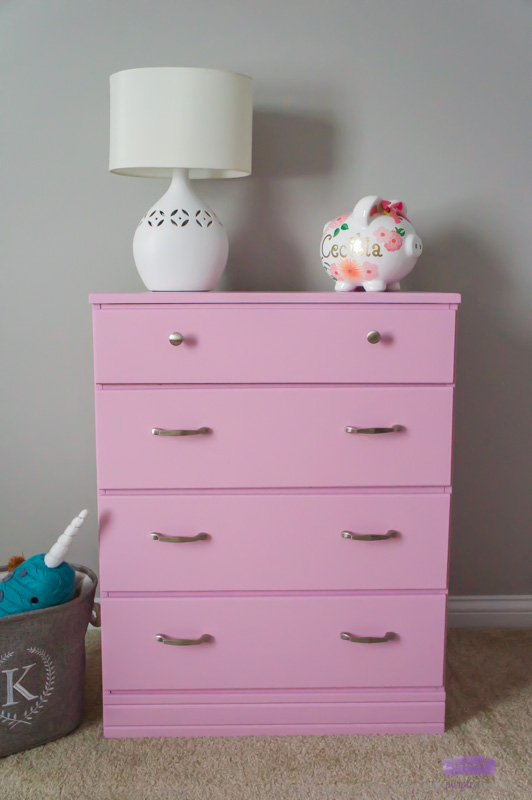 This baby girl dresser makeover puts the finishing touch on our daughter's nursery, and I am thrilled with how it turned out! The best part is that I was able to get this DIY paint project done quickly with the help of my new Studio Pro Sprayer from Wagner. Keep reading because I'm going to show you how to paint a dresser easily using a paint sprayer.
Thank you to Wagner SprayTech for sponsoring this post. All content and opinions expressed here are my own. Click here to read my full disclosure policy.
This dresser was actually mine when I was a baby. It's been sitting in our basement for years and I'd honestly forgotten about it. I have been hanging all of our daughter's clothes in her closet, but knew we'd want a dresser for her at some point. Then I remembered this sweet little chest of drawers and thought it would be perfect to makeover for her nursery.
My initial thought was to paint the dresser with a two-toned look like we did for her vintage wash stand turned changing table. Click here for the changing table makeover. I was planning to paint the dresser and drawer fronts white, and the interior of the drawers grey. But for some reason, I just wasn't feeling it. This sweet little dresser needed more color—and my husband agreed. We settled on painting it a light orchid purple color inspired by a few crafts I've done for her room.
Baby Girl Dresser Makeover with a Paint Sprayer
This DIY baby girl dresser makeover was so easy to complete with a paint sprayer. If you haven't used one before, a paint sprayer really makes the job go quickly. I prepped this dresser during nap time and painted the entire thing—two coats on the dresser and all four drawers—in one day!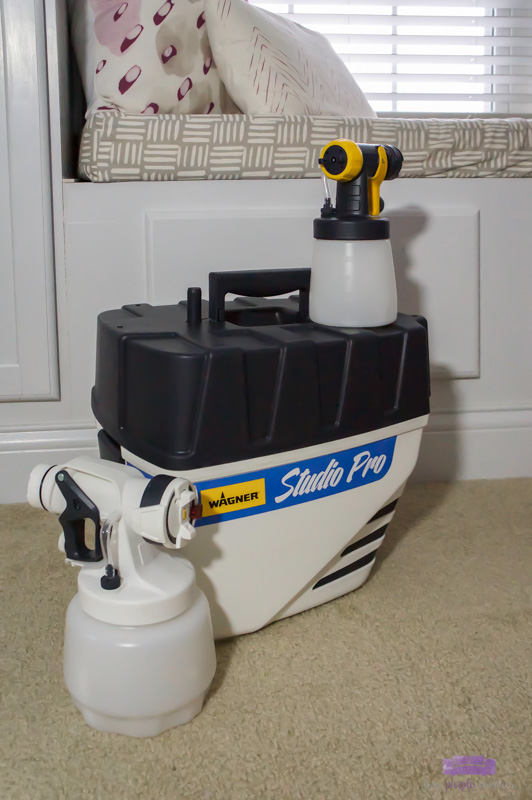 The Studio Pro Paint Sprayer is the perfect tool for a job like this. It's designed for upcyclers and DIYers who enjoy transforming furniture and home decor items. You can use a variety of different materials in this sprayer, from chalk paint to stains to sealers, so you can customize the look and finish you want. What I really like about this sprayer is how lightweight it is. Since the turbine is in the storage case, the handle and nozzle are easy to hold and maneuver around the piece you're painting. The Studio Pro also comes with two different nozzles: the Control Finish Nozzle (for smaller projects—this is the one I used on the dresser) and the iSpray Nozzle (for larger surfaces). The nozzles and the hose/handle all fit into the turbine case for easy storage, too!
You can save $100 on a Studio Pro sprayer now through January 31st. If your plans for 2019 include lots of furniture makeovers, it's a great time to grab one! Click here to get the deal.
This post contains some affiliate links for your convenience. Click here to read my full disclosure policy. Thank you to D. Lawless for providing the hardware for this project.
Here's how I did this baby girl dresser makeover:
Materials Needed:
Tutorial:
1.) Since this dresser has been sitting in our basement for years, it needed a good cleaning. I wiped it down with the deglosser to remove the original varnish, then gave it a thorough sanding, first with a rougher 100-grit paper, then with a smoother 220-grit.
2.) We decided to replace the knobs on the top drawer and add pulls the bottom three drawers since they are larger. We filled the original holes, and some other nicks on the dresser, with patch plus primer, and gave it a light sanding after it was dry.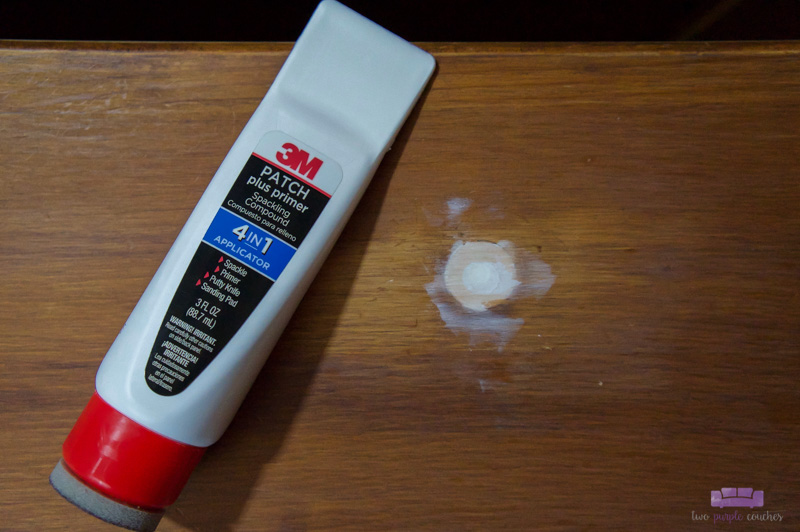 3.) I pulled out all four drawers and painted those first so I could do the insides as well as the fronts. I let the paint dry a couple of hours between coats, per can instructions.
Then I painted the dresser, and again, waited a couple of hours before re-coating. I really love having this giant spray tent so I can work inside in the winter! It fits perfectly in our basement.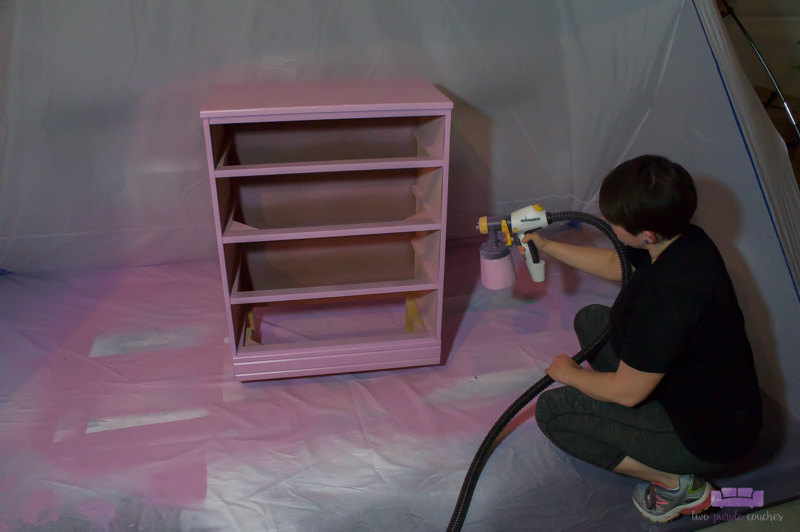 There are a couple of different settings on the sprayer handle: the Material Flow Control and the X-Boost Power Dial to adjust the coverage speed. The Studio Pro sprayer manual gives suggestions for these settings based on the type of material you're spraying, but it's always a good idea to practice on a piece of scrap wood first! Since I was using an interior latex paint + primer, I set the dials to the manual recommendations, which are 6 for the Power Dial and medium for Material Flow. After testing on a board, I knocked the Power Dial setting down to 5 and that gave me the best coverage on the dresser.
4.) When both the drawers and dresser had two coats of paint, I cleaned the sprayer according to the instructions, making sure to take apart all the pieces of the nozzle. This is very important, otherwise the next time you use the sprayer, any dried pieces of paint might cause the nozzle to leak.
I left the dresser and drawers to dry overnight, then drilled new holes and attached the new pulls the next day. And voila! My baby girl dresser makeover was complete!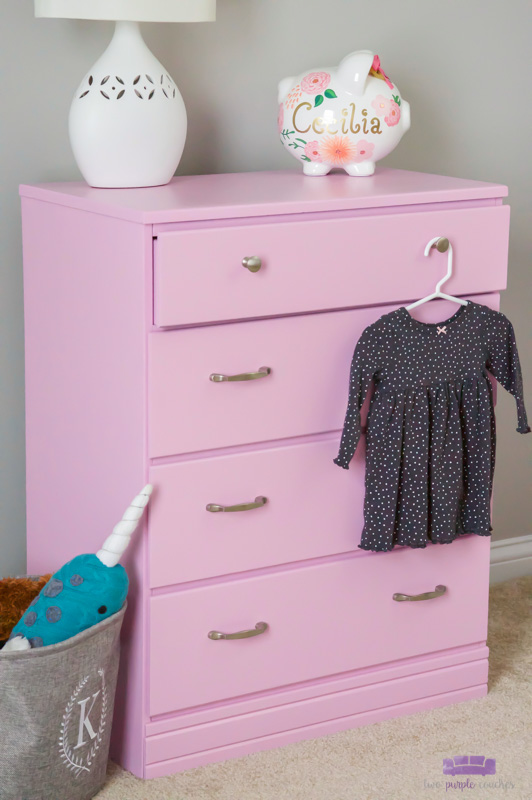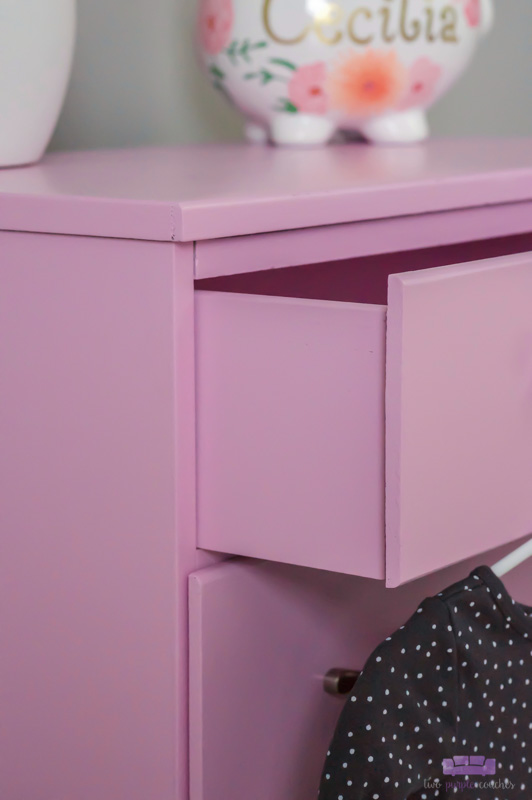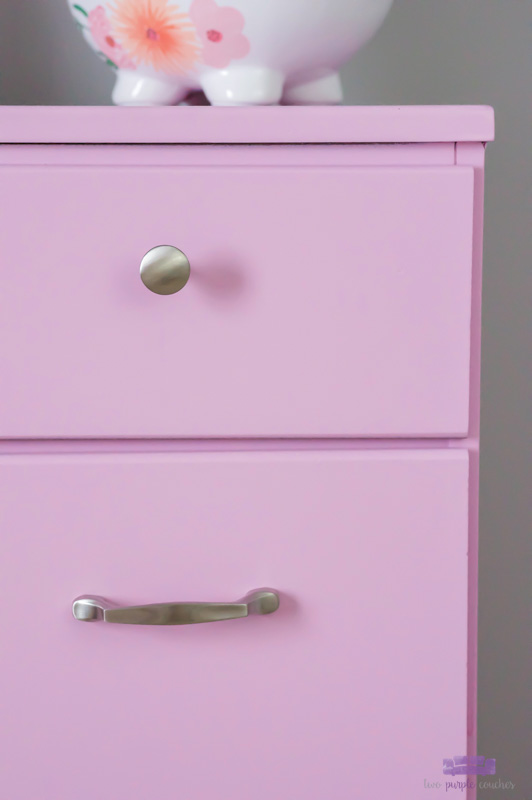 Doesn't it look cute in her room!? It's the perfect spot for the piggy bank we got her for Christmas (it's from this Etsy shop). The lamp is from IKEA, though I can't find it on their website. Now I just need to fill the drawers with her clothes… and her ever-growing collection of hair bows.
Don't forget to order your own Studio Pro Paint Sprayer for $100 off through January 31st! Click the image below for more details.
Love this? Don't forget to bookmark it or pin it!