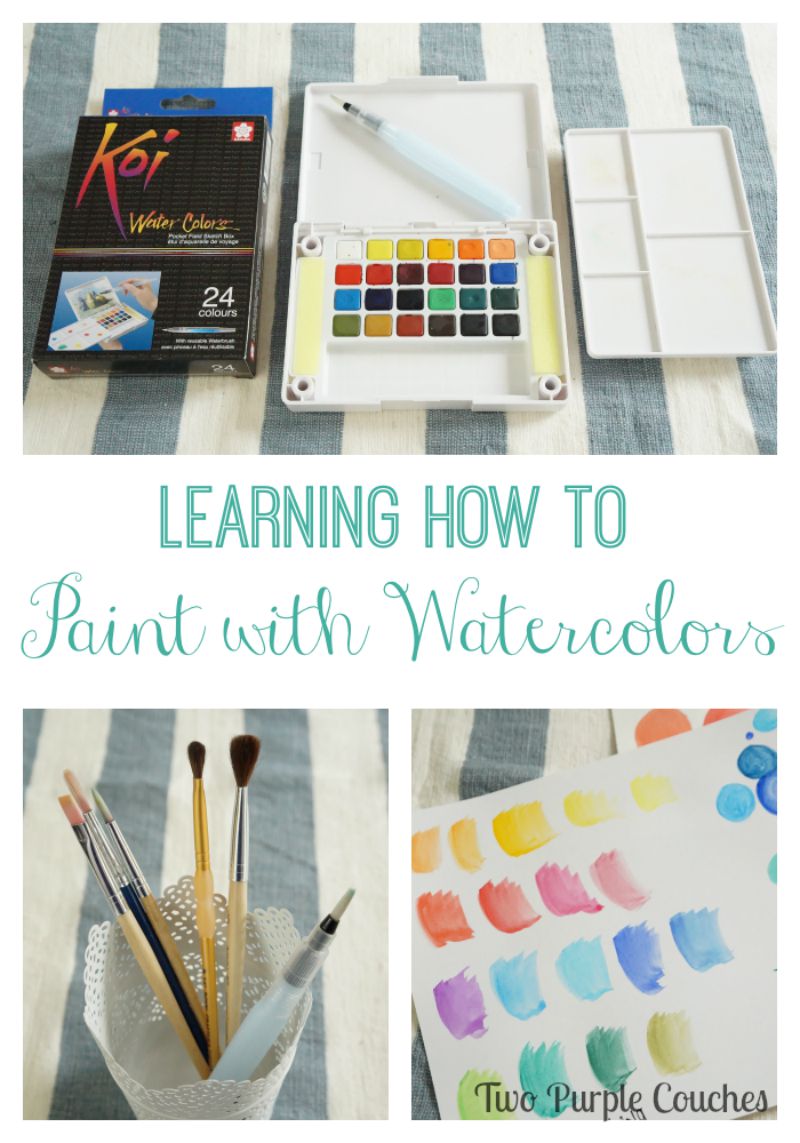 If you saw my recent review of The Creative Retreat Workbook by Jennie Moraitis, then you also got a glimpse into my newfound love for watercolors. (If you didn't, you can read it right here). But I thought I'd take some time today to share more about my journey of learning how to watercolor. More specifically, how I took the plunge, where I found my supplies and who I look to for tips and techniques.
While I've done several canvas paintings over the years (like this one and this one), watercolor has always felt like a more advanced medium to me. I remember learning watercolor in my high school art class; we sprawled out on the school's front lawn, sketched out scenes of flowers and then turned to our not-so-sophisticated watercolor palettes to color them in.
It felt a little forced and stuffy and not at all like some of the beautiful, casual watercolors I've come across lately on Instagram, Etsy and other creative sites. There is just something about these colors flowing and bleeding together that I find so gorgeous and inviting. And I've always felt that the process of creating these must be so creatively rewarding, but also completely out of reach for someone like me with no traditional artistic training.
But then I realized I was wrong. Very, very wrong!
After spending some time with Jennie's workbook, I knew I needed to take the plunge into watercolors to satisfy my creative curiosity. I started out doing a bit of research, turning to some of my blogging buddies who are themselves watercolor masters and adventurers.
Getting Started
One of the first resources and masters I turned to was Rachel of Lines Across and her Watercolors for Beginners series of posts. Rachel makes watercolors feel so approachable and effortless, and her sweet examples and paintings encourage me to keep practicing and creating.
Jennie, who I mentioned above, also has a wealth of beautiful watercolor crafts and ideas on her blog, Little Girl Designs. Definitely go check out her hand-painted cards (like these)!
Another fantastic resource for beginning watercolors is YouTube. Simply search for "watercolor for beginners" or even specific subjects like "watercolor flowers" and you'll find a wealth of fantastic tutorials. I've also recently discovered this site called Creativebug that has several free watercolor tutorials, some of which are taught by Yao Cheng, who is an amazing watercolor artist (check out her beautiful Instagram feed here).
The Materials
I've learned that there are two main types of watercolor paints: pre-assembled palettes and paints in individual tubes. Given that I am just diving in and getting a feel for watercoloring, I decided to go with the pre-assembled palettes. This Sakura 24-piece KOI Assorted Water Colors Set came heavily recommended, and for a good price on Amazon.
This set also includes a water brush, which is a brush with a chamber that you fill with water, then squeeze out into the paint pans to pick up each color. The bristles are made from flexible nylon, so they're quite durable and easy to wash out.
As for other, traditional brushes, I already owned an assorted set of Artist's Loft brushes from Michaels. While they're more all-purpose paint brushes, so far they have suited me just fine. I may invest in some nicer watercolor brushes down the line.
While I have a few sketchbooks at home, I learned that 140lb paper works best for watercolors, otherwise the paper will wrinkle up as it gets wet. I've used my 60lb sketchbook paper and regular cardstock for experimenting with my paints and different brush techniques, but when I actually want to paint for a project, I grab a pad of good watercolor paper. I purchased a Canson 140lb cold-pressed pad from Michaels. It wasn't too expensive, but grabbing a 40%-off coupon from their weekly ads or app surely doesn't hurt! I also purchased this pad of Strathmore 140lb watercolor postcards from Amazon when I ordered my Sakura watercolor set.
Diving In
All that was left to do was gather my new materials, make myself a cup of coffee and start playing! I started by simply painting a swatch of each color in my palette so I could see what it would look like. Then I turned to YouTube for tutorials on how to create transparency and opacity with one color. I also played around with different brushes to see what sorts of lines and textures I could create. Then I was ready to tackle a very simple abstract wash, inspired by this video.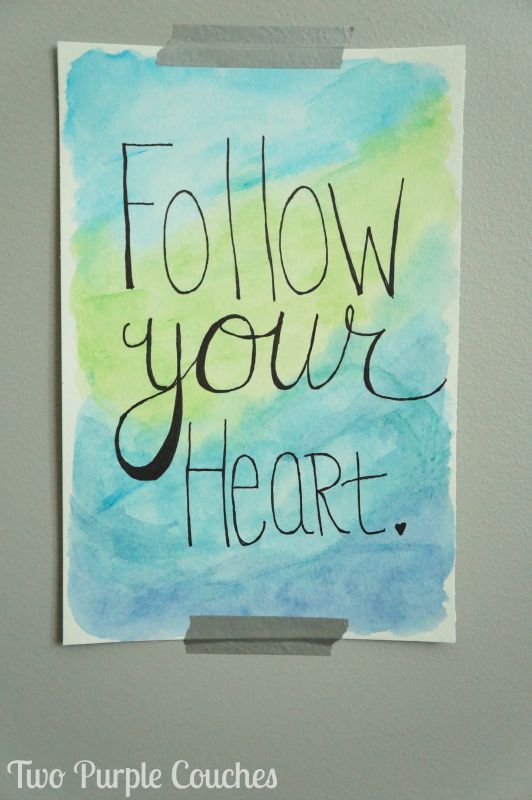 And that's how I learned how to watercolor! It's been so enjoyable and relaxing to sit down for even just 30 minutes and create beautiful brushstrokes on a page. I've experimented with simple shapes, like these watercolor circles, and even flowers. I know I still have a lot to learn, but I'm not putting any pressure on myself to paint a beautiful landscape or detailed design. I'm just enjoying the time I spend with a brush in my hand and seeing where my creativity takes me!
How about you? Have you always wanted to learn how to watercolor?