A few weeks ago, a whole gaggle of bloggers (blaggle of bloggers? what's the right term for a large group of bloggers?) got together to share and show off their beautiful kitchens, including my bloggy friends Jamie of So Much Better with Age and Jenna of Rain on a Tin Roof. With each kitchen I "toured," I got so many ideas and inspiration for our own kitchen. And it just so happened that the very same week, our kitchen got it's own makeover in the form of a nice rich coat of paint.
Now, I have a confession to make. I may be the worst DIY blogger ever: I did not paint my own kitchen. My husband didn't even paint our kitchen. We hired-out the painting of our kitchen. But hear me out: my husband's uncles own a painting business. And when they can cut-in perfectly in a matter of minutes (versus the hours it takes us), you just don't paint your own house. Gotta support the family biz, right?
The shade we chose is Behr's French Lilac, the same color that we chose for the adjoining hallway and half bath (which we did paint ourselves; give me some credit there!).
Since we had to clear everything off of the counters, I started to re-think what would go where when we put it all back together again. And so far, I am really loving it. The soft French Lilac is such a warm, rich color, and such an improvement over the "Builder Beige." It makes our maple cabinets pop off the wall.
Our kitchen is a little hard to photograph, since it's on the interior of our home, and I think the paint is even harder to capture on camera. It either looks pink or washed out, but hopefully you get a sense of how it feels through these photos. It's so very lovely and soft and warm in person; I hope that comes through!
I love my morning latte. I don't do black coffee. I do espresso. And Tom, who even hates the smell of coffee (crazy, I know), was so sweet to spoil me with a Nespresso machine as an anniversary gift a few years ago. He must really love me, to fuel my coffee obsession when he himself can't stand the stuff. Awww.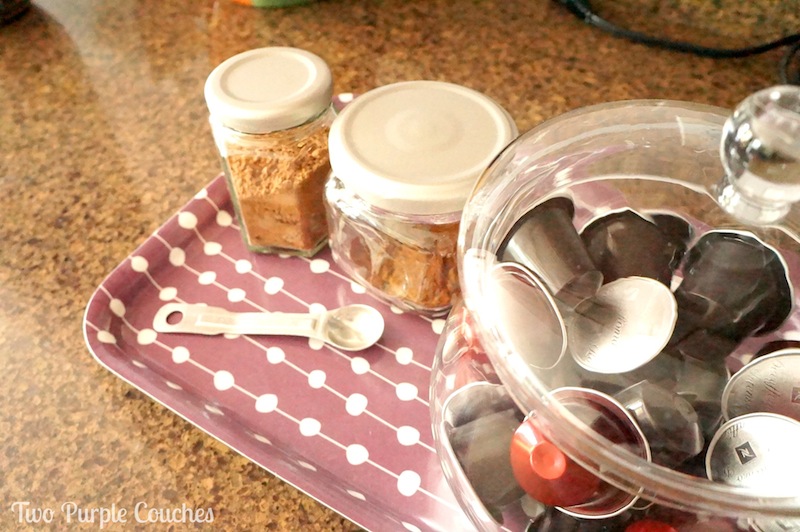 Nespresso is like a Keurig: you brew individual pods. So I keep my pods in this pretty glass candy jar we got for our wedding. The small jars contain cocoa powder and cinnamon so I can dress up my lattes like the coffee shops do. My new coffee station demanded something fancier than boring spice containers, so I raided my hoard of tiny jars. I selected these two, which previously held pine nuts and marinated artichoke hearts. I spray painted the lids in Krylon Brushed Nickel to match our cabinet knobs and brushed stainless appliances. The tray is from IKEA.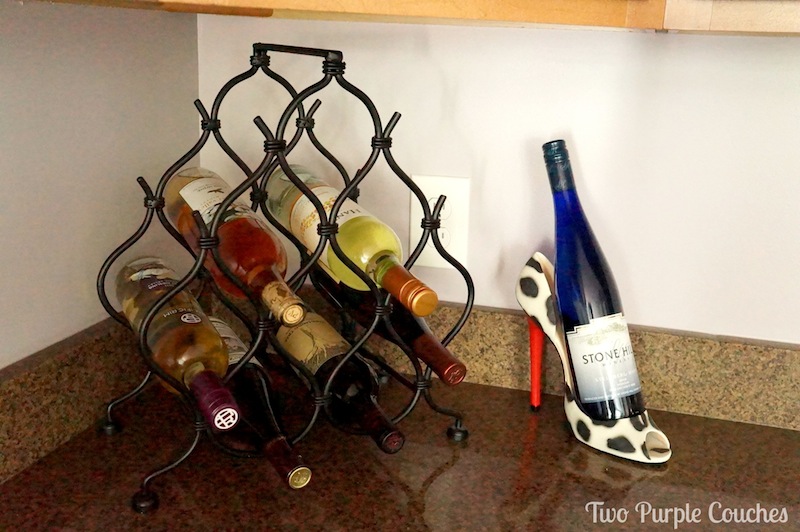 (Fully stocked) Wine rack, and this adorable wine-holding shoe is from my mom. She knows me well.
Our sink + island is great for two things: 1) food spreads for parties and 2) collecting clutter. I'm really going to try to keep it crap- and clutter-free from here on out.
Our kitchen table is a hand-me-down from my parents. They bought it when we moved in 1994, and I got it when Tom and I got married.
At nearly 20 years old, it's in amazing shape. It doesn't match our kitchen at all, but there's no sense in getting rid of it. We're thinking a good cleaning and a fresh coat of paint would be just the thing. But we're not sure what color to go with. Leave your suggestion in the comments 😉
My mom & I made our placemats. I love the purple + yellow combination in our kitchen and family room. It's a color palette that works year-round!
That about concludes my kitchen tour, for now! Tom & I are hoping to add a backsplash in the next few months, so of course I'll have to give you a new tour once that happens!
Have you recently been inspired to re-do your kitchen? Are we talking a coat of paint or a total gut-job?