Less than one week until Valentine's Day! I've got another fun DIY art project to share with you today. As I was thinking of how I wanted to decorate our mantel for Valentine's Day, I kept thinking of favorite novel – Pride and Prejudice. I'll be sharing my Valentine's mantel with you tomorrow, but in the meantime, I want to show you how I made this Jane Austen Silhouette art.
If you saw my Valentine's canvas art last week, you might be able to guess that I've been on a watercolors kick recently. I could spend hours blending colors on paper; I love watching how they melt and bleed together. So naturally I decided on an abstract watercolor background for this art, but I took it one step further by cutting the paper into tiles and creating a mosaic-style background.
This post contains some affiliate links for your convenience. Click here to read my full disclosure policy. 
How to create Jane Austen Silhouette Art:
Materials Needed:
Tutorial:
1.) Cover one to to sheets of watercolor paper with paints. I mixed and blended Carmine and Purple to create a variety of pinks and purples on my paper. Allow to dry fully.
2.) Cut watercolor paper into 1″ strips, then into 1″ by 1″ squares. This goes a little quicker with a paper trimmer, but a ruler and scissors work just as well!
3.) Create mosaic background with watercolor squares. In a random order, start gluing squares to a piece of poster board or heavy card stock cut to fit your frame.
4.) Cut Jane Austen silhouette and add lettering. I used my Silhouette Cameo for this step to design and cut my image of Jane Austen. I hand-lettered my favorite quote from Pride and Prejudice (the one where Darcy professes his feelings to Elizabeth) with a paint pen, then glued the finished silhouette to the background and popped it in a frame!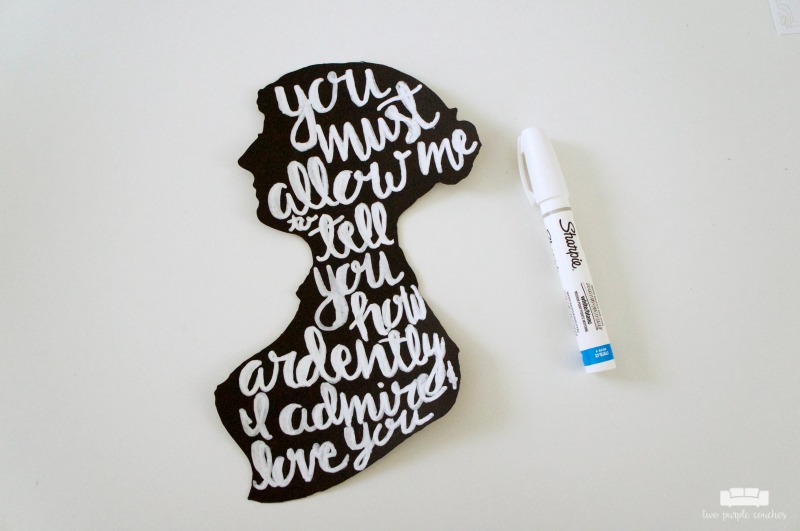 Love this? Don't forget to pin it!