You know how some things should be soooo obvious to you, yet they're not? Well, I've been trying to think of a good series I could share with you on a regular basis, but I was coming up short on ideas.
Then it hit me like a ton of handmade clay bricks.
*Duh! Hand. Made. I heart handmade! And I heart sharing it with you!
Oh, Emily… the things you miss that are right in front of you…
So, please give a warm welcome to a new Two Purple Couches series: I Heart Handmade, where I'll be sharing some of my favorite artists, makers, photographers, illustrators and more that I discover throughout the interwebs and local crafty events.
I'm kicking off my very first I Heart Handmade series today with a very exciting announcement, and one that is near and dear to my heart: Umba.
Let me give you a little bit of background: Umba began just two years ago as Umba Box, a curated subscription box of handmade items. You may remember me divulging that I danced a jig in my driveway upon receiving my very first Umba Box. Umba's mission has always been to unite through creative discoveries that delight and inspire. And now, the amazing, passionate team behind Umba is taking this to the next level.
In those two years, Umba has partnered with hundreds of amazingly talented artist who've spent years refining their craft and pursuing their passion. But, this doesn't come without challenges, from fierce pricing competition to oversaturated online markets. So Umba is creating a community to be the voice for these artists, designers, producers, and illustrators, and connecting them with a those who understand and appreciate their craft.
Umba is also empowering a new class of entrepreneurs, called Umbassadors, who are seeking to spread the handmade word. I told you a few weeks ago that I've been selected as an Umbassador, and I'm over the moon about it. And, friends, the Fall collection, which just launched this week, is in.cre.di.ble. I mean, gorgeousness. Adorableness. Talent that will blow you out of the water. And good causes that will give you warm fuzzies all over.
Sorry that this post is getting kind of long, but bear with me, because here comes the eye candy!
Like….
These ridiculously cute baby moccasins. BABY MOCCS!!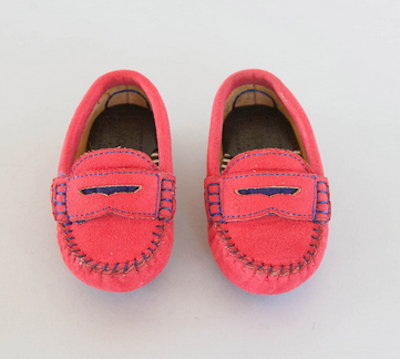 Or this cool statement necklace that's handmade by artisans in India who are improving their lives by working with a women's cooperative. Did I mention that this is reversible. Yeah, you get two looks for the price of one, plus helping female artisans.
These Banded Cotton Towels are crafted by men and women in Ethiopia, who are now earning a steady income and are able to send their children to school.
The air is getting cooler, the pumpkins are getting spicier, the apples are getting crispier, and the Umba Fall collection is full of scents, textures and colors that form a heartwarming palette for you to cozy up with throughout the season. Go grab a steaming mug full of your favorite freshly brewed coffee or tea (I'm a latte girl, myself), and settle in to browse the Lookbook here. I promise you won't be disappointed!
 Disclosure: As an Umbassador, I do earn a 20% commission on all purchases made through umba.com/emilykennedy or by clicking on the Umba ad in my sidebar. I am very passionate about supporting the handmade community, and all opinions expressed here are my own. I wouldn't share a product, artist, or brand I don't believe in.