You may have caught a glimpse of this wooden beer crate as part of my Fall Mantel decor earlier this week (see it here). While the crate is fantastic on its own, I thought it needed a little somethin' to spice it up a bit, and that little somethin' is a fabric liner. And today I'm going to show you how to sew a fabric crate liner, in case you have your own vintage wooden beer crates in need of some chic fabric liners! (wink)
Something about this crate caught my eye at the Burlington Antique Show last month. I'm not typically an old-wood-crate kind of girl, but I kept thinking about this crate as I walked around the fairgrounds and I knew I had to have it. The black stamped lettering, the weathered wood, the old metal braces. It was just plain cool. I had no idea what I'd do with it or where I'd display it, but I knew it was coming home with me.
As I was working on this post last night, I decided to do some Internet sleuthing to try to learn some more about the Burkhardt Brewery and maybe even guesstimate how old this guy is. Well, I got lost down an Internet rabbit hole, as I am wont to do, and learned that the Burkhardt Brewing Co. of Akron, Ohio was purchased by the Burger Brewing Co. of Cincinnati, Ohio in the 1950s. Cincinnati's brewery history is a topic I am fascinated by, and even wrote a research paper for my History Minor about Prohibition's devastating effect on Cincinnati's brewing industry. So maybe this explains the strange pull this crate had on me; it's a cool piece of memorabilia for my love of my German roots and my city's brewing heritage.
But you're not here to learn about this crate's history; you want to learn how I sewed this fabric liner! So, let's dive into the sewing tutorial!
The reason why I wanted to add a fabric liner to this crate is because the interior sides are a bit rough, and the bottom has a few holes in it. I didn't want to get sawdust and splinters all over my pillows (or whatever else I decide to display), so a liner is a perfect solution. Plus, I personally love the contrast of the old, weathered wood and metal with this modern black-and-cream pattern.
Since this was my first time attempting to sew something other than a throw pillow cover, I turned to YouTube for inspiration, and then to a sewing expert (i.e. my mother) for help. Here is the video that I used as a guide to make my fabric crate liner. My mom and I modified some of the steps in the video to work for this project.
The fabric I used is Covington Windsor Ebony/Ivory from Online Fabric Store. I received this fabric in my Haven Swag Bag last year. I had just over a yard of it, and still have some left over. The amount of fabric needed will depend on the dimensions of the crate.
How To Sew a Fabric Crate Liner:
Step 1: Measure each side of the crate, as well as the bottom. Add a 1/2″ to each measurement for seam allowance, plus 2″ to the height of each side to account for the fold-over at the top of the crate.
Tip: before you start cutting, pin the corners of each block to keep the fabric from slipping: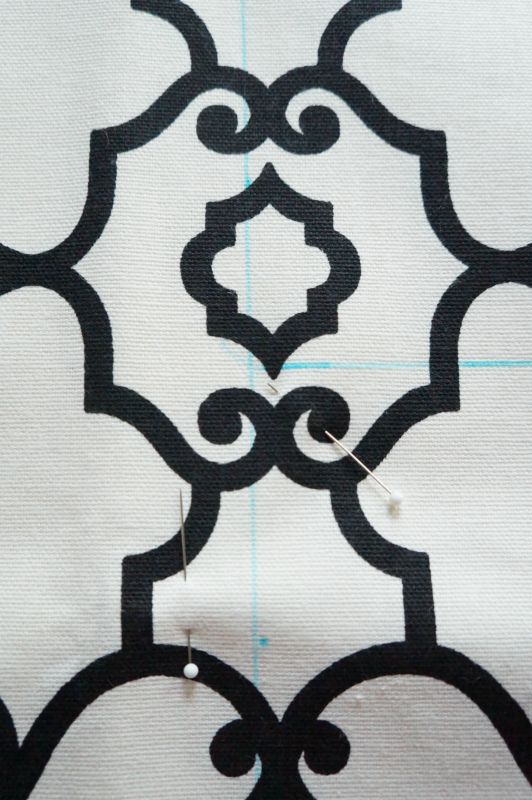 Once each piece is measured and pinned, cut each one out.
Step 2: Begin sewing each of the side pieces together in this order: short side to long side to short side to long side. Be sure to have the right sides of the fabric facing each other before sewing!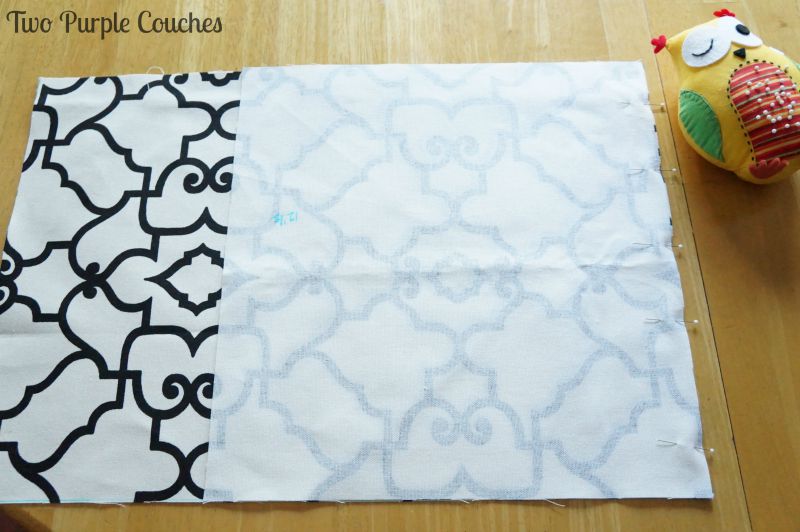 Step 3: To attach the bottom piece, start by matching up a long edge of the bottom piece with the long side piece. Again, sew the right sides of the fabric together. As you near the end of the long side piece, leave about 1/4″ and, with the needle down in the fabric, pivot the fabric and begin sewing the short side to the short edge of the bottom piece. Continue for the next long and short edges of the bottom piece, leaving 1/4″ and your needle in the fabric as you pivot at each corner.
This step is a bit tricky and requires some maneuvering with the fabric, but take it slow and it'll come together! I may have had to rip out my stitches a few times!
Step 4: Hem the top of the liner to finish off the edges (about a 1/4″ to a 3/8″ hem will do), and your liner is finished!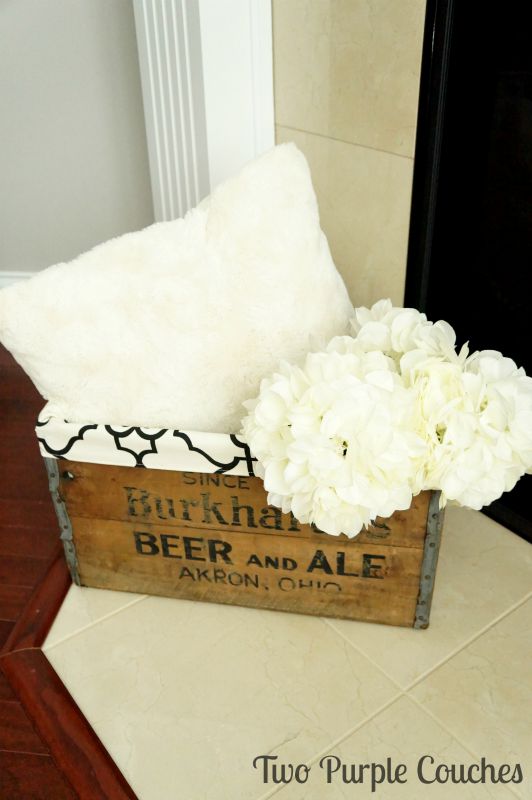 Like I said earlier, I really, really love the contrast of the old crate and the modern geometric fabric. It's everything I love about history and pieces with a story and a past mixed with modern and pattern and fun!
Don't forget to pin this tutorial to save it for later!
(p.s. – If you're curious… I still haven't been able to figure out how old this crate might be. If you have any thoughts or guesses, leave me a comment!) 
Love this? Then you might also like this tutorial for how to make an envelope-style pillow cover: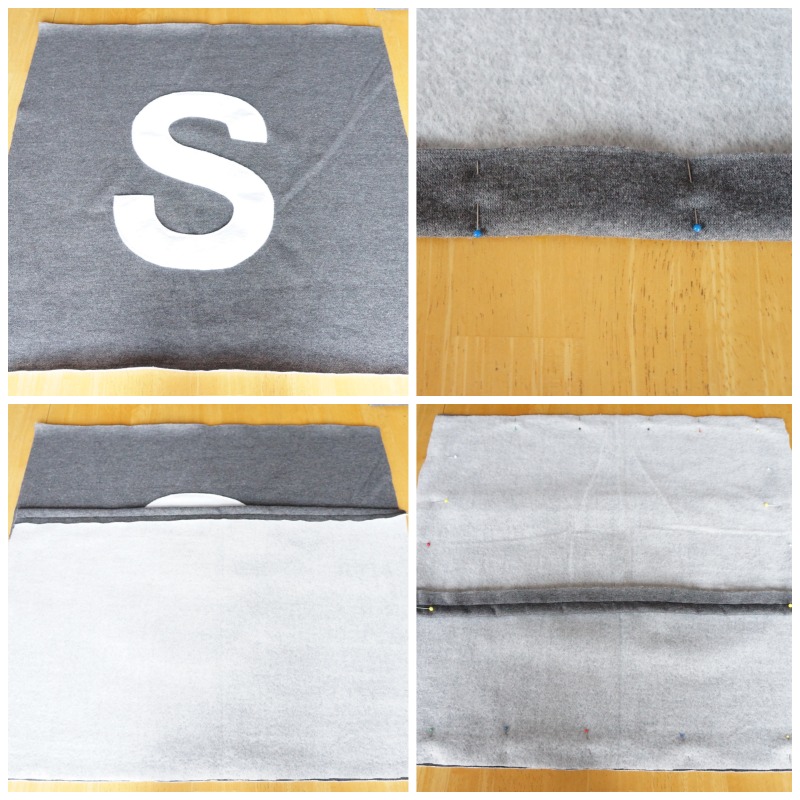 Sharing with: Merry Monday / Awesome Things Tuesday / Work It Wednesday