Friends, I have got something very special to share with you today, or rather, my friend Karista has something very special to share with you today! I'm very excited to introduce Karista of Karista's Kitchen and one of my fellow editors at VRAI Magazine. She and I are doing a sort of flip-flop today! In the spirit of the holidays, we're swapping posts! I am sharing a glam neutral holiday tablescape over on Karista's blog and she is sharing four spectacular appetizer ideas here! So without further ado, I'll let Karista take it away!
It's the most delicious time of year! I'm so excited to be guest posting on Two Purple Couches. Emily has so graciously written a fantastic holiday tablescape post for my website, Karista's Kitchen, and I am sharing with you a few of my favorite holiday nibbles that are simple, delicious and fuss free.
A little about myself… I'm Karista Bennett of Karista's Kitchen. A farm loving, food writing chef capturing everyday moments with extraordinary food. I live in the beautiful Willamette Valley, Oregon among vineyards, farms, ranches and as my youngest daughter will tell you, sheep, sheep and more sheep.
I met Emily through our work with VRAI Magazine. I was so completely enamored with her talent for décor (because I'm completely lacking that talent), I asked Emily if she would write a post for my website. In turn, she asked me to write a post for hers. So here I am, ready to talk food!
The holidays are busy but they don't have to be stressful. There are many quick and simple ideas for preparing delicious and beautiful appetizers. For example, a simple cheese tray of fresh fruit, your favorite cheese, maybe a dip or two with assorted crackers and fresh crusty bread. To jazz up your cheese tray, purchase a goat cheese and then top it with a red pepper jelly or fig preserves. Such a simple but flavorful way to impress your guests.
These next few recipes are always on my "go to" starter list. Whimsical and delicious, the stuffed olive and sausage poppers will fly off your holiday table and into the mouths of your guests. They pair beautifully with cocktails, wine and even Pellegrino and are fairly hearty for an appetizer. Easily assembled and baked for stress free entertaining.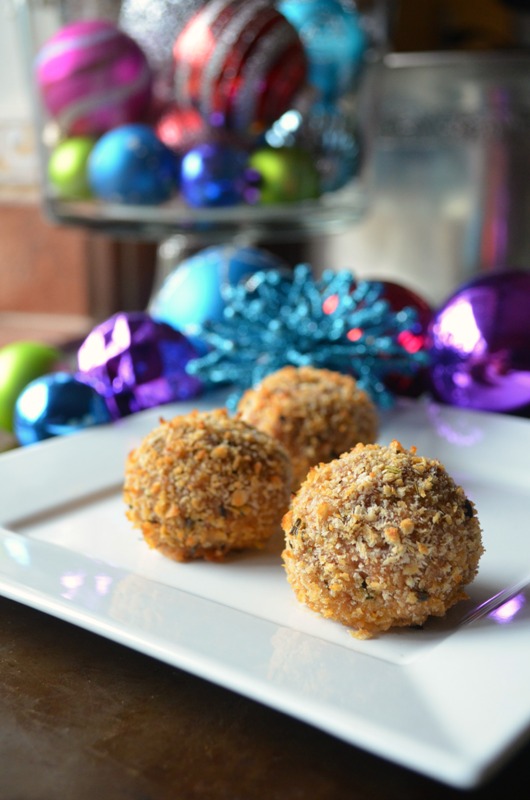 Stuffed Olive and Sausage Poppers
Makes about 18-20 depending on size of the olives.
Ingredients
• 1 jar (or about 20) feta or bleu cheese stuffed green olives. Sometimes I can find orange peel stuffed olives and these are fabulous in this starter.
• About 1⁄2 – 3⁄4 cup panko style bread crumbs
• 1 pound sweet, mild or hot Italian sausage
Directions
Line a baking sheet with parchment. Make sure you lightly paper towel the olives so the sausage will stick. I usually place the olives in one bowl, the sausage in another and the bread crumbs in a third bowl.
Flatten out a tablespoon sized portion of sausage in your palm. Place an olive in the center, then shape the sausage around it, enclosing the olive.
Roll the sausage wrapped olive in the bread crumbs. Continue to shape it and pressing the bread crumbs into the sausage slightly. As olives are prepared, space them apart on a baking sheet.
Repeat with the remaining olives
The olives can be prepared a day in advance and refrigerated. Cover tightly.
At least 20 minutes before baking, remove them from the refrigerator and pre-heat the oven to 450F. Bake the olives for about 12-14 minutes, until the sausage is cooked and lightly browned.
Serve on a long olive tray or speared with fun picks.
Retro Ham and Olive Rolls
I love surprising my guests with food from past decades. Who doesn't remember these next little lovelies? My mom made these every time she entertained. Guess who did all the rolling? Thin slices of ham spread with cream cheese (or Boursin if you want to get fancy), rolled and then topped with a green martini olive. Skewered with fun picks and served as a festive nibble with cocktails.
Ingredients
• Thin slices of ham
• 8 ounces cream cheese (or Boursin cheese)
• 1 or 2 jars Martini olives or green olives with pimento
• Fun picks or skewers
Directions
Lay the ham slice flat and spread with a thin layer of cream cheese. Then roll tightly, slice in rounds and skewer ham side up with the olive. These can be prepared an hour or so before serving. Keep refrigerated.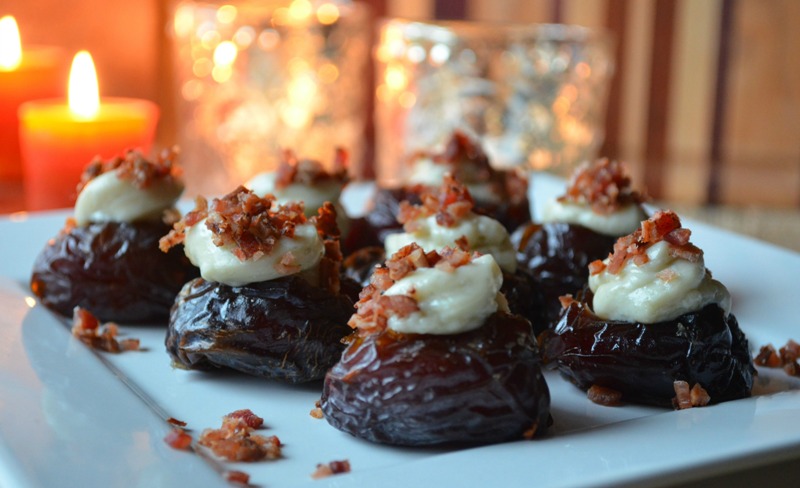 Bleu Cheese and Bacon Stuffed Dates
I think one of my favorite flavor combinations is sweet with salty or pungent cheese. Blue cheese stuffed dates are a perfect combination of flavor and offer a nice alternative to the appetizer table. Another fun way to prepare these dates is to blend together a fancy honey, such as lavender or orange honey with goat cheese and then stuff the dates. Bake them at 350F for about 10 minutes and serve. Melt in your mouth delicious!
Ingredients
• 25-30 Medjool dates
• 4-5 slices bacon, cooked (I usually cook more than five as my family will walk by the
stove and sneak a few slices)
• 6-8 ounces good quality bleu cheese (I love Rogue Creamery Bleu's), or Gorgonzola
Directions
Remove the seeds from the dates and arrange on a platter.
Finely dice the bacon or place it in a small food processor and mince.
Place the bleu cheese in a food processor or with a hand mixer, cream the bleu cheese. Transfer the creamed bleu cheese to a pastry bag or a small Ziploc bag.
Cut a small hole in one corner of the ziploc bag or a larger hole in the pastry bag. Pipe the creamed bleu cheese into each date.
Sprinkle each date with minced bacon, gently tapping it on the cheese to keep it secure. Serve at room temperature.
This is a lovely app that can be prepared prior to serving. Cream the bleu cheese and hold in the frig. Cook the bacon, mince and then hold in the frig. Pit the dates and also hold in the frig. Then right before guests arrive, pipe in the blue cheese and top with the bacon. Delish!
Caprese Rosemary Skewers
Last but not the least delicious is a fresh Caprese Rosemary Skewer. Rosemary skewered with sweet cherry tomatoes and baby mozzarella balls and fresh basil leaves. Drizzled with a bit of balsamic vinaigrette and ready to be enjoyed. These are simple, fresh and fill the palate with flavors of Italy. It's always a celebration when Italian cuisine is served.
Ingredients
• Cherry Tomatoes
• Small Mozzarella Balls
• Sprigs of rosemary, preferably older rosemary so the sprigs are sturdier
• Basil leaves, torn into pieces
• Olive oil, I like the Arbequina from California Olive Ranch Olive Oil Company
• Balsamic vinegar, preferably aged
Directions
Remove leaves from the rosemary stalks, leave just a sprig of leaves at the top for decoration.
Skewer the rosemary, alternating with cherry tomatoes, torn basil leaves and mozzarella balls. Once they are all skewered, drizzle with good quality balsamic vinegar or glaze and then with the olive oil. Sprinkle with a little sea salt and serve.