Chili is one of our hands-down favorite meals, and one of our favorite recipes is the chili my mom always made. In fact, this might be the only chili recipe she ever made, and for good reason, because it. is. delicious. This hearty turkey chili recipe is flavorful, filling, and not too spicy, but it can definitely be made to be more spicy if that's what you prefer.
My mom always made her chili with ground beef or sometimes with a mix of ground beef and ground turkey . Tom and I have pretty much been a 100% ground turkey family for at least 4 years, probably 5. When he began working at his current job (at SparkPeople.com), we started making healthier choices. And once we began swapping turkey for beef in our recipes, we never looked back. I try to stock up on 99% lean ground turkey when it's on sale, otherwise, we'll use the 93/7 turkey. And you want to know something kind of crazy? My meat-loving husband loves it!
With all of the chili powder and other spices in this recipe, you'd never know whether you're eating ground beef, turkey or chicken! But no matter what kind of meat you use, this chili will be delicious.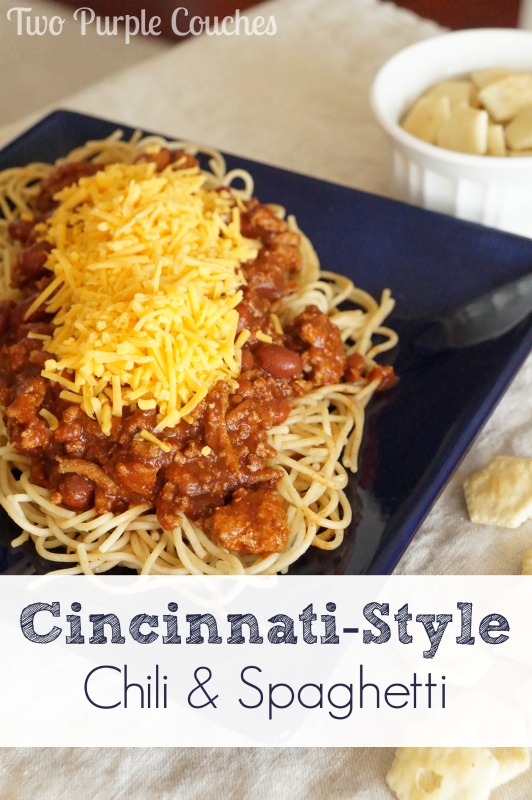 Now, here in Cincinnati, we eat our chili in a pretty unique (some may say strange) way. We layer spaghetti, chili and shredded cheddar cheese instead of a traditional bowl of stew-like chili. If you've ever been to a restaurant, you may see this dish referred to as a three-way. Or you can add beans or onions and make it a four-way. There are a few different schools of thought over what the consistency of the chili should be: some prefer the chili in their three-way to act more like a sauce. But Tom and I like ours be thicker, more hearty and substantial. Something that will keep you warm on cold winter nights!
If you prefer a saucier chili, or want to serve this recipe in a more traditional way, I'd suggest adding a good amount water or stock while cooking to thin it out.
When I'm feeling fancy, I top my turkey chili three-way with sour cream and green onions. Oh, and you've got to have a bowl of oyster crackers on the side! Mmmm…
Sharing with: Work It Wednesday / Lou Lou Girls 
Hearty Turkey Chili Recipe
Author:
Two Purple Couches
An incredibly delicious, not-too-spicy, and perfectly filling turkey chili. Makes a great dish for potlucks, Sunday dinners, football parties, or anytime when you need something warm and hearty.
Ingredients
2lbs ground turkey
16oz tomato sauce
1½ pkgs Buena Vida chili powder
chopped onion or shallot (optional)
1 clove garlic, chopped
1 tsp Allspice
1 tsp salt
¼ tsp pepper
Dash of Hot Sauce
1 tbsp Worcestershire Sauce
1 can chili beans
Instructions
Brown the meat, draining off any fat.
Add the rest of the ingredients, except for the beans.
Bring to a boil, then reduce heat to low.
Cover and cook 2½ to 3 hours.
Add beans the last half hour.
This recipe also works well in a slow-cooker. Add 1 cup of water to keep chili from burning.