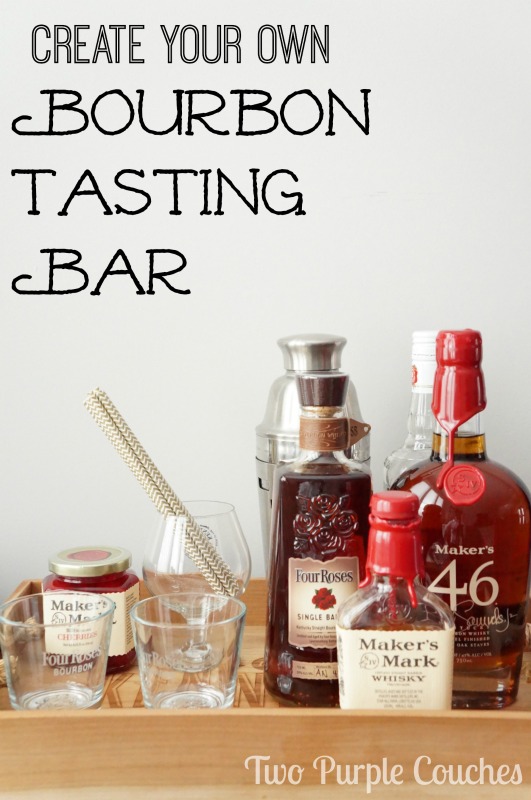 Did you get snowed in this weekend? We did, but thankfully not until we'd returned home from our day trip along the Kentucky Bourbon Trail! (you may have caught some snippets of our adventure on Instagram). Our trip, and the haul of bourbon we brought home, inspired me to create a mini-bar slash bourbon tasting bar.
While my German heritage and firm Cincinnati roots have given me an immense appreciation for beer, our close proximity to Kentucky has more recently inspired an immense appreciation of bourbon. Thankfully, the Kentucky Bourbon Trail is just a hop, skip and jump across the river. If you've never heard of the Bourbon Trail, it's essentially a map of all of the bourbon distilleries in Kentucky that offer tours and tastings. Getting through all of them in one day is probably impossible, given their distances from one another and limited hours (and the fact that you're sampling straight bourbon), but visiting a few makes for a perfect day trip or weekend getaway.
We stopped at two distilleries on our Valentine's Day Bourbon Adventure: Four Roses in Lawrenceburg, Kentucky and Maker's Mark in Loretto, Kentucky. And of course, we brought home souvenirs from each (wink).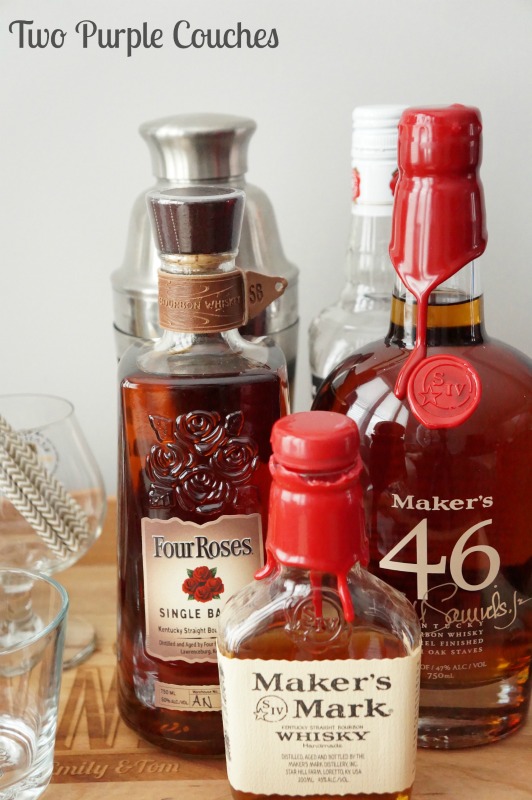 I haven't found a great space for a bar cart in our home, so our "liquor cabinet" is the bottom shelf of an IKEA bookcase in our family room. Pretty swanky, right? So instead of hiding our new bottles of deliciousness on the bottom shelf, I thought I'd display them on top. Plus, it makes them that much easier to get to for a little—ahem—nightcap.
Creating my bourbon tasting bar was pretty simple—I arranged our bottles of bourbon, our cocktail shaker and a few glasses inside a large serving tray. I also grabbed a jar of bourbon-soaked cherries while we were at Maker's Mark. Because bourbon. soaked. cherries.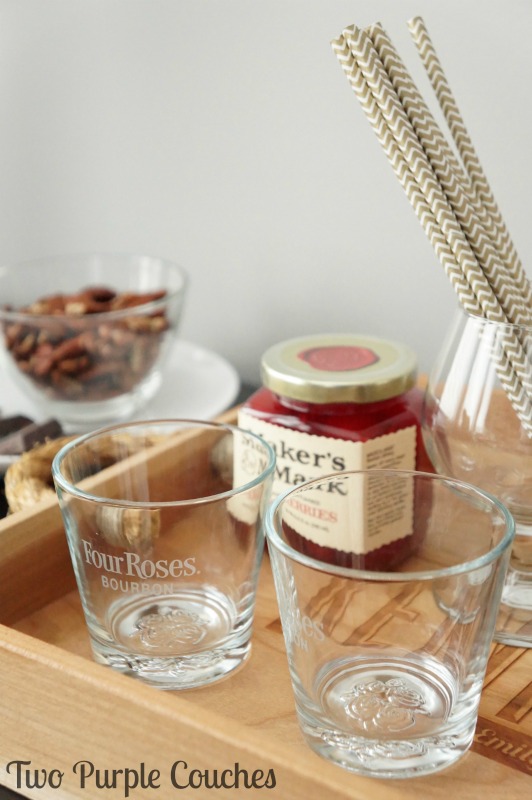 We're hoping to make our way back to the Bourbon Trail later this year and stop by some of the other distilleries. We should probably start working our way through these bottles so we have room for a few new ones (wink).
Sharing with: Work It Wednesday / Lou Lou Girls / Pretty Preppy Party / Outside the Box / Something To Talk About