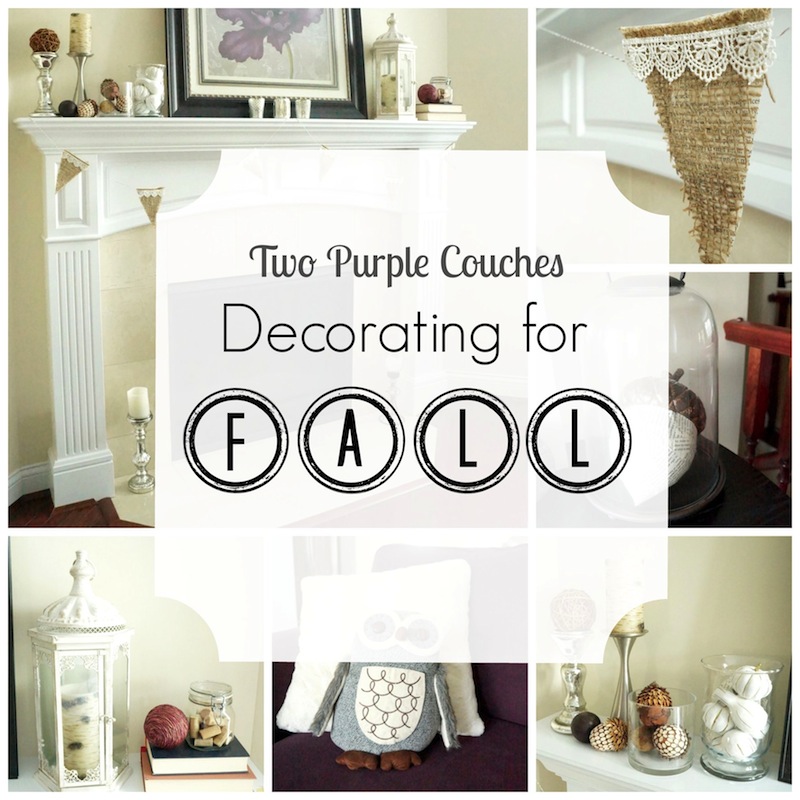 Today I'm very excited to be teaming up with some of my favorite bloggy friends for my first Blog Hop! We've been hard at work prepping our homes for fall, and now you get to see what we've been up to!
Happy Fall-i-Days from all of Us!
Jenna at
Rain on a Tin Roof
Jamie at
So Much Better with Age
Heather at
Southern State of Mind
Melissa at
The Happier Homemaker
Lauren at
The Thinking Closet
Laura at
The Turquoise Home
Emily at
Two Purple Couches
Candace at
Vintage News Junkie
Yesterday, you saw my "simple spruce up" to our front porch; Today, I'm taking you on a little tour of our fall-i-fied entryway and family room. Come on in!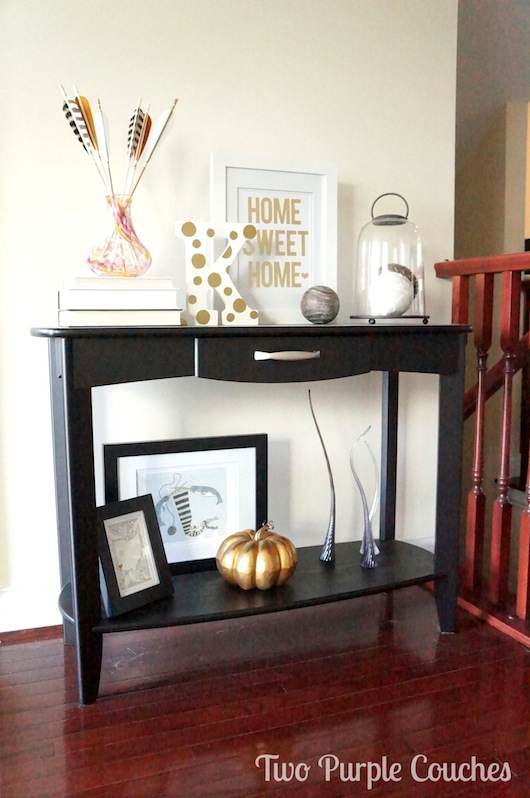 I still love the styling of our entry console, so instead of completely changing things up, I just added a few Fall touches, like the acorn in the glass cloche (I Mod Podge'd strips of book pages onto the the "belly" of the acorn), and rearranged the bottom shelf a bit. Also, please excuse the dust and dog hair underneath the table. The Sweeping Fairy doesn't keep a regular schedule around our home (darn her).
Moving into our family room…
I updated our mantel (more on how I got here tomorrow) with some textures, colors and pieces that feel right for the season.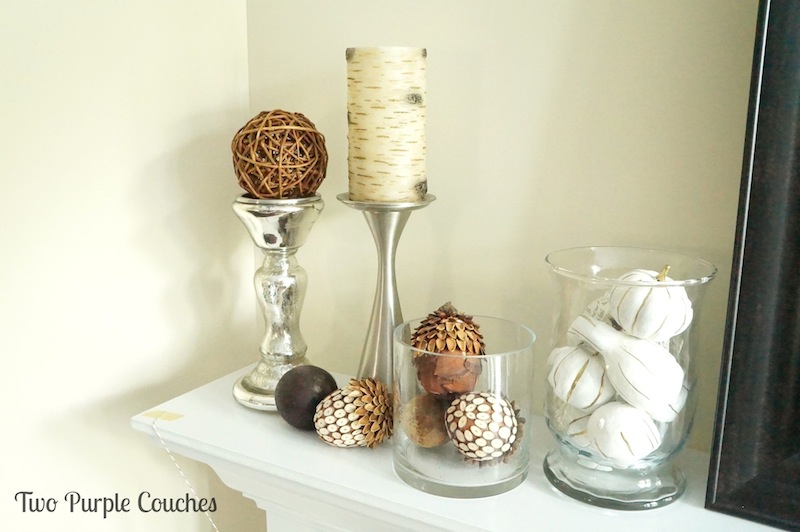 The low bookshelf by our stairs got fall-i-fied too:
I rearranged a few items on our side table. Aren't those felted acorns adorable? Can acorns be adorable? Who cares; these are. I've had them on my Etsy wishlist for months, and decided I had to pull the trigger on them for this season. I purchased them from a shop called feltjar.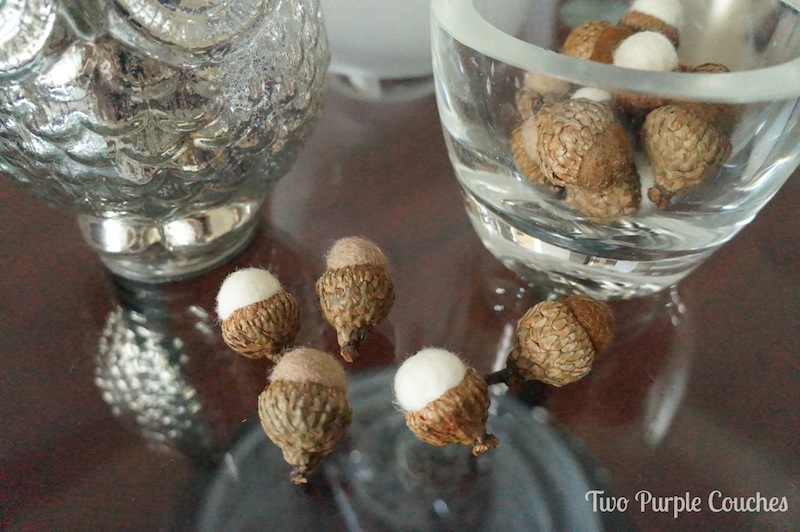 Even though it's been 85 and humid here in Ohio (whaaaaaaa?), I still had to pull out our soft furry pillows and throw (on couch)! Oh, and owls, duh. If there was ever an "owl season," this is it!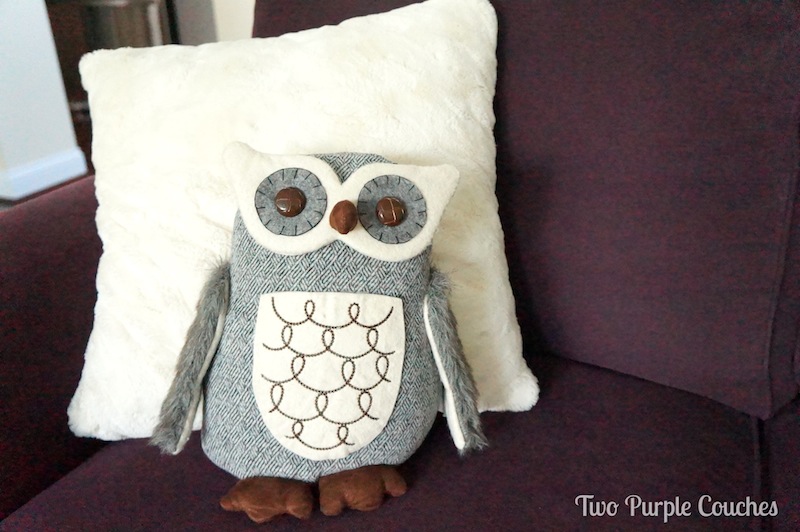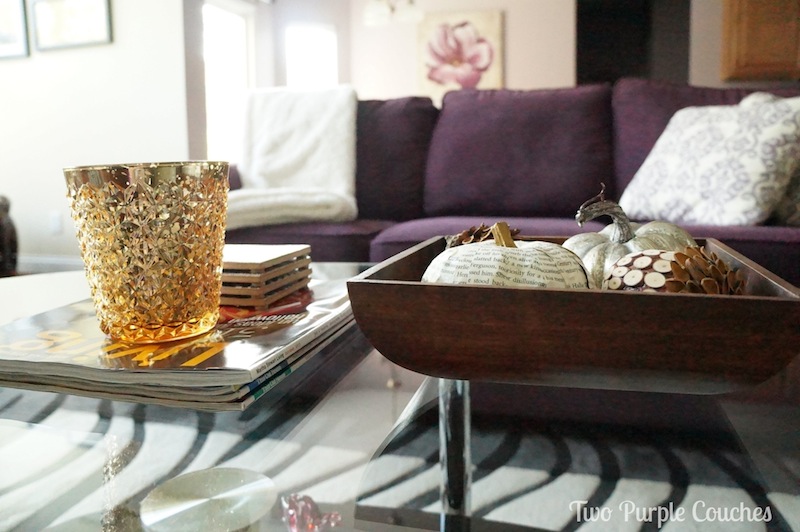 Thanks for stopping by! Please hop on over to see how these fabulous ladies are celebrating the Fall-i-Days!