I've been spending time this week "Fall-ifying" our home. While I haven't gone full throttle yet on mums and pumpkins for the front porch, I wanted to add a touch of the season to our front door. So I made up this "Happy Fall" Chalkboard Sign to tide things over until I'm ready for full-on Fall wreaths and outdoor decor.
To make my "Happy Fall" Chalkboard Sign, I updated this chalkboard "Welcome" sign with a new message and some Fall accents. 
I started by erasing the old "Welcome" message. Which was actually quite a process. Turns out the chalk marker I used is pretty stubborn! But after some tip hunting, I found this idea to try a Mr. Clean Magic Eraser—and it worked! Whew! I was a little worried that I'd have to abandon my Fall chalkboard sign idea. (the photo below is after I used the Magic Eraser; you can still see a bit of the original lettering, but it's much cleaner than it had been moments before)
Before I apply chalk to board, I look at Pinterest and Etsy for lettering inspiration. I found some really adorable Fall sign ideas, but since this board isn't huge, I opted to keep the message simple. And I practiced the style of letters in my sketchbook a few times so I had a feel for what I was doing.
I used real chalk to draw each letter and get the spacing the way I wanted it.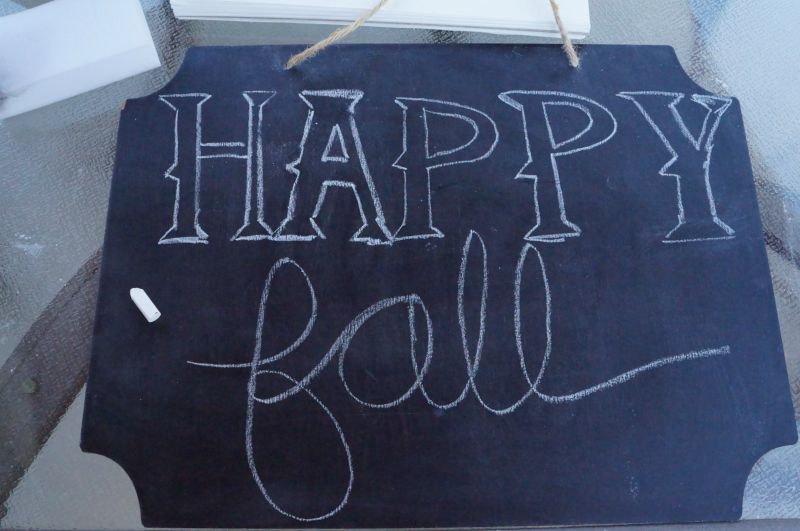 Then I went back over the chalk lines with my chalk marker to set them and add the calligraphy-esque details.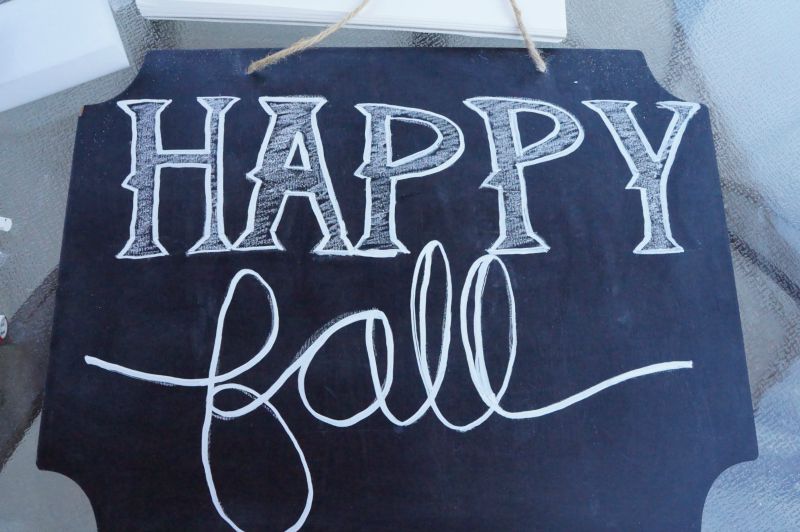 To finish off my "Happy Fall" Chalkboard Sign, I added a small wood pumpkin shape that I used in last year's Thanksgiving tablescape and twisted a couple of purple faux flower stems around the twine.
And now this sign is all ready to be displayed on our front door! Happy Fall!
Sharing with: Merry Monday