Now that the grass is green, the buds are showing, and the temps are climbing, I'm turning my attention from indoors to out! And this year, our front porch could use a little bit-o-lovin'. So I put together this Front Porch Mood Board to help me get inspired and focused.
We've already got a nice pair of club chairs, but the poor cushions are old, faded and have been through a lot of rainstorms. Plus, they're brown. And the en.ti.re facade of our home is brown: brown brick, brown shutters, brown door. See Exhibit A. Or should I saw B for Brown: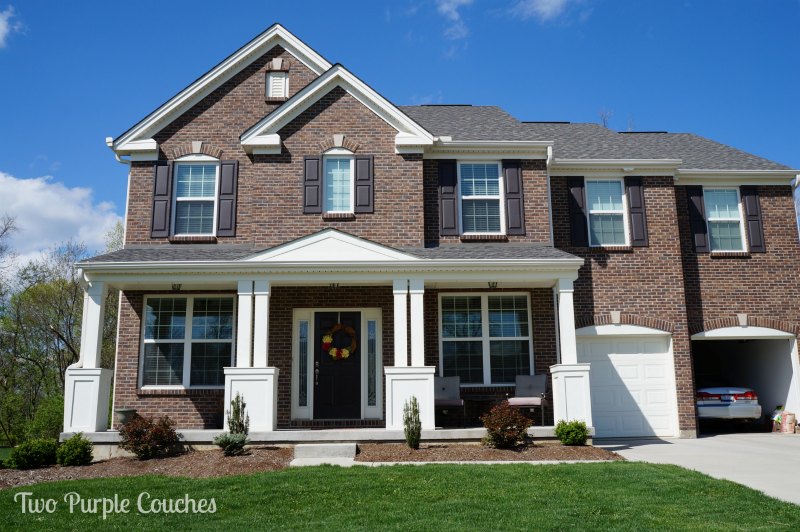 See? Our porch could really use a punch of color!
Tom and I are both drawn to the tealy, turquoisey blues and lime-apple greens. I'd also like to throw in a pop of orange or yellow (or even—gasp!—fuschia pink, if I can get Tom to go along!). Yes, flowers will help, but it's time we put a little love into this fab front porch. Because the porch was the reason we chose this exterior. I love front porches. They're so friendly, warm and feel like a bygone era come back to life. A big front porch is like your home throwing its arms wide open to wrap you in the biggest bear hug ever.
So, to jazz things up, we're hoping to bring in some fresh new cushions and pillows, planters full of flowers, and some fun accessories. Maybe a brightly colored garden stool or a quirky lantern. Oh, aaaaannnnd, probably a new color on the front door!
If you're curious, the majority of the items on the mood board were found at target.com and pier1.com.
Sharing with: