I'm back today to share more details from our recent trip to Kauai, HI – and today is all about the food (and drinks!) we enjoyed during our visit. These are some of our favorite Kauai restaurants—places we would definitely stop at again, and in one case, we even ate there twice in one week! (If you missed my first post about all the fun things we did in Kauai, you can find it here!)
I wouldn't say I'm a foodie, but I am definitely a lover of food. One of my favorite things about traveling is sampling whatever that city or region is known for. I was looking forward to tropical cocktails and fresh seafood long before we even stepped onto the airplane, and I was not disappointed!
I don't think we had a bad meal while we were there; some we enjoyed more than others, but overall, all of the food we sampled was delicious, and in many cases, about as fresh as it gets!
Our Favorite Kauai Restaurants
We dined at Keoki's on our second night on the island and liked it so much, we went back on our last night. If you love seafood, especially fish, Keoki's has you covered. Their menu is based on what fish is in-season and freshly caught that day. The first night we dined there, the hubs had Macadamia Nut Crusted Opah and I had Ono prepared "Keoki's Style". On our second trip, our waitress suggested we try the Onaga, which they hadn't had on the menu the first time we were there. Tom got his prepared the same way (he loves the mac nut crust!) and I had mine steamed with ginger and cilantro. Oh my goodness! SO good!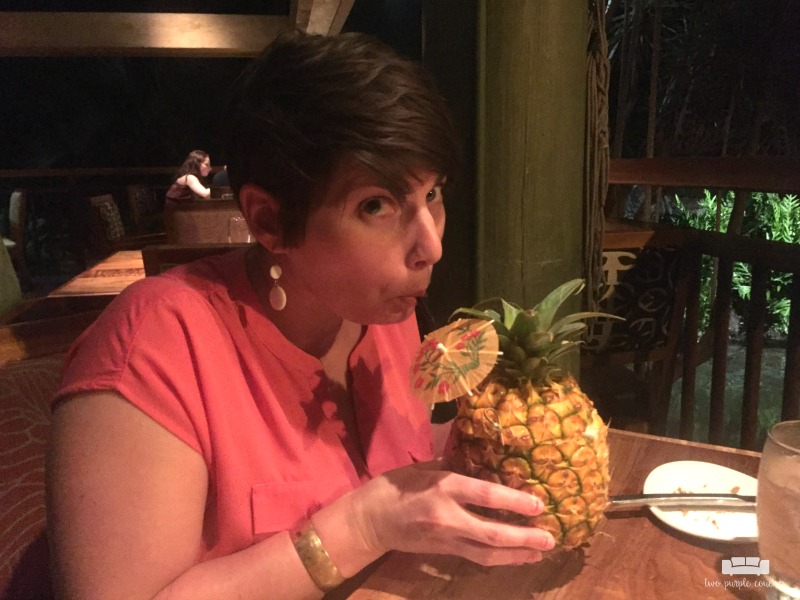 We also had some delicious cocktails at Keoki's Paradise – you have to try the Poipu Pina – a twist on a pina colada that is a blend of fresh pineapple, mint, rum and coconut creme served in a whole pineapple!
If you manage to save room for dessert, order a slice of Hula Pie. It's an ice cream pie made with macadamia nut ice cream and a cookie crust that's dripping with hot fudge sauce. Actually, order it even if you don't have room for dessert – it's too yummy not to sample! (My poor hubs is lactose-intolerant, so he couldn't help me eat this massive slice).
Another friend recommended The Dolphin for sushi, and there was a location recently opened near where we were staying in Poipu Beach. So of course I couldn't let our trip go by without a visit! I sampled the Flyin' Hawaiian and Spyder rolls and the hubs had a fresh fish entree. I definitely would've gone back for more sushi if we'd been staying on the island longer.
Red Salt is located at the Ko'a Kea resort, where we stayed for the first half of our trip. We only ate breakfast there (it was included in a spring promo package we booked under), but it was some of the best breakfast I've ever had! Must-try item: their lemon-pineapple souffle pancakes. Oh my yum! They are very light and airy in texture, not too sweet and served with an incredible coconut glaze syrup.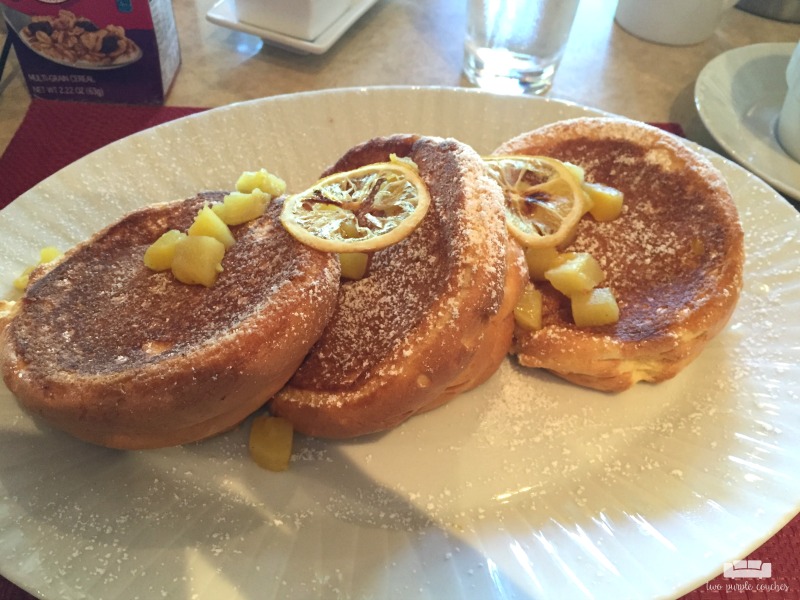 We stopped into Brennecke's on our first night on the island, so we were feeling a bit jet-lagged and sleep deprived. But this didn't stop us from enjoying a Mai Tai and mango colada and our first bites of fresh-caught Hawaiian Ono and Mahi Mahi!
Tip – plan your visit to Brennecke's around sunset. Even though the restaurant is on the South side of the island, Brennecke's is right across the street from Poipu Beach, so you'll still get a pretty view of the sunset.
One night we were craving something besides seafood and came across Tortilla Republic. From the cocktails to the table salsa to our entrees, everything we ate was super yummy! I had a St. Rita cocktail and the mole de poblano enchilada and Tom had a house margarita and the carnitas. I really need one of these to open in Cincinnati!
Luau Buffet
When in Hawaii, one must attend a luau! We selected the Luau at the Grand Hyatt since our stay at the resort coincided with one of the days the luau is offered. The grounds of the Grand Hyatt and the lawn where the Luau is held are so pretty – the perfect backdrop to a night of storytelling, entertainment and good food!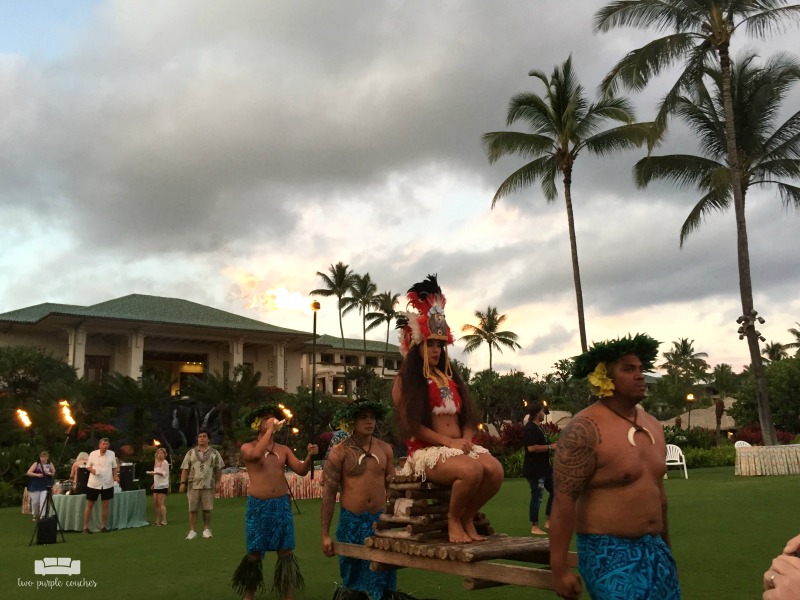 All of the food was delicious, and we sampled lots of island specialties from local-caught fish to Imu-style cooked pork, grilled chicken, fresh fruits and poi. Oh, and plenty of Mai Tais, too!
Favorite Treats
We were staying just down the road from Little Fish Coffee and stopped by a couple times for breakfast. I had an amazing iced latte and yummy acai bowl topped with fresh pineapple, granola and coconut flakes. There is no better way to start a day in paradise!
Shave Ice
You can't go to Hawaii and not enjoy some shave ice! There were plenty of shave ice stands and shops to choose from. I highly recommend adding some coconut flakes to make your shave ice taste extra tropical!
One of the most depressing things about coming home from a trip like this is having to go back to cooking your regular ol' recipes, haha! I am missing the sweet Hawaiian pineapple, frozen cocktails and fresh-caught fish!
If you've visited Kauai before, what were some of your favorite restaurants on the island? I'm already starting a list for a future trip!
Love this? Don't forget to pin it!