Give your coffee table decor a simple makeover for Fall. Check out these easy DIY ideas for creating and styling your coffee table with a cozy boho vibe.
Coffee table decor is probably my second favorite thing to change up for the seasons after our mantel. And I love that adding or subtracting a few different elements is all it takes to add a Fall feeling to our family room.
As I did with Fall mantel this year – Click here to see how I decorated my Fall mantel – I am going for a tribal-inspired, boho vibe in our family room, and I am sticking to a color palette of neutrals (mainly creams, blacks and wood tones) with pops of purple. I approached my Fall coffee table decor updates the same way and I am loving how it turned out!
In our home, our coffee table is a as much a functional piece of furniture as it is a perfect spot for styling and decorating. We use it daily to hold drinks, remotes, snacks, and even put our feet up and relax from time to time. For this reason, I keep our coffee table decor on the simpler side, so we don't have to move lots of items out of the way just to put down a drink or a bowl of chips.
This post contains some affiliate links for your convenience. Click here to read my full disclosure policy. 
The formula I used for decorating our coffee table is pretty straightforward and one I stick to from season to season. My go-to item is a tray, usually my personalized cherry wood tray from Richwood Creations, which I style with books, a vase or candle and other seasonal decor.
Click here to learn how to make the "cozy" pillow.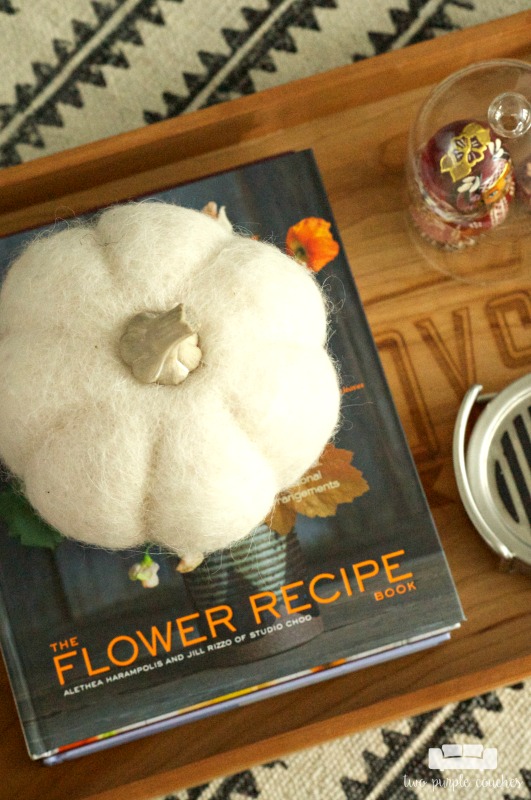 To give my coffee table that tribal/boho vibe I'm loving, I added several items I found at the Country Living Fair last weekend. First, to add some unexpected pattern and texture, I draped this Block Print Rug across the table. To update my tray, I stacked a couple of coffee table books—The Flower Recipe Book is a beautiful as it is useful!— then I added a large felt pumpkin and a mini cloche covering a couple of my Matryoshka Nesting Dolls.
Since our coffee table is quite large, it needed another small vignette. I grouped together a ceramic vase filled with faux eucalyptus sprigs, a pumpkin-sage candle and a metal leaf to add a few more seasonal touches.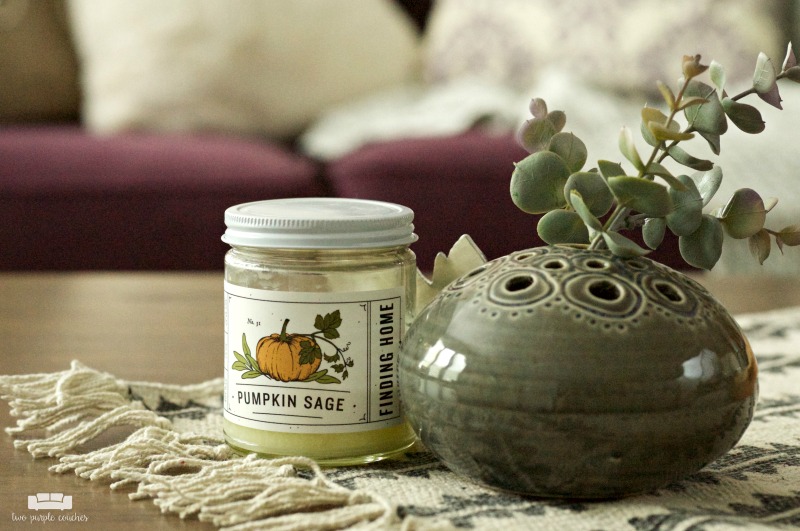 While the bottom shelf of the table is a bit tricky to photograph, it's the perfect spot for stashing stacks of magazines I like to read. I'll frequently grab one in the evenings while the hubs is watching football (or whatever sport happens to be in season). I found the purple ceramic vase at a local pottery fair, and it's the perfect size to hold our small Apple TV remote.
I love that a few simple changes instantly give our a family room a boho-inspired feeling for Fall. All that's left is to grab a mug of coffee, light that candle, and get cozy!
Love this? Don't forget to bookmark it or pin it!