I sort of feel like Easter has snuck up on me this year! Maybe it's because we're going to be out of town before the holiday gets here, but I haven't even done so much as get a single decorative bunny out of my Easter bin.
But I did manage to paint this adorable Easter Bunny Canvas Art during a girl's night crafting session several weeks ago!
Also, due to the girl's night festivities (i.e. wine), I may have forgotten to take step-by-step photographs. Oops. But thankfully it's not a complicated art project!
My friend Katie and I both (separately) came across this idea via Pinterest (great minds, right!?). She followed the original, using burlap & wood plaques, and I decided to put my bunny on an art canvas. Katie was nice enough to print out a few different-sized bunny silhouettes for us to use. There are lots of different bunny silhouette options to be found if you do a search through Google Images. Just find one you like and print out a size that will fit your surface!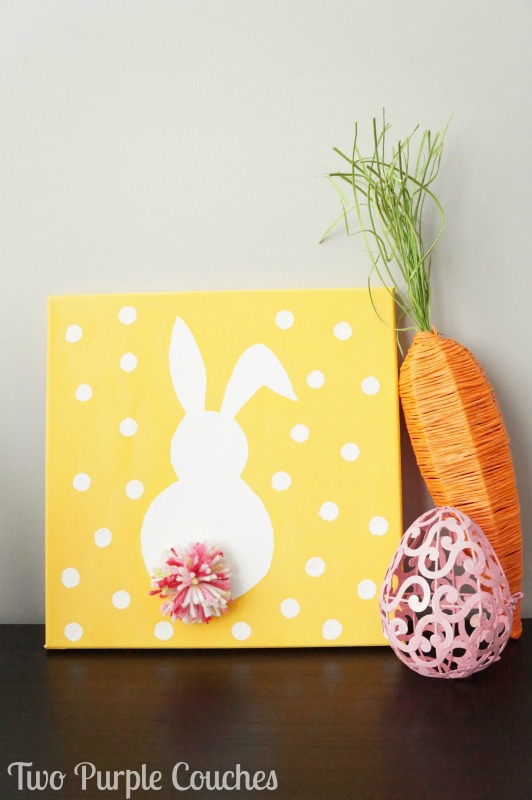 This post contains some affiliate links for your convenience. Click here to read my full disclosure policy. 
How to Make Bunny Canvas Art:
Materials Needed:
Stretched art canvas

I used a 12″x12″ but any size would do!

Acrylic craft paints in assorted colors
Paint brush
Bunny silhouette
Hot glue gun and glue stick
Tutorial:
1.) Start by lightly tracing the bunny silhouette on the canvas with a pencil. This is a 12″x12″ canvas that I picked up my local craft store. I like to stock up when they're on sale 😉
2.) Paint the background of the canvas in any color of your choice. I chose a sunny, springy yellow and painted two or three coats for complete coverage. You could do this step first, but if you want your bunny to be white, it might be easier to paint around the silhouette that you've traced.
3.) When the background is dry, fill in the bunny silhouette with white acrylic craft paint. Using a small foam spouncer, add some polka dots to the rest of the canvas (optional).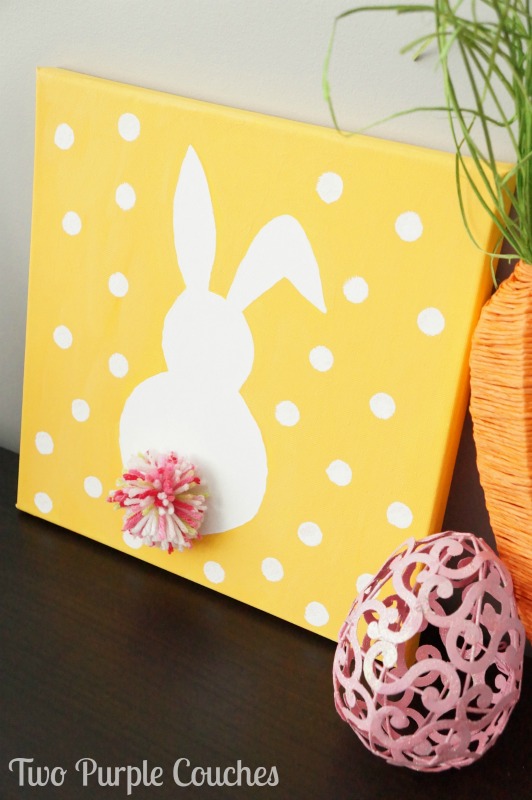 5.) Make a yarn pom-pom for the tail and attach it with hot glue once all of the paint has completely dried.
And there we go! At least I have one Easter-y thing in the house! Now if my mantel could just decorate itself…
Just a little side note: I would like to say a huge thank you for all of your sweet comments and well-wishes on my upcoming surgery. Every single note, thought and word of encouragement means so, so much to me!