It's that time of the year again! No, not the holiday season (though we are getting so close!). It's time for another round of Swap It Like It's Hot thrift store makeovers—the brainchild of my friend Charlotte from Ciburbanity! If this is your first Swap experience, let me give you the quick low-down—a bunch of bloggers find $10-$15 worth of random objects at their nearest thrift store or flea market. Then we mail them off to another blogger and she works her magic transforming them into something unexpectedly amazing. Sounds fun, right? I'm going to share how I turned a wood serving tray into a modern, funky pineapple clock!
If you're stopping by from Southern State of Mind—welcome! Heather sent me a box full of amazing goodies…
I kind of love all the brass candlesticks as-is and want to use them to create a fall/Thanksgiving tablescape, and I have a jewelry idea for some of the chandelier crystals, so I moved onto the wood pineapple-shaped tray. After some brainstorming, I landed on the idea of turning this tray into a pineapple clock. This post contains some affiliate links for your convenience. Click here to read my full disclosure policy. 
How to make a drippy gold pineapple clock
Materials Needed:
Tutorial:
This project, you guys. I thought this clock was going to be the death of me! My plan, and the simple instructions, look like this:
1.) Paint the pineapple white. I started off by giving the back of the pineapple a light sanding with 220-grit sandpaper. Then I painted it with 2-3 coats of DecoArt Americana Decor Chalky Finish in Everlasting. After each coat dried, I could see yellow streaks coming through the paint, probably a result of whatever coating was originally on the tray. So then I switched paints and did another 2 or so coats with white FolkArt Multi-Surface paint. I think if I had done a more thorough sanding job on the pineapple to begin with, I wouldn't have had to do so many coats of paint. Or perhaps I should have started with a primer.
2.) Create a drippy effect with gold paint. I used DecoArt Americana Decor Metallics in Champagne Gold to create the drippy effect. This is a messy (but fun!) step. I suggest covering your work surface with waxed paper. I loaded the top portion of the pineapple with paint, then slowly tilted it up so the paint would run down the front. I blew through a drinking straw to get the drips going. I continued to load my brush with paint and scrape it along the sides, keeping the tray tilted.
Once I was happy with the drips, I set the tray down on the waxed paper and added lots of paint to the top portion of the pineapple. With all this paint, it will need 12-24 hours to dry completely.
So far, so good, right? Here's where things got tricky…
3.) Add the clock movement. Don't be like me—consider the thickness of your clock surface before you get to this step. I used a 3/4-inch paddle bit to drill a hole through the center of the pineapple and then figured I'd add the clock movement, easy-peasy! Not quite.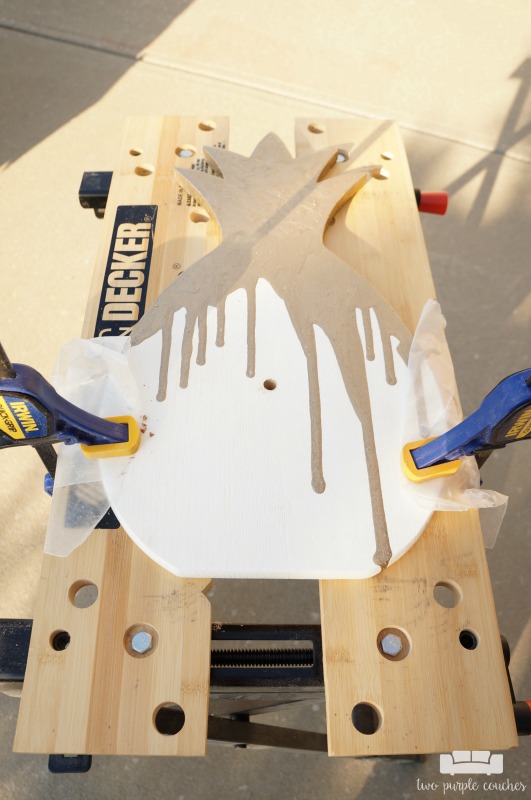 The pineapple was too thick for the 1/2-inch deep movement that I ordered. Instead of ordering another clock kit, I was determined to make this work. So I got out my Makita MultiTool with the plunge saw blade and started shaving off a section on the back of the tray so that the box would fit.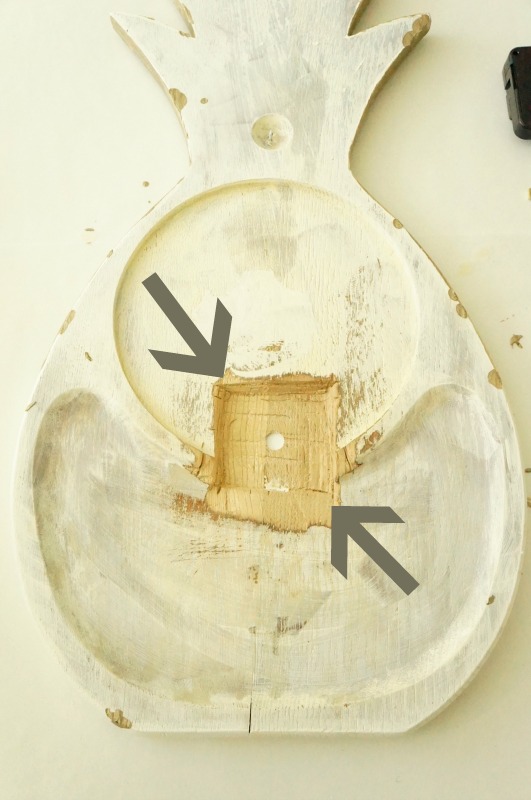 The last struggle came with getting the clock movement itself assembled, but after some finagling, it worked! Whew!
I think this is my favorite of all my Swap It Like It's Hot projects, and not only because I finally managed to make it work!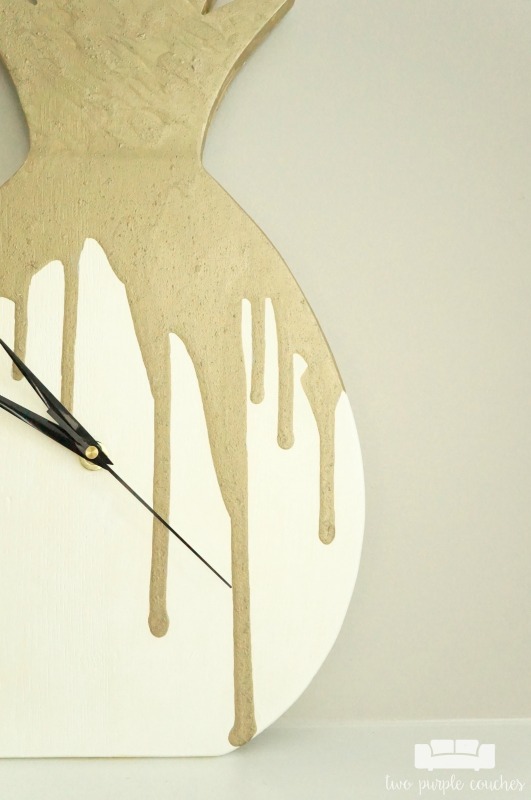 If you'd like to see some of my previous Swap It Like It's Hot makeovers, check out my posts here, here, here, and here.
Love this thrift store makeover? Don't forget to pin it!
More #SwapItLikeItsHot Makeovers!
Head on over to My Life from Home to see what my friend Amy created from this crazy assortment of stuff I sent her:
The fun continues all week long! Check out what all my blogger buddies are sharing:
MONDAY
TUESDAY
Confessions of a Serial Do-It-Yourselfer
WEDNESDAY
THURSDAY
FRIDAY