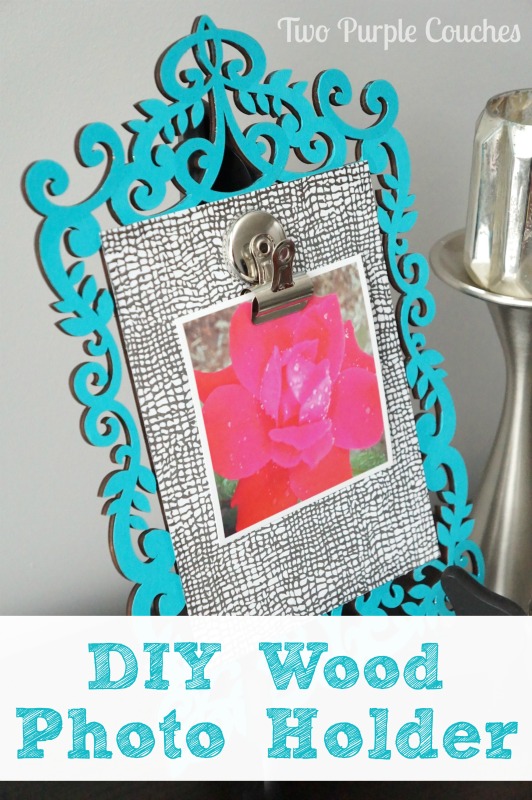 Disclosure: I wrote this post as part of a paid campaign with Plaid Crafts, Michaels and Blueprint Social. The opinions in this post are my own.
I have a fun project to share today, thanks to the team at Plaid Crafts, Michaels and Blueprint Social! This project was a fun challenge (sort of similar to our #SwapItLikeItsHot event)—I knew the materials I'd be receiving would include wood shapes and items from Michaels Spring Wood Surfaces collection, but I had no idea exactly what I'd be receiving! Clearly, I enjoy a good creative challenge that comes with an element of surprise 😉
When my box arrived, I ripped right into it and started brainstorming ideas. Here's a look at the goodies that were included: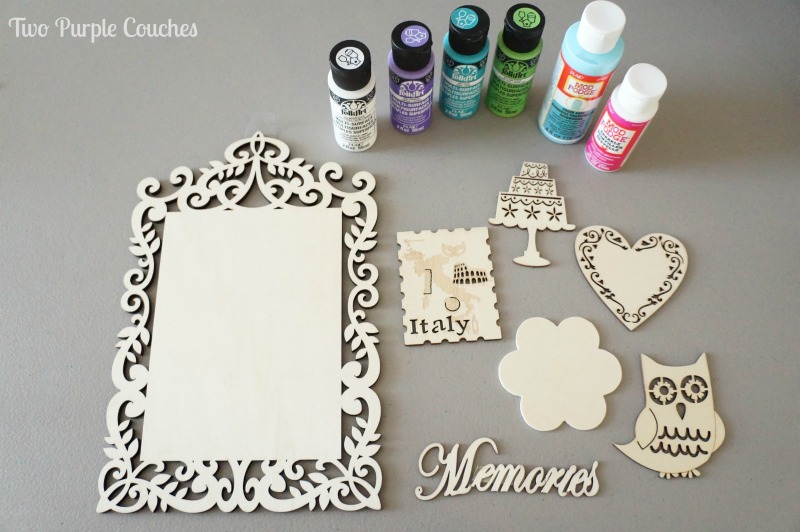 An owl and purple paint!? It's like they know me!
My mind immediately went to the idea of turning the larger surface into a photo holder. With that neat, detailed bordered, it's the perfect way to showcase your favorite photos!
Materials needed:
Mod Podge
Scrapbook paper
FolkArt paints (I used Aqua)
bulldog clip
paintbrushes and hot glue
Here's how I did it:
Step 1: I started by painting the decorative edge of my wood surface. I chose this pretty bright blue paint from FolkArt.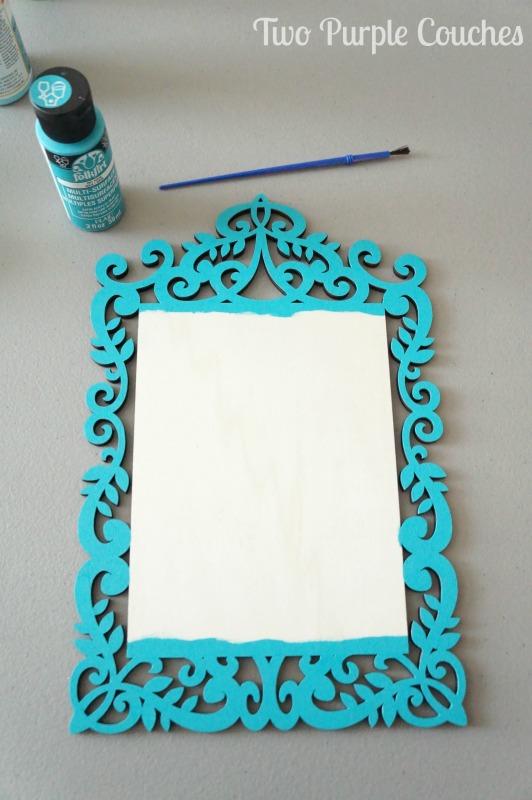 Step 2: Next, I dug into my stash of scrapbook paper for a neat pattern that would make a good background for my photos. I traced the interior of the frame onto the back of a sheet of scrapbook paper and cut it out.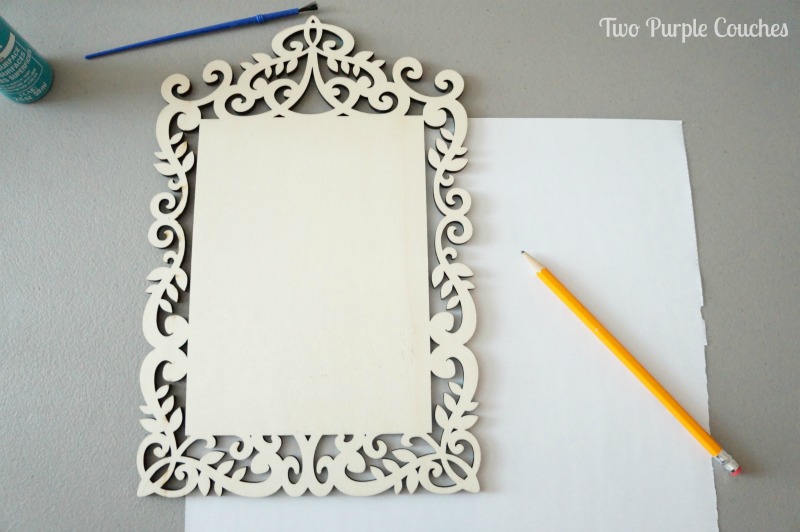 Step 3: Then I brushed a layer of Mod Podge onto the inner frame, then applied my piece of scrapbook paper. I smoothed out any bubbles and wrinkles, then went over the paper with another layer of Mod Podge.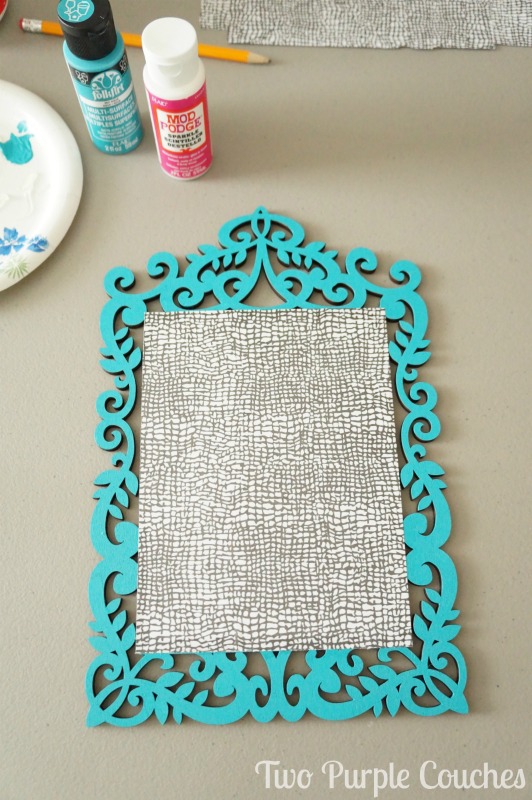 Step 4: Once dry, I used a brush to add Sparkle Mod Podge to the top and bottom flourishes for a little extra jazziness.
Step 5: I used hot glue to adhere the bulldog clip to the center, and my DIY Wood Photo Holder was ready to go!
I toyed with the idea of adding one of the other shapes to the photo holder, but I liked the simplicity of the finished frame. So I decided to turn a few of the shapes into individual photo holders.
I started by painting each shape with a mix of FolkArt paints. Once dry, I grabbed a few pieces of scrap wood to use as stands and a few mini clothespins for the holders.
I hot glued a piece of wood and a clothespin to the backs of each wood shape to create these individual photo holders.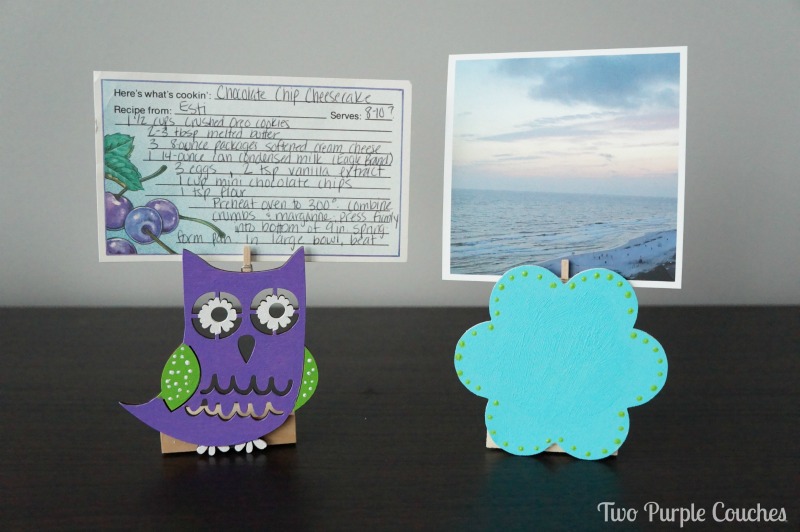 They'd work great for recipes, or even as place cards. How cute would a bunch of these flowers be holding the names of your Easter brunch guests!? I need to remember this come April 😉
You can find more project ideas and inspiration from Plaid Crafts online here:
Sharing with: Outside the Box / Work It Wednesday / Lou Lou Girls / What's It Wednesday