I don't know why it's taken me so long to try this out. I really don't. But now that I've figured out a dairy free lasagna recipe, I foresee us eating a LOT of lasagna this winter season! Which is a good thing (wink).
Now you may be thinking dairy free lasagna? How? Why? Awwwhailno! But I'm here to tell you that you CAN leave it out and still make a delicious meal.
To tell you why dairy free lasagna is such an amazing discovery in our house, I need to give you a little background about my husband. Tom is lactose intolerant, but he hasn't been all his life. It's one of those things that's become more pronounced as he grows older. And shortly after we got married, it became apparent that any trace of dairy (sour cream, cream cheese, cow's milk, cream-based soups, and lactose-rich cheeses) was too much. So, we cut them out. Now, I still enjoy 2% milk in my coffee and a scoop of ice cream now and then, but as a family, I avoid fixing meals and dishes that require these ingredients. #1) It's just not fair to make food that Tom can't eat and #2) who wants to cook two meals a night??
Despite being one of our favorite foods, lasagna's been our "no" list for years. I tried to make a meat-and-sauce only lasagna once and I just remember it being a dense, dry mess.
When I came across this recipe from my friend Melissa at The Happier Homemaker, I knew I had to make another attempt at dairy-free lasagna. By swapping a veggie puree for the ricotta cheese, you still get the moisture, spread-able consistency and added flavor, but without the issue of dairy.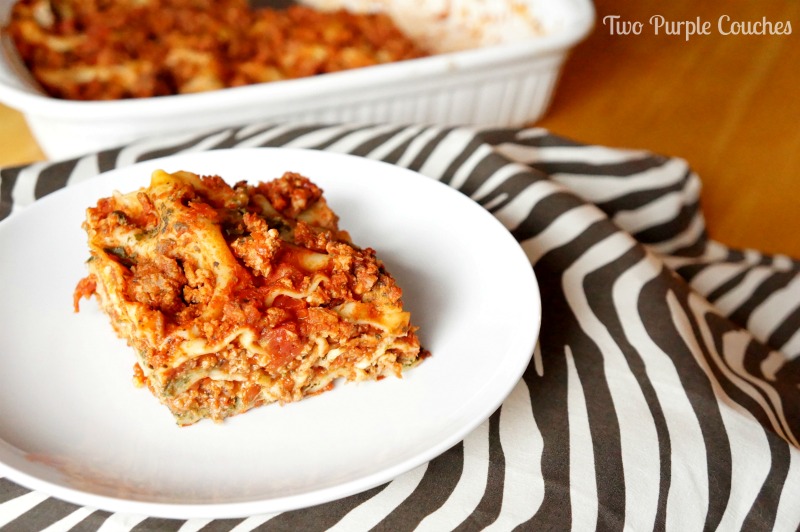 To make my veggie puree, I started by chopping and steaming one small zucchini and one bunch of fresh spinach leaves. I drained the water, then pureed the veggies in a food processor. Then I mixed in two eggs, a tablespoon of pesto and just a handful of shredded parmesan and mozzarella cheese (Tom's okay with these cheeses in small doses, but they can be eliminated altogether for someone with more severe intolerance), and I had a nice mixture to layer between the noodles and meat sauce mixture. I wound up with about 2 cups of veggie puree—the same suggested amount of ricotta. You could probably steam and puree any veggies you like for this dish, from broccoli to cauliflower to kale. (My apologies for not having pictures of this process to share. At the time of cooking, I had no intention of posting this recipe because I wasn't sure it would work out!)
The results were incredible. This lasagna is so, so delicious. I really think the pesto is what makes this whole dish. The added zest of basil is perfect!

Dairy Free Lasagna Recipe
Author:
Two Purple Couches
Rich and hearty, this dairy-free lasagna swaps a vegetable puree for ricotta cheese, without losing any of the moisture or flavor!
Ingredients
1 12oz package of no-boil lasagna noodles
48oz of marinara sauce
1lb mild Italian sausage
1lb ground beef or turkey
2 cups pureed vegetables of your choice
½ cup shredded mozzarella cheese (optional if you don't need a dairy-free recipe)
½ cup shredded Parmesan cheese (optional if you don't need a dairy-free recipe)
2 tbsp pesto to add to marinara sauce; 1 tbsp pesto to add to vegetable puree
2 eggs
Instructions
Preheat your oven to 350 degrees.
In a large pan, brown and drain the sausage and ground beef or turkey, then set aside.
Add 2 tbsp pesto to the meat and mix well.
Add marinara sauce to the meat and mix until well combined.
Chop and steam vegetables, then puree in a food processor.
Combine pureed vegetables, 1 tbsp pesto, eggs, and optional mozzarella and Parmesan cheese if you're not making a dairy-free lasagna.
Spoon 1 cup of meat sauce mixture in the bottom of a 9" x 13" baking dish.
Top with lasagna noodles, half of vegetable mixture and ⅓ of the remaining meat sauce.
Repeat with another layer of noodles, vegetable mixture and ⅓ meat sauce.
Top with remaining sauce and cover with foil.
Bake for one hour.
Let sit for 15 minutes before to serving. It will be very hot!
Notes
Adapted from thehappierhomemaker.com
Now if I could just figure out how to make homemade mac and cheese without dairy…
Have you converted any creamy favorites to dairy/lactose free? Do you have a good resource for dairy-free recipes? I'd love to know! Share in the comments!
Sharing with: Outside the Box / Work It Wednesday / Lou Lou Girls