Nursery letter wall decor is a creative way to decorate your baby girls room. Personalize your girls room with this DIY painted decorative initial idea.
Adding a personal touch to your girls room or girls nursery is as easy as painting a nursery letter or decorative initial to hang on the wall. Get creative with a floral or boho-inspired design, or keep it simple with a few coats of a colorful paint. Read on to see how I customized this wooden nursery letter for our daughter's nursery.
I know I still haven't shared a full look at our daughter's nursery (can I still call it a nursery when she's nearly 18 months old??), but this is partly because it's taken me about a year—probably longer—to pull together a collection of things I adore for her gallery wall. One of the things I knew I wanted to incorporate into her nursery decor was her first initial.
As luck would have it, I had a wood letter "C" in my craft stash. There are probably at least a million different ideas out there on how to decorate a nursery letter or initial letter. I've even done some fun letter crafts with faux flowers, fabric and watercolors, but I wanted to keep this project simple. So I decided to give it a couple coats of paint and use a paint marker to add golden floral flourishes. Let me show you how easy it is to make a painted nursery letter like this:
This post contains some affiliate links for your convenience. Click here to read my full disclosure policy.
How to Paint a DIY Nursery Letter
Materials Needed:
Tutorial:
1.) Paint the wood letter with several coats of acrylic craft paint. I needed 2-3 coats of paint for full, even coverage.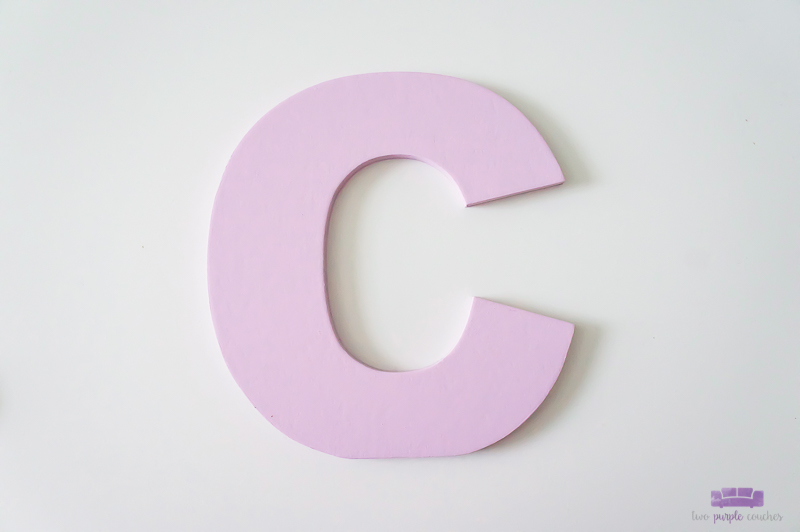 2.) Add a design with the Sakura metallic paint markers. I usually like to sketch out a few designs on scrap paper. For this nursery letter, I decided to do a floral/vine motif. The design can be sketched onto the nursery letter in pencil first, or just freehand it.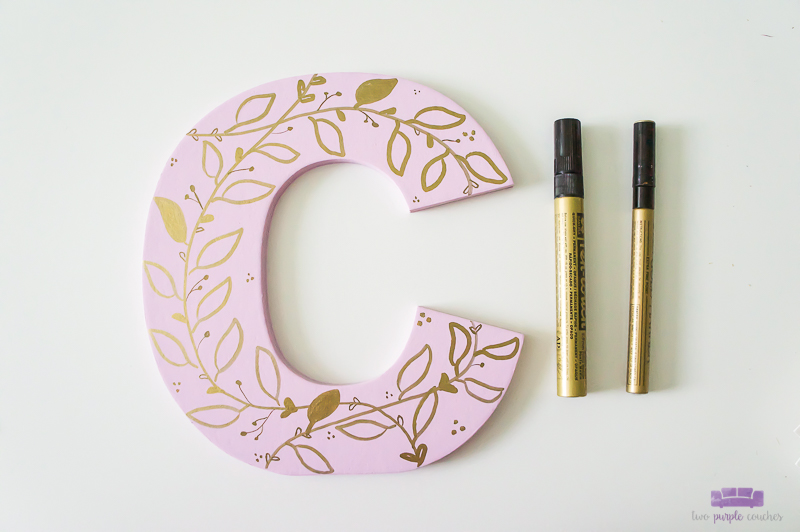 3.) Once the paint marker design is dry, hang up your nursery letter! Mine didn't have any kind of hanging hardware, so I found the easiest way to hang it was with these picture hanging strips.
This initial nursery letter looks so cute hanging with the rest of our daughter's gallery wall, which I'll be sharing more of soon. And this craft actually inspired us to paint her dresser the same sweet orchid color. Click here to see my girls dresser makeover.
Love this? Pin It or Bookmark It for later!