Create a nursery gallery wall with art and decor for a modern, colorful, boho-inspired nursery. These tips and nursery art ideas will help you get started!
Decorating with a nursery gallery wall is a fun and creative way to bring art and decor into your baby's room. Creating a gallery wall may feel daunting, but it doesn't have to be overwhelming. I'm sharing my approach and simple tips to help you get started collecting sweet and meaningful pieces to display in your nursery gallery wall.
Gallery walls are one of my favorite ways to fill empty space, and the ability to customize the pieces included means they fit the bill for almost any room and personal style preference. On the flip side, creating a gallery wall can feel really overwhelming, especially if you don't already have extra pieces of art lying around (is this just me?). Where do you start? What kind(s) of art should you look for, especially if you're working on a girl or boy nursery?
For our girl's nursery gallery wall, I've been collecting art and decor that are modern, colorful and a little bit boho. Her room doesn't have a special theme, but I'd say it leans ever so slightly toward modern-boho and maybe a bit whimsical. As I've been collecting pieces, I noticed a few specific steps to the way I'm approaching her nursery gallery wall, and I thought these would be helpful to share.
This post contains some affiliate links for your convenience. Click here to read my full disclosure policy.
Choose a color palette.
This is always my starting point. If I have a color (or two or three) in mind, then I can begin searching for art and other pieces to include. Select a color or combinations of colors that complement the rest of the nursery decor. If you're going with a neutral palette, a nursery gallery wall could be a fun place to add a splash of color. While our daughter's room is largely grey and white, I want to accent it with pinks, peaches and teals, so these are the colors I gravitate toward when choosing art for her room.
Think kid-friendly.
I think it's easy to immediately go to characters when decorating a nursery, but this doesn't have to mean cartoonish if that's not what you're into. Think along the lines of kid-friendly—look for art that gives off a fun, youthful vibe. I was immediately drawn to this Alpha Dots print when I found it on Minted. I love how colorful it is, but it's also a fun way to add an educational element to our daughter's decor. Along the same lines, I've had this Knitting Narwhals print in my office for years, but I thought its whimsical nature would make it a perfect fit for her nursery gallery wall.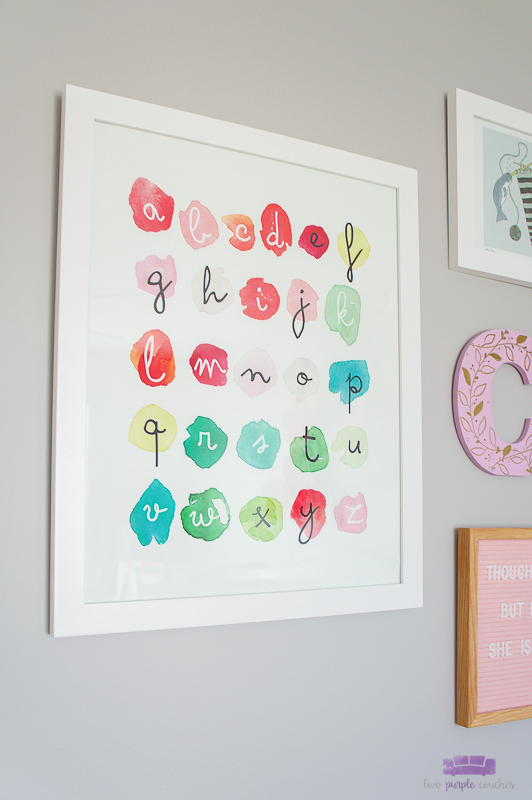 Add something sentimental or personalized.
I personally love when art or decor has a special meaning. Consider your child's initial(s), name or birth date. I came across a wood letter "C" in my craft stash and immediately knew I wanted to decorate it for our daughter's room. I also incorporated her birthstone with Aquamarine foil-pressed art print. Bonus: the teal colors in this print perfectly match the Alpha Dots print!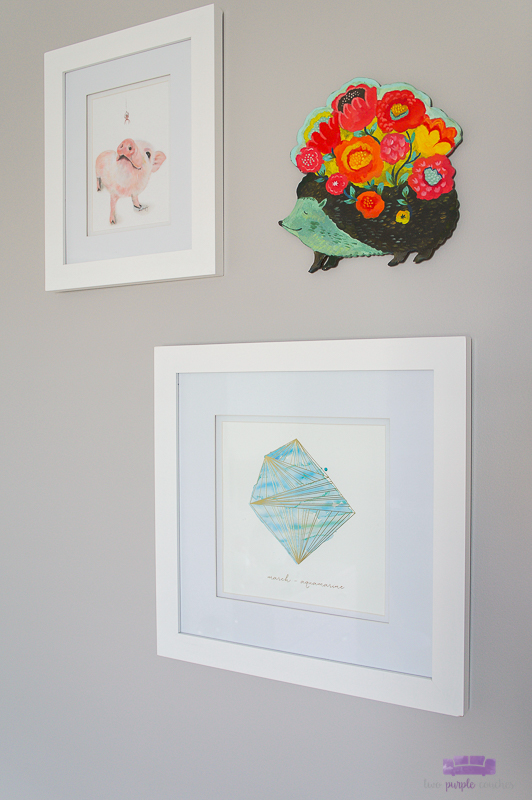 Mix it up.
The simplest way to approach a nursery gallery wall is by arranging framed art. For a more eclectic look, mix in alternate decor items or textures among the frames. I did this by including a light pink felt letterboard. I've been wanting a letterboard for ages, and this seemed like the perfect reason (excuse?) to get one! The "C" intial and hedgehog cut-out also help mix up the uniform look of the frames. I'm also considering adding another textured element—maybe a small embroidery hoop piece—to break up all the smooth surfaces of the frames.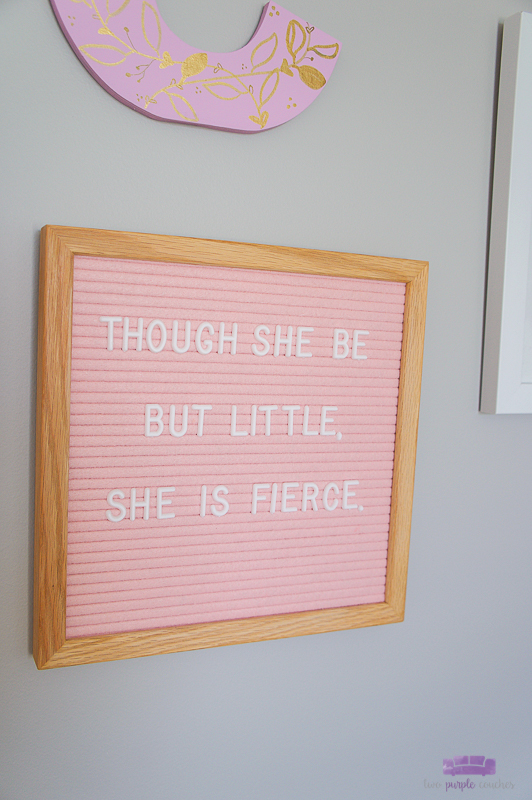 Once you've got all of your art and decor selected for your nursery gallery wall, you're ready to arrange and hang them! I shared a post way back when I first started blogging with tips to help with this step. The photos aren't the best, but the information is still useful! Click here to read about how to hang a gallery wall. My biggest piece of advice here is to play around with the layout on the floor before you start putting nails in your wall. Depending on the size and weight of the items, these Command Picture Hanging Strips are really convenient to use (and renter-friendly!).
The cool thing to keep in mind is that you can take these tips and spin them to apply to any room or space in your home! For instance, instead of kid-friendly, think about the feeling or purpose of the room you're decorating, like making a craft room feel creative and inspiring or a family room feel cozy and inviting. This will help give you a starting point for finding art and wall decor to bring that feeling or purpose to life.
Love this? Pin or Bookmark it for later!