One of the DIY crafts that I am most proud of is this ornament wreath that I made a couple of years ago. The results are well-worth the time spent hunkered down with a glue gun and piles of ornaments. This year, I wanted to put a slightly different spin on things and make up a smaller ornament wreath for my holiday tablescape.
And I thought you might be interested in learning how to make your own DIY ornament wreath as well (wink).
I've noticed plenty of ornament wreaths available in some of my favorite home decor stores, but there are two immediate flaws I've found: #1: they're expensive and #2: the big-box stores tend to skimp a bit on the ornaments. If you've got a handful of 40% coupons to your favorite crafts store and a glue gun, you can create your own ornament wreath masterpiece! And the best part is that you can customize it to fit your favorite color scheme.
I followed the same process that I did for my previous ornament wreath project. The difference is that I remembered to document it well this time! That's the problem with going back to my 2+ year old posts… I never photographed the "during", so my poor readers (i.e. you) were sort of left to fend for yourselves to imagine the middle steps! I am trying to be better about this! This post contains some affiliate links for your convenience. Click here to read my full disclosure policy. 
How to make a DIY Ornament Wreath
Materials Needed:
Shatterproof Ornaments in a variety of sizes and finishes
Glue gun and lots of glue sticks
Optional: spray paint or fabric

If your foam wreath is green, or if you're worried about the color of the foam showing, paint or cover them to match the color of your ornaments.
Tip: If you think you've got plenty of ornaments, consider buying just a few more. I played around with different patterns, rotating shiny ornaments, matte ornaments and glittered ornaments. I also mixed golds, silvers and whites together for this particular wreath, and then wound up having to make another run to the store because I didn't have enough ornaments to complete a second wreath! I think I used close to a hundred ornaments per wreath!
Tip #2: I would also suggest stocking up on glue sticks if you're low. You will go through glue sticks like they're going out of style!
Tutorial:
Step 1: Prep your ornaments by removing the hanger caps. (Save them to use as vase filler or string them up to make miniature garland strands). Turn the wreath form upside down, so you are looking at the back. Begin by gluing ornaments around the outer edge of the wreath, with the cap-less ends facing you.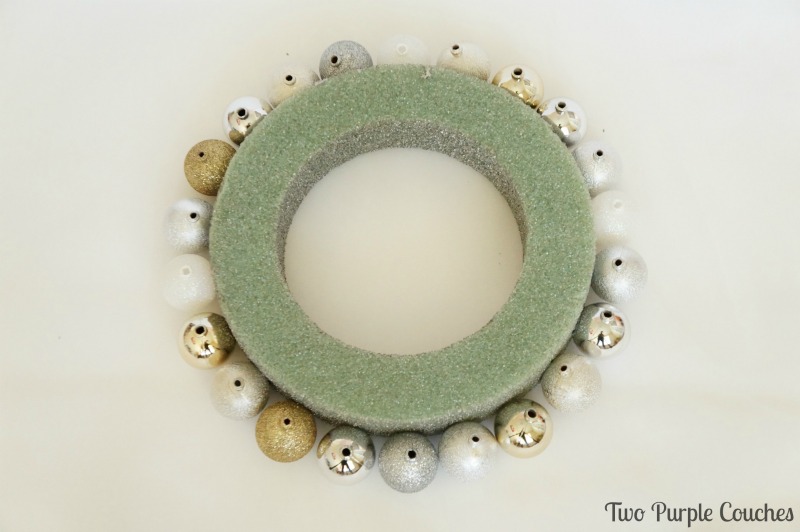 Step 2: Keep the wreath upside down and glue ornaments around the inner edge of the wreath, again with the cap-less ends facing you.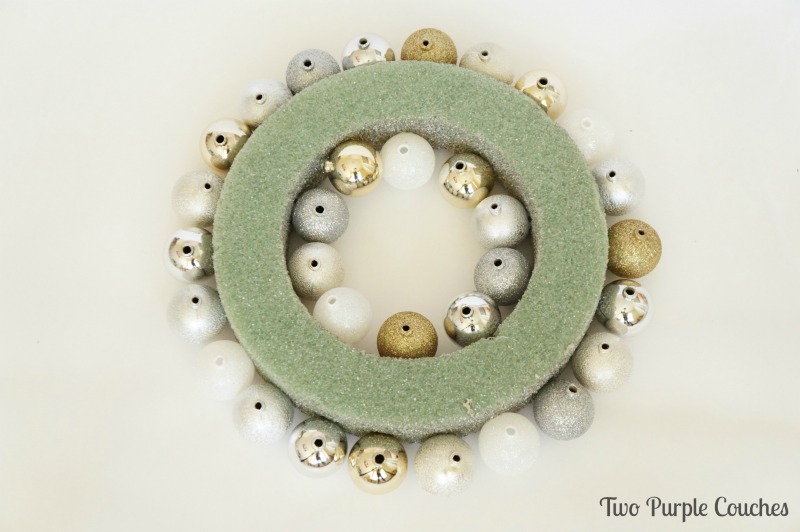 Step 3: Wait several minutes to ensure the glue is dry, then flip the wreath over so the front side is facing you. Stagger ornaments between the rows you've just glued down, filling in any gaps or holes as you make your way around the wreath form.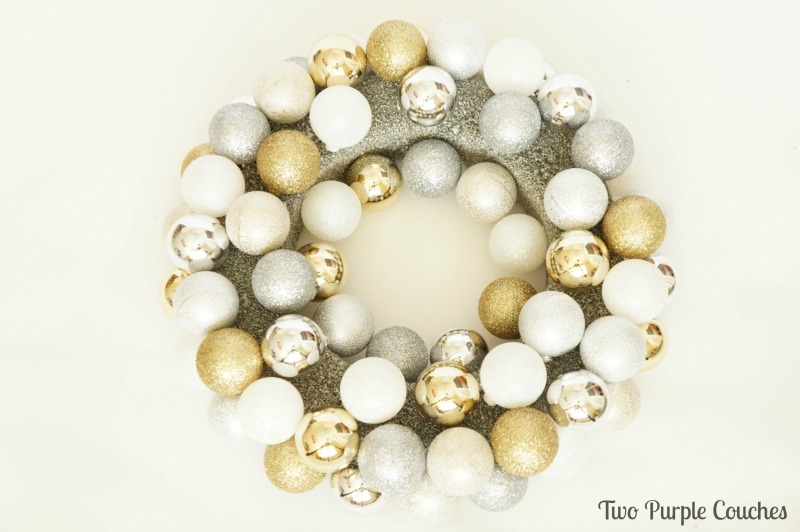 You will probably glue several layers on top. If you are using mostly mini or small-sized ornaments like I did here, you will go through a lot of ornaments to fill the blank spaces!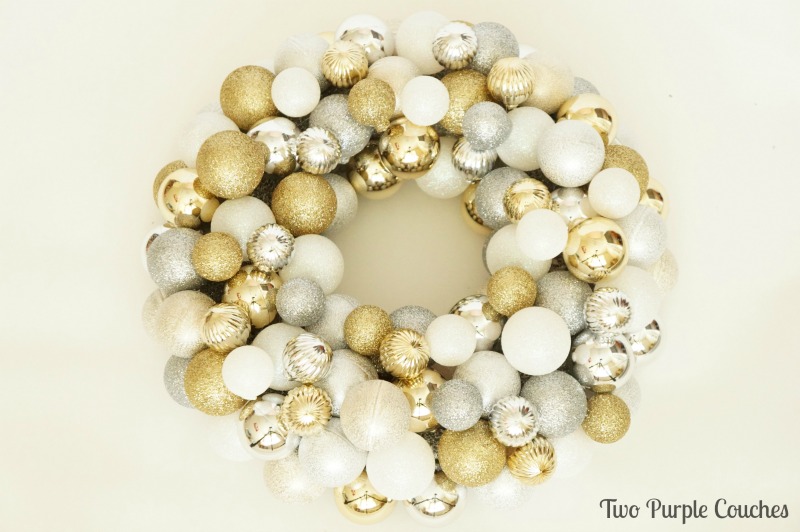 Once the glue has completely dried, your ornament wreath is ready to display. Loop a piece of ribbon around the top to hang, or set them down on a table top to use as a large candle right – the effect of candlelight glittering off of the ornaments is gorgeous!
Which color combination would you choose for an ornament wreath?
Sharing with: Creative Spark / Work It Wednesday / Weekend ReTreat