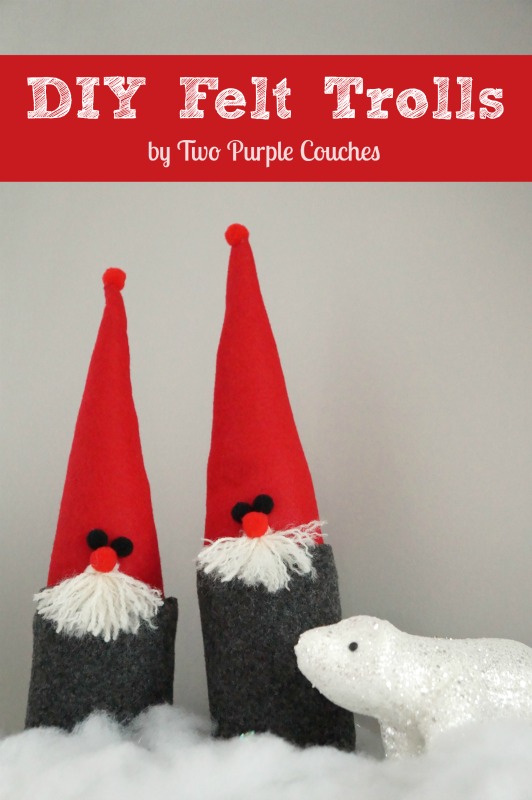 I have been dreaming up my "theme" for my holiday decorations for a few months now. My idea? A sort of snowy wonderland scene, with whites, silvers, grays, and reds, and speckled with the sorts of critters you'd expect to find in a snowy wonderland, like reindeer, owls and… trolls?? Yep, trolls!
I came across these felt trolls in the Garnet Hill catalogue and immediately added them to my holiday wishlist. But after checking the prices, I thought Tom thought it'd be a fun DIY challenge to re-create them myself.
Not too bad, eh?
And I'll bet you $5 that you won't guess what I used to make the bodies for these trolls…
Can Koozies!
At first, I was going to try to sew a sort of pouch for the bodies, but as I was I hunting around my house for items I could repurpose, that proverbial old lightbulb went off in my head when I spotted a basket full of koozies in our pantry. So I only had to spend a few dollars on felt and pom poms and I was ready to get working!
Want to make your own Felt Trolls? Here's what you'll need:
– Felt, in any color. You could use one color or two like I did. How much felt? Well, that depends on how many felt trolls you'd like to make. You could probably get by with a 9″x12″ sheet; I bought 1/2-yard because apparently I planned on making a whole herd of trolls.
– Dry, uncooked beans or rice
– Polyester fill
– Koozies and empty cans
– Small black pom poms for eyes
– Medium red pom poms for noses and cone toppers
– Cream, white or light gray yarn
– Hot glue gun
I started, as any really good craft project should, by kicking back and cracking open a cold one. When my can was empty, I washed and dried it thoroughly, and then filled it about halfway with dry beans. I did this so the bases would have some weight to them and not tip over. But it also means that these trolls can double as maracas!  Okay, maybe not really.
The first step is to cut your felt. For the base, I used a 4″x10″ piece of gray felt to cover the koozie. For the cone, I figured out Tom figured out a template: I decided how many inches tall I wanted the cone to be, then plugged that number into this website to determine the measurements. The extra tab you see on the left of the piece helped me line up the edges so I could easily pin and sew them.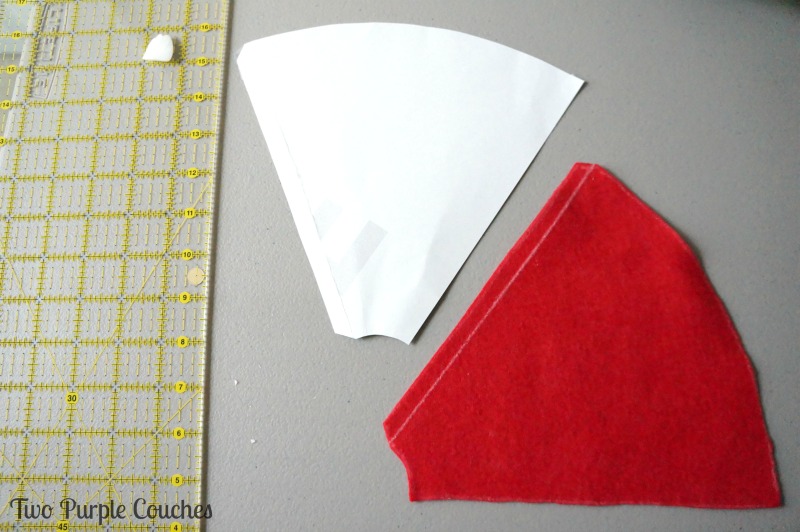 Which brings us to the next step: pin the edges of the cone together and sew. Then turn your cone inside out and stuff with the polyester fill.
Now comes the fun of assembling your troll!
When your cone is sufficiently stuffed, use hot glue to attach your cone to a can. Place your can in your koozie and hot glue the gray felt around the koozie.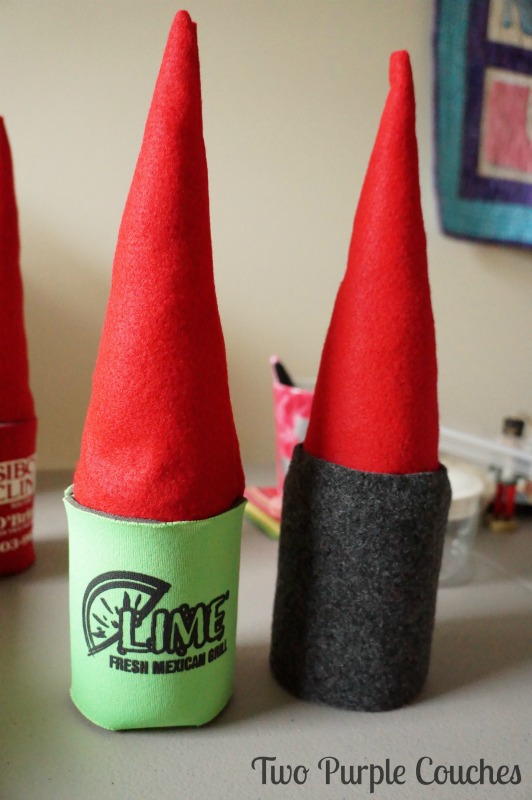 Then all you need to do is add a beard, nose and eyes with hot glue! For the beard, I made a sort of modified yarn pom pom and unraveled several strands to give it a bushy look. You can also top off the cone with a pom pom if you like.
Sharing with: Creative Spark / Work It Wednesday