Make your own geometric pillow cover for your couch or bed! Follow this simple DIY tutorial to make a boho tribal style pattern with felt for added texture.
Geometric pillows with a boho tribal style can be found everywhere you look these days. I've seen so many patterns and designs that I like, but every time, I pause and ask myself if I could make my own version instead of buying. The answer is nearly always yes! I'll show you how you can make your own DIY boho geometric pillow with this simple tutorial using a pillow insert and felt.
For this month's Create with Me Challenge, our material was felt. (Be sure to keep reading to the bottom of this post to see more creative ideas for felt!) As soon as I found this out, I knew exactly what I wanted to make. I've talked many times about my love of throw pillows and my equal love for making my own. This boho geometric pillow is another great example of being able to create a fun new piece of home decor for a minimal amount of money.
This post contains some affiliate links for your convenience. Click here to read my full disclosure policy. 
How to Make a Boho Geometric Pillow
Materials Needed:
Tutorial: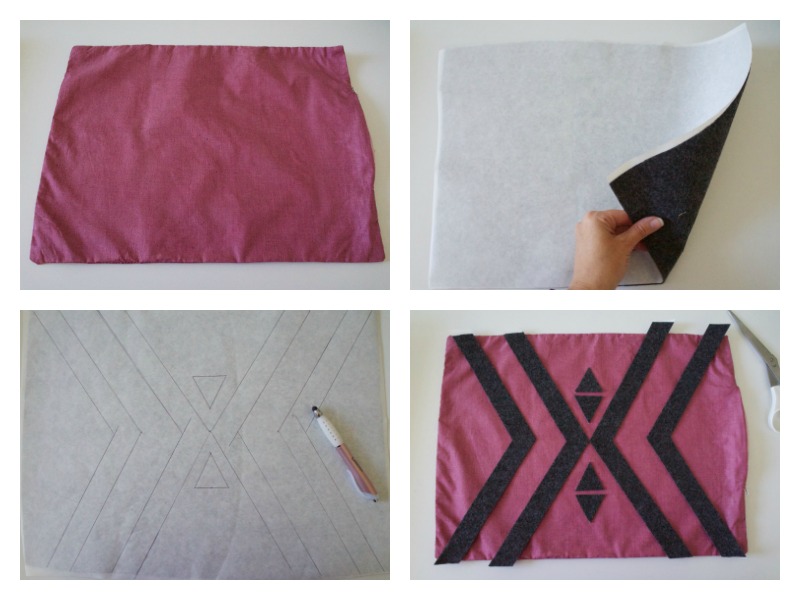 1.) Remove the stuffing from the Soft Touch pillow insert and prepare a dye bath for the pillow cover according to the instructions on the Rit Liquid Dye bottle. Since this pillow cover is a polyester blend, I added salt to the dye bath and let it soak, stirring frequently, for about 25-30 minutes. Rinse out the excess dye and allow the cover to dry completely before moving to next step. You may also need to iron the cover once it's dry. You could skip this step if you prefer a white background for your pillow.
2.) Cut a piece of felt to 12″ x 16″, or the same size as the pillow cover if you're using a different size. The cut a 12″ x16″ piece of Heat 'n Bond Iron-On Adhesive. Iron to the wrong side of the felt according to the package instructions.
3.) Draw out your design on the paper side of the iron-on adhesive. To create my boho geometric style design, I started by finding the center of my pillow cover. Then I created the four chevrons on either side. Once those were spaced properly, I drew the triangles in the center sections.
4.) Cut out each shape with a pair of sharp scissors. Arrange the shapes on the correct side of the pillow cover until you've got a placement you like. Then remove the paper backing and go over each piece with an iron on the silk setting. Once the felt is fully adhered, re-stuff the pillow.
I'd like to note that the Heat 'n Bond directions stated that 4-6 seconds would work to activate the adhesive. I found I needed much more time than that. I don't know if it's because I'm adhering felt, which is thicker, or if it's because my pillow cover is a polyester blend. I kept my iron on the silk setting and kept pressing lightly on each piece of felt until all of the sides and edges were completely attached.
I'm so thrilled with how my boho geometric pillow turned out. I wasn't sure if the cover would take the dye or if my design would turn out the way I envisioned it. I was definitely bracing for a craft fail or two along the way! But it turned out great, and this might even be my favorite DIY throw pillow yet. This raspberry/wine color is a fresh, fun new color for fall and I love that this pillow will work in several different spots around our house – versatile decor is the best!
Love this? Don't forget to bookmark this page or pin it:
Create with Me October Challenge: Felt Projects
Wondering what you can create with felt? Check out these neat DIY projects! Many thanks to Samantha from Little Bits of Home for coordinating this challenge!
We'd also like to note that we'll be taking a hiatus on our monthly challenges until the new year. We know the holidays are usually a very busy time of the year, so we're going to take a couple of months off. But we'll be back in 2018 with more fun challenges & ways for you to play along!