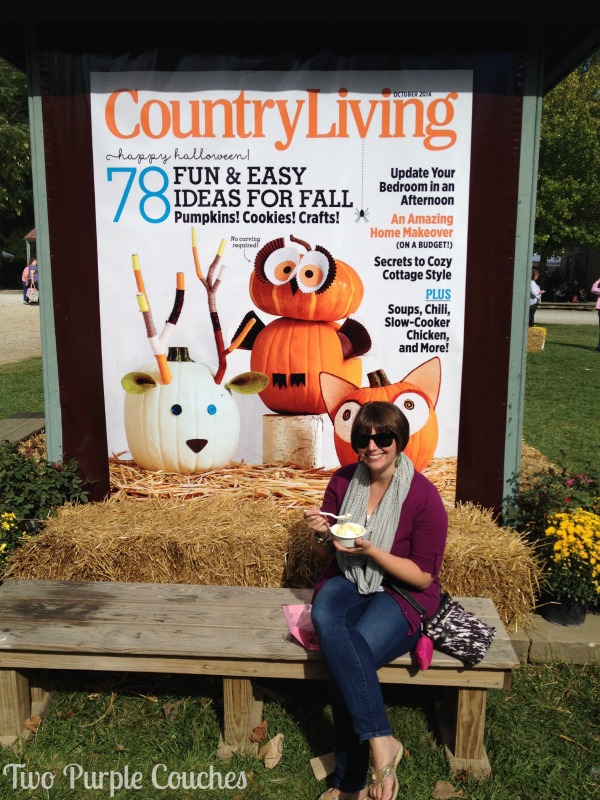 Are you a fan of Country Living Magazine? Have you heard of the Country Living Fair?
I first heard of the Fair from coworkers several years ago. Then Anne and I talked about it on our drive to Haven this year. And I kept hearing the same comment: You'd love it.
So I guess it's lucky that the Country Living Fair makes a stop just north of me in Columbus, Ohio. And I finally got to check it out this past weekend!
All of those people weren't kidding! It was a pretty incredible set-up.
Tent upon tent upon tent of shops and vendors. Kettle corn. Live music. Jeni's ice cream. All set in the historic Ohio Village on the grounds of the Ohio Historical Center.
Vintage + Handmade Goods + Historical Village = Amaze.Balls
Honestly, I was a bit overwhelmed by the awesomeness. And my head is still spinning with ideas from all the stuff I saw… vintage finds, repurposed furniture, home goods, decorating ideas, oh the list goes on!
Sure, there were things that didn't really suit my style, since I'm not huge into the country/rustic/shabby-chic look. But there was such an array, there really was something for everyone!
How cute are those wooden log pumpkins up there?? And that wine sign!? I'm wishing now that I'd brought it home with me! I'm feeling a lot of that as I go back through my photos!
Of course this booth caught my eye with their adorable collection of owls. But if you look closer, you can see that they're carved out of tree stumps! Again, wishing I'd brought one of those guys home with me!
There were so, so many great makers and artists. I particularly loved some of the more unique takes on things, like these screen-printed pillows and totes from Eric & Christopher. How funny are those pigs!? Especially the one with wings!
There was an abundance of Fall decorations to set the mood for the Fair. From bales of hay to ginormous piles of pumpkins. This was seriously impressive in person. And I cannot imagine what it would cost to replicate in my own yard!
I did come home with a few goodies, of course! Leave it to me to find the art about writing. These two little dictionary page prints by juNxtaposition were too great to pass up, especially that Hemingway quote! Oh, and click the link to that shop and tell me that shop tagline isn't genius!
I also came home with a map! I seem to be heading into a map phase. First with my giant wood plank map, and now with this neat 1864 reproduction print of all the counties in Ohio by On Paper.
If you want to see hoards of other Country Living Fair awesomeness, browse #CLFair on Instagram. Every time I check it, I find something cool I don't remember seeing!
The next and last Country Living Fair of the year is in Atlanta in October. Southern friends, definitely check it out if you haven't already! And if you have, what was your favorite part or find from the Fair?
Sharing with: Creative Spark