I bet that headline caught your attention because it doesn't sound possible, does it? Like there's no way that something can be "chocolate pudding" and also be "dairy free". But I'm here today to tell you that Yes, Virginia, there really is such a thing as dairy free chocolate pudding pie!
Let me take you back a few weeks…
I was watching Food Network, a normal occurrence in our house. If I'm in charge of the remote (which, let's be honest, is rare), then I am constantly toggling channels back and forth between Food Network and HGTV.
Let me be more specific, I was watching The Pioneer Woman on Food Network. The episode was the "Chocolate Confessional" episode, where Ree shares some incredibly chocolately recipes, including this recipe for Chocolate Pie. I may or may not have drooled through the whole show.
Well, that Chocolate Pie stuck with me. And I decided it would make a fantastic dessert for celebrating my (chocolate-loving) mom's birthday.  But then came the recipe realization: it called for 3 cups of whole milk. Whole milk that my poor lactose-intolerant husband can't have. So I set out on a grand adventure to see if substituting vanilla almond milk would produce the same mouth-watering results.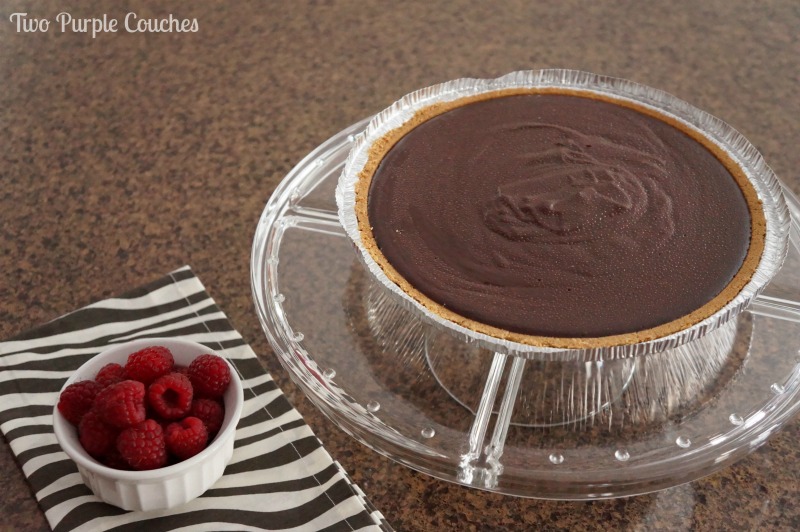 I am very glad to say that it did!
Though not without some worry. It took the pudding a while to thicken up on the stove. I don't know if this is because almond milk has a runnier consistency than whole milk or if it's because my burners take a while to heat up. But after waiting and stirring, stirring and waiting, the mixture began to thicken and my hopes of crafting a delicious dairy free chocolate pudding pie were restored!
Huzzah!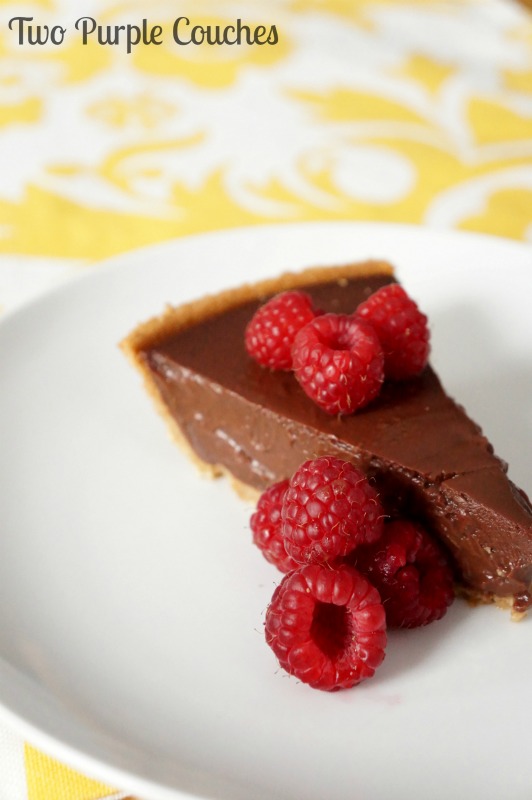 Dairy Free Chocolate Pudding Pie
Author:
Two Purple Couches
Delicious, decadent and dairy-free! This chocolate pie is perfect for those occasions that demand a chocolatey dessert.
Ingredients
1 pie crust, baked and cooled (can use traditional or graham cracker crust)
1½ cups sugar
¼ cup cornstarch
¼ tsp salt
3 cups vanilla almond milk
4 whole egg yolks
6½ oz bittersweet chocolate, finely chopped
2 tsp vanilla extract
2 tbsp butter
Instructions
Combine sugar, cornstarch and salt in a medium saucepan. Slowly stir or whisk together.
Add in almond milk and egg yolks and whisk together.
Over medium heat, begin stirring until mixture just begins to boil and thicken. Once it reaches a thickened, pudding-like consistency, remove from heat. Add in bittersweet chocolate, vanilla and butter, stirring until fully combined.
Pour pudding into pie crust and place in refrigerator to chill, uncovered, for at least 4 hours. If there is extra pudding mixture, spoon into small dishes and chill.
Adapted from ThePioneerWoman.com
Sharing with:  Something To Talk About / Outside the Box / Lou Lou Girls