Make their spirits brighter this Christmas season by hosting a cozy holiday movie marathon for your family complete with a hot cocoa bar!
On a cold winter's night, there's nothing better than staying in for a cozy holiday movie marathon, complete with plenty of soft blankets, sweet snacks and a hot cocoa bar with all the trimmings!
Thank you to Tuesday Morning for sponsoring this post. All content and opinions expressed here are my own.

One of my favorite Christmas traditions revolves around holiday movies. The rest of the year, I'm not big into movie watching. But at Christmastime, there's nothing I love more than cozying up on the couch under a warm blanket and settling in for a few classic Christmas movies.
When Tuesday Morning asked me to share how I get my home holiday-ready, my mind immediately went to our movie tradition. I couldn't wait to hunt for a few new cozy holiday pieces to help us kick off the season!
I was thrilled to find everything I needed for our holiday movie marathon—and then some—at my local Tuesday Morning, and for some amazing prices, too. From soft throws to holiday decorations to sweets and snacks, I had my cart filled in no time.
Here are my tips on how to host a cozy holiday movie marathon:
Set up a drinks and snacks station.
Having everything in one spot means people can help themselves. For your hot cocoa bar, set out different mixes for guests to pick their favorite flavor. Don't forget the mugs and yummy trimmings and toppings like peppermint and marshmallow stirrer sticks, candy canes and extra marshmallows!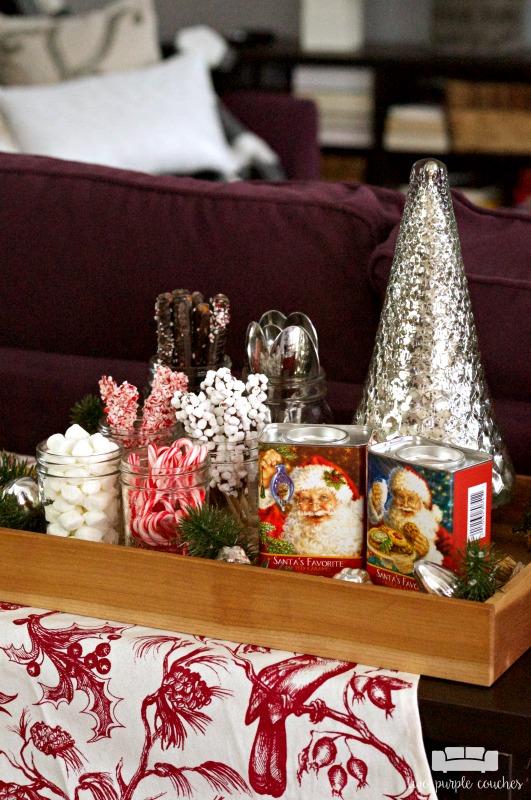 For our movie snacks, I opted for salty-sweet with dark chocolate pretzel rods and Moose Munch (yum!!). When I saw the ribbon candies and filled hard candies I had to grab a couple packages—these were sweets we always had at our Christmas parties when I was a kid.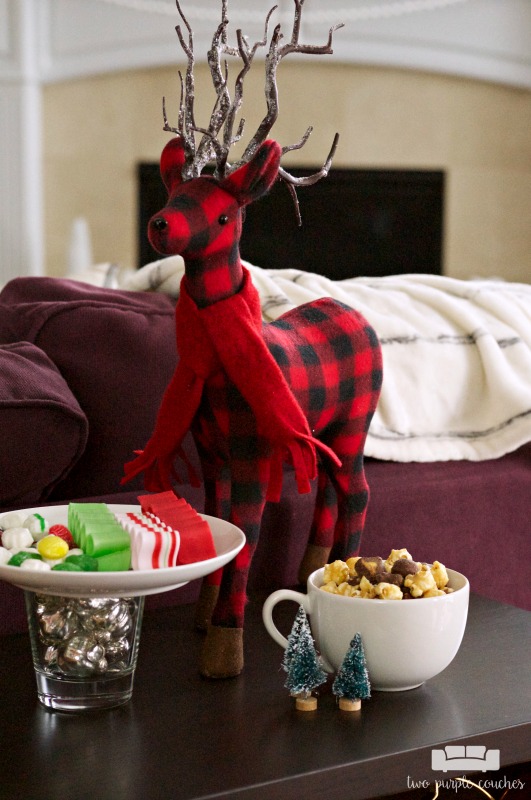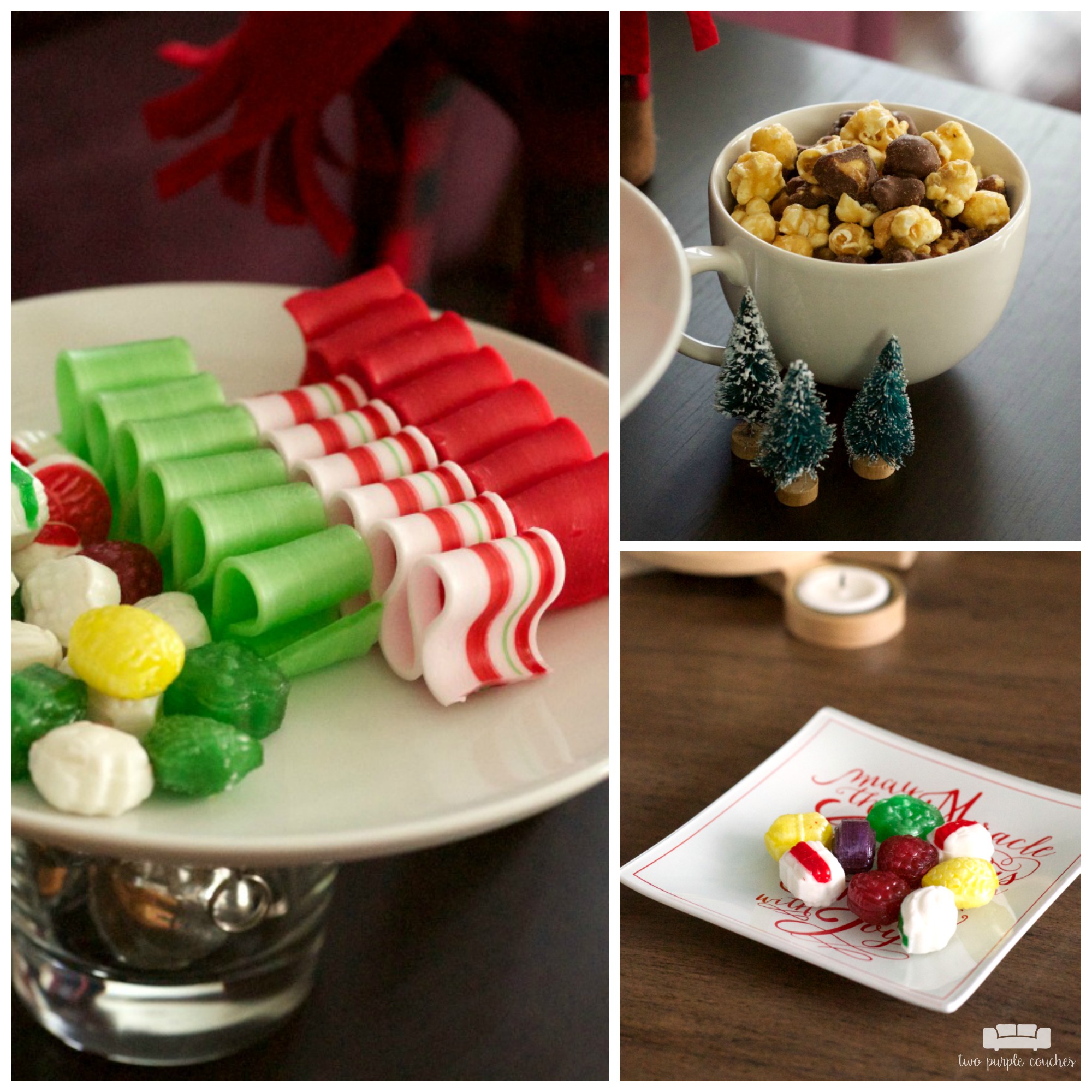 Serving tip: need to add height to a plate or platter? Simply fill a clear glass with miniature ornaments and set the plate on top!
Make it cozy with blankets and pillows.
Where we live in southwestern Ohio, it can get pretty chilly in the winter. I always tend to be cold anyway, so there is no shortage of soft and cozy throw blankets in our house! I couldn't resist this cream and grey striped option (with pom-pom trim!) and our pup Molly is smitten with it as well. I tried to move her off of it when I was snapping photos, but she hopped back on in no time! (Her sweater came from Tuesday Morning too – how cute is that!?)
Add festive holiday scents & decorations.
A scented candle and a few festive decorations like the mercury glass tree, miniature ornaments, reindeer and Christmas Pyramid put the finishing touches on our cozy holiday family room.
I was so thrilled to find a display of authentic German Christmas Pyramids at my local Tuesday Morning. I've been eyeing these for several years, but they are definitely an investment! When I saw Tuesday Morning had them for 50% off the sticker price, I placed one in my shopping cart as quickly as I could!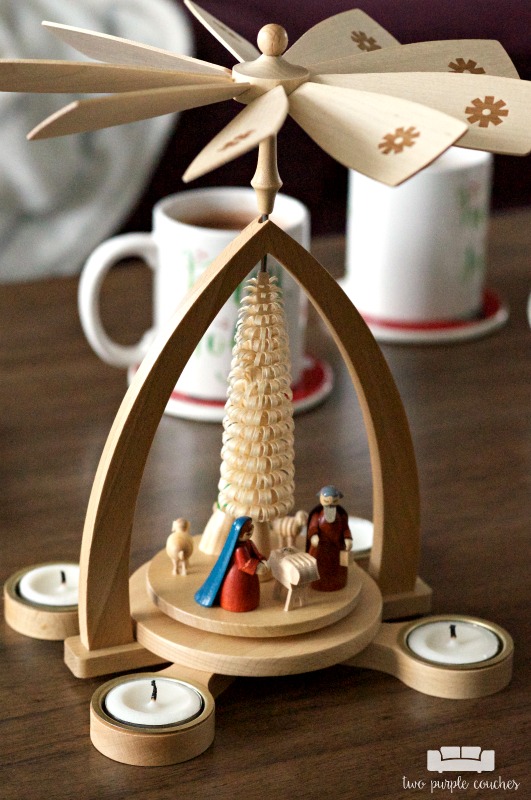 Now that I have our family room all set up for the holidays and our hot cocoa bar ready to go, I think it's time we settle in and get started on this movie marathon, don't you? If you need me today, I'll be snuggled right here with Molly. And if you pop into your local Tuesday Morning store, be sure to let me know what deals and goodies you find!