I thought I'd share one final post about our Kauai trip today – why we chose to stay at two different Kauai resorts during our stay on the island. It might seem a little strange to resort-hop on the same island, but we thought we could maximize our experience doing it this way. We enjoyed each resort for different reasons, and I'm glad we had the opportunity to check out these two popular spots!
Deciding on where to stay was undoubtedly the hardest part of planning our trip to Kauai. We read so many reviews on TripAdvisor (seriously, I think between the two of us, we read alllll the reviews) and solicited the opinions of friends who've traveled to Kauai before. We ultimately chose to split our week between Ko'a Kea and the Grand Hyatt Kauai. I think we made a great decision on both counts, but in case you're planning a trip and aren't sure where to stay, maybe my two cents will help you make a decision!
Ko'a Kea Hotel & Resort
We started our week in Kauai at the Ko'a Kea Hotel and Resort at Poipu Beach. Ko'a Kea is a laid-back, cozy resort that is just a short walk from Poipu Beach. The grounds are small, but beautiful, with a nice (rarely crowded during our stay) pool, hot tub, and lawn overlooking the ocean. They also have a couple gas fire pits on the lawn that were lit at night so could sit around the fire, enjoy a drink and listen to the waves crash into the shore. Our room at Ko'a Kea was very comfortable and I loved the modern decor, which I forgot to snap photos of—darn! We had a partial-ocean view room, with a balcony that overlooked the Marriott Vacation Club next door.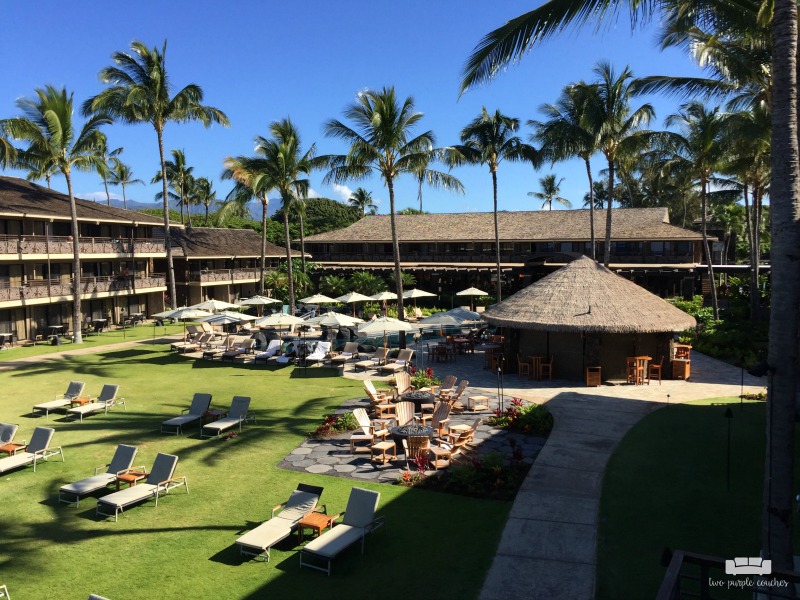 When we booked our stay at Ko'a Kea, we were able to take advantage of a deal they were running. We got our room for a reduced rate that also included a bottle of champagne and daily sit-down breakfast at their restaurant, Red Salt. Breakfast might be my favorite meal of the day, so this bonus made me pretty happy, plus their Pineapple-Lemon Souffle Pancakes are incredible! (You can read more about our favorite meals & restaurants in this post.)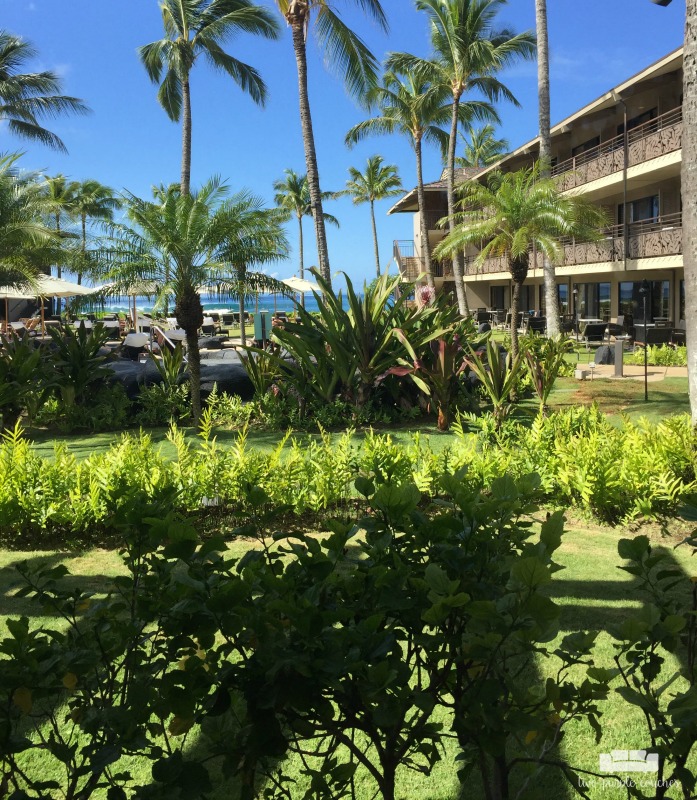 The staff at Ko'a Kea were so friendly and helpful. There was a rotating list of complimentary items in the lobby – coffee and tea in the morning, water, juice and even bowls of fresh fruit throughout the day. Our room was stocked with bottled water daily, and their turn-down service included chocolate and macadamia nut candies on our pillows!
I really loved our days at Ko'a Kea and was truly sad when check-out day came. The whole resort had a very calm, cozy, intimate vibe, and I felt relaxed the whole time. I don't know if it was due to the time of the year or not, but I the resort didn't seem booked to capacity, and from what I could tell, nearly all of the other guests were adults. Considering we were celebrating our anniversary, this was a very nice plus! I would definitely stay at Ko'a Kea again!
Grand Hyatt Kauai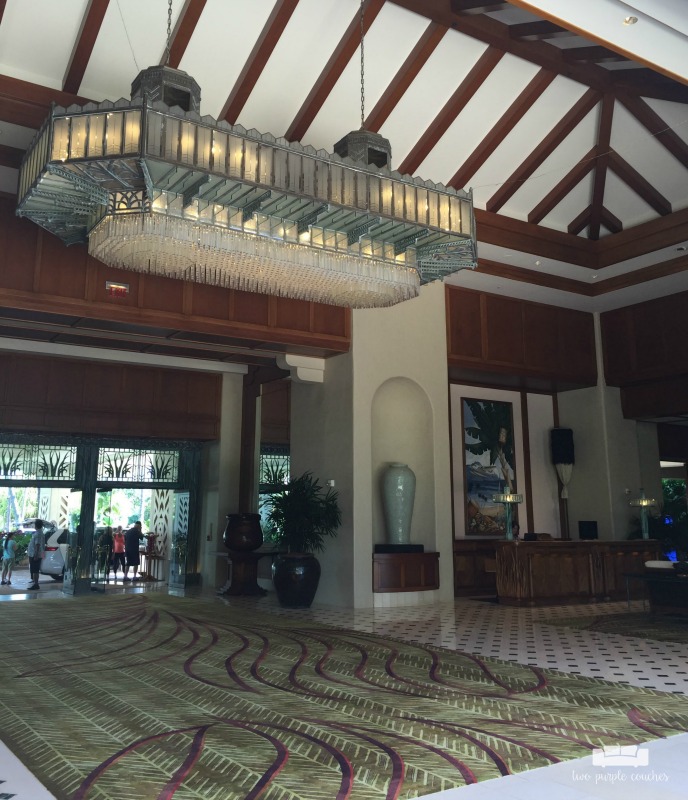 We spent the second-half of our trip at the Grand Hyatt Kauai, which is actually a very short drive, but a completely different experience, from Ko'a Kea. The Grand Hyatt Kauai Resort covers over 50 acres of land, which includes a sprawling hotel complex and spa, numerous restaurants, shops, multiple pools, a saltwater lagoon, a lazy river and a waterslide, to name a few! Our room was nice: we had a view of the gardens & mountains; the decor seemed slightly dated.
The grounds at the Grand Hyatt are absolutely gorgeous, with plenty of palm trees, tropical gardens, flowers, even a courtyard in the main lobby with parrots on display during the day. We enjoyed walking around the resort and taking in all of the beautiful scenery. There is also easy access to Shipwreck Beach and from there to the Maha'ulepu Heritage Trail that I mentioned in this post.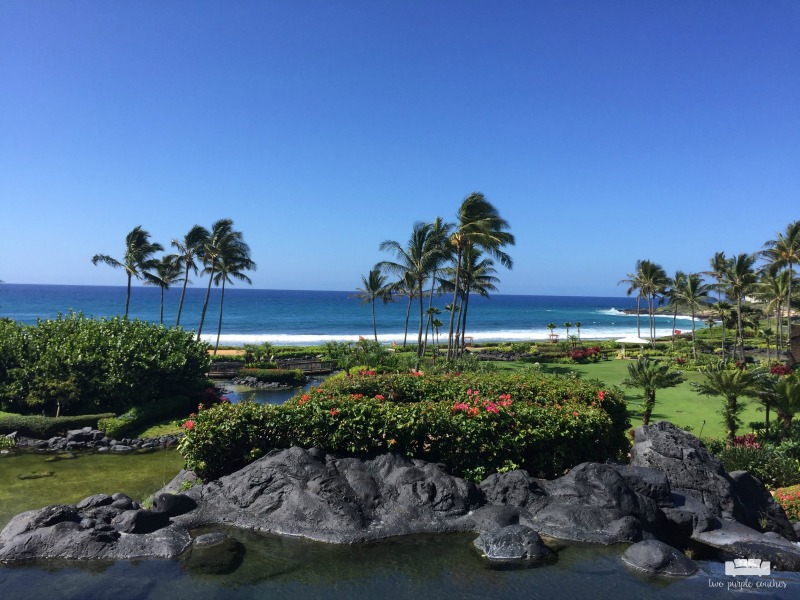 There was plenty to do around the Resort, including a luau offered two nights a week (not included in your stay). We spent a whole day enjoying the pools, lazy river and waterslide. (I will note, however, that inner tubes for the lazy river aren't included in your resort fee—you can rent or buy them from a desk near the pool. This was a bit disappointing, in my opinion.) One cool thing – the pools are open 24-hours a day, so if you fancy a swim late at night (or into the wee hours of the morning), go for it! We went swimming late one night and had pretty much the entire pool complex and hot tubs to ourselves!

One downside, in my opinion, is that the Grand Hyatt hosts countless conferences and corporate events. There were at least two multi-day events happening while we were there. Given the large size of the resort (I think there are something like 600 rooms), there are people and families everywhere. This reminded me a bit of staying at a Disney resort – there is plenty to see and do, and the grounds are impressive, but it's not necessarily calm and relaxing.
In retrospect, there are a couple things I wish we'd done differently. Given the hustle and bustle of the Grand Hyatt, I would've preferred to begin our trip there, and end it winding down at Ko'a Kea. Another thing—I wish the resorts had been on opposite sides of the island. Neither one of us looked at where the resorts were on a map until we arrived (oops!) I wish we'd split our trip between the South and North sides of the island. We only made it up to the North side for one day when we explored Princeville, Queen's Bath and Hanalei Bay. I would've liked a few days to explore those towns a bit more. But this is good to file away for our next trip (wink). 
As I've said in my previous Kauai posts, this was *the* most incredible trip we've taken, possibly ever! I'm so glad we got to see and do as many things as we did, and that we got to experience two different resort perspectives. I don't think you can make the wrong choice – any of the resorts on Kauai boast some pretty amazing views!
Have you traveled to Kauai before? Where did you stay during your visit?
Love this? Don't forget to pin it!