Every Spring, I look forward to planting our vegetable garden. And every Summer, I have to fight and fend off the hoards of deer in our neighborhood to reap what I've sown. I mean, the Bambis are cute and all, but do they have to eat my garden down to the stems? Thankfully, it seems that my monstrous zucchini plant isn't very palatable to deer, so I've been able to enjoy harvesting a few squash this summer. Which leads to all manner of zucchini-based recipes, and the one I'd really been wanting to try… Chocolate Chip Zucchini Cookies.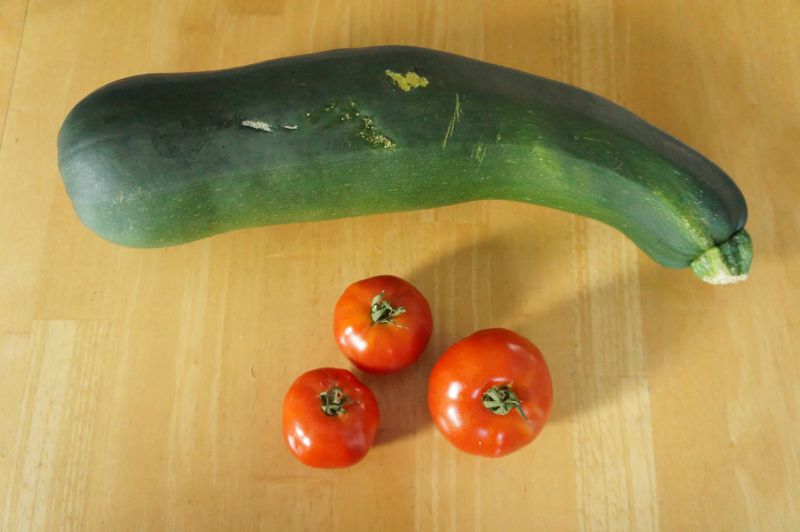 I may have left this particular squash on the vine too long. But no worries, because that means I have plenty of zucchini to bake with!
The base for my chocolate chip zucchini cookies recipe comes from my mom. I grew up eating loads of homemade zucchini breads and cookies. Now I love that I can make these familiar recipes using ingredients grown in my back yard (well, technically, side yard, but who's checking?).
I followed her recipe to the letter but swapped out 2/3 cup of raisins and 2/3 cup of chopped nuts for 1 cup chocolate chips instead. These cookies are quite tasty with raisins and nuts, but I've been in a chocolate chip cookie mood. And when the chocolate chip cookie monster strikes, you gotta give in!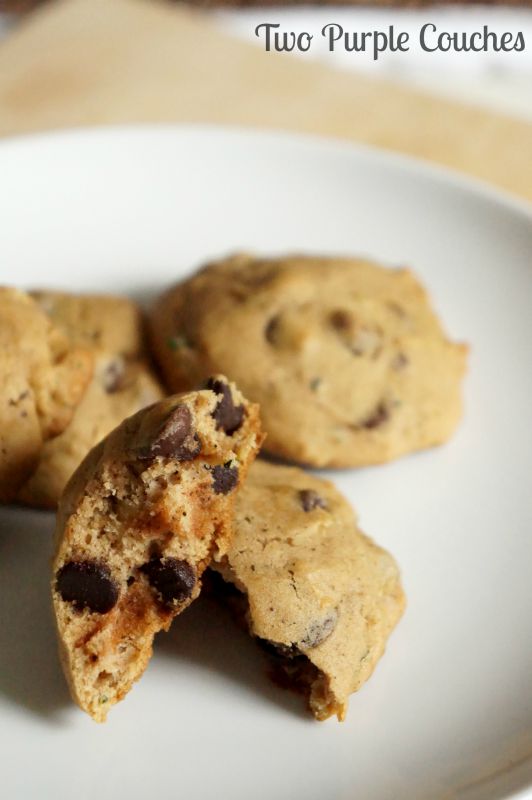 Oh, and guys? Tom and I can barely keep our hands out of the cookie jar. These are THAT GOOD. If you prefer your cookies to be moist, airy and cake-like, then boy-oh-boy you need to make this recipe pronto! You will not be disappointed, promise!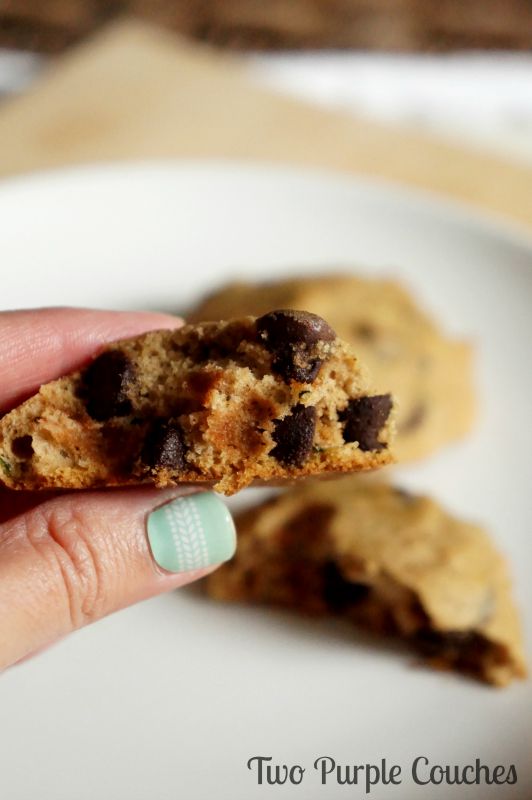 Now, I'll just be on my way to the kitchen for a little snack…
Sharing with: You Link It, We Make It
Chocolate Chip Zucchini Cookies
Author:
Two Purple Couches
Incredibly moist and cake-like, these chocolate chip zucchini cookies are sure to please any cookie lover!
Ingredients
1 stick butter, softened
1 egg
1 tsp vanilla
1 cup shredded zucchini
1 cup brown sugar
2 cups flour
1 tsp baking soda
1 tsp cinnamon
½ tsp ground cloves
½ tsp salt
1 cup semi-sweet chocolate chips
Instructions
Cream butter and brown sugar. Beat in egg and vanilla. Add zucchini and beat well.
In a separate bowl, combine flour, baking soda, cinnamon, cloves and salt. Gradually add to zucchini mixture. Add chocolate chips.
Spoon onto a greased baking sheet.
Bake 10 or 11 minutes at 375.