My mother has been making this Black Bean Soup recipe for as long as I can remember. We'd often have soup-and-sandwiches night for dinner; Mom and Dad would enjoy this soup served in her blue stoneware soup crocks, and I'd opt for something else, like Campbell's tomato soup or clam chowder. Black beans weren't exactly top on my favorite foods list when I was 10. (wink)
Honestly, I'd kind of forgotten about this recipe until my mom mentioned making it recently. Tom and I eat a lot of beans and bean-based recipes, one of my favorites being black bean burgers, so I knew I had to give this recipe a go as an adult. Tastes change, right?
I'm glad I did, because this soup is full of flavor. If you're like me and don't fully read the cooking instructions on dry beans, you may want to use canned beans. But if you pay attention to detail and have time to soak and slow-cook dry beans, then go for it. Otherwise, you'll end up with hard, crunchy beans. Ask me how I know.
This recipe makes up a really nice-sized batch of soup, which is perfect for lunches throughout the week, or even for a party if you know your guests like black beans!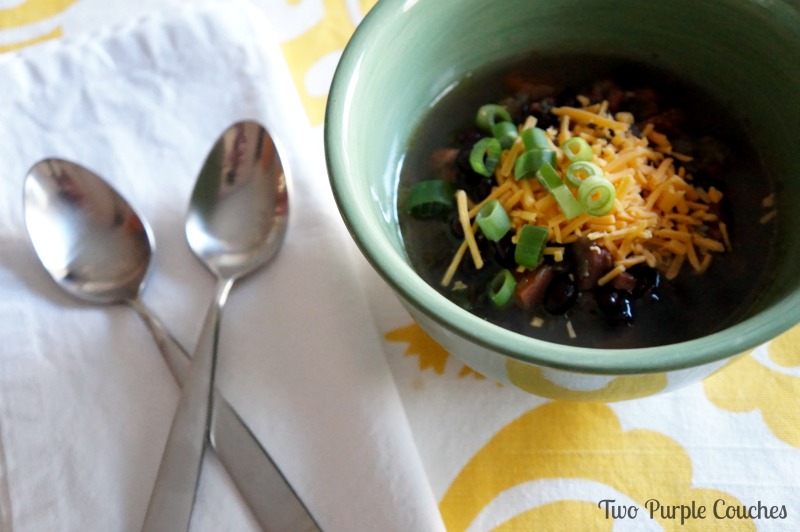 I topped my bowl of soup with shredded cheddar cheese and green onions, but a dollop of sour cream, chopped chives or cilantro, or slices of avocado would also taste amazing!

Black Bean Soup Recipe
Author:
Two Purple Couches
Recipe type:
One Pot Meals
This flavorful soup makes a great meal anytime of the year, but especially on cold, wintry days.
Ingredients
2 cups dry black beans
8 cups cold water
¼ cup olive oil
3 medium onions, chopped
1 clove garlic, chopped
2 carrots, coarsely chopped
2 celery stalks, coarsely chopped
1 ham hock, pork butt or 8oz diced ham
2 tbsp parsley
2 bay leaves
1 tbsp cumin
½ tsp salt
½ tsp pepper
⅔ cup cooking sherry
Instructions
Soak beans overnight—water just to cover.
Drain, then add beans and 8 cups of cold water to a soup pot and cook on low heat until soft, about 1 hour.
In a skillet, saute onions and garlic in oil. Add carrots, celery and parsley and saute for 3 minutes.
Add to soup along with the rest of the ingredients, except for the cooking sherry.
Cook on low for 3 hours. Add water if necessary.
Remove ham hock from pot and cut into small pieces. Return ham to pot with sherry and cook until heated through.
Serve with toppings like shredded cheddar cheese, sour cream, chopped onions, chopped cilantro and sliced avocado.
Did this recipe get your mouth watering? Then you might also like:
Sharing with: Lou Lou Girls