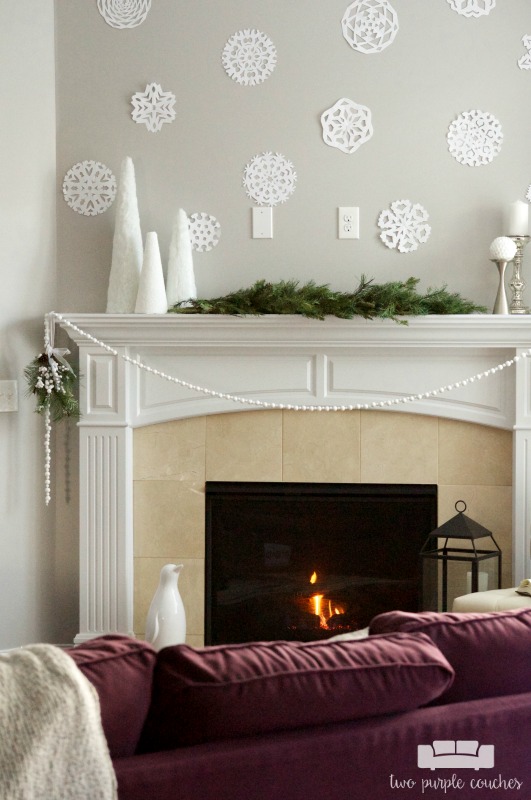 Does anyone else dread the day their Christmas decorations come down? I always loathe packing them away and trying to figure out what to display in their places. Last year was the first year I created a winter-themed mantel, and I loved it (you can see it here). The soft transition from holidays to snowy winter days was so nice, and I decided to do the same this year. I'm also teaming up with a bunch of my blog friends and we're each sharing a winter home tour today! So grab a warm beverage and cozy up!
Many thanks to my friend Amy of My Life from Home for organizing and hosting this winter home tour!
I'll be giving you a tour around our wintry-fied (is that a word?) family room today. I contemplated doing a few more spaces, and I don't know about you, but I've been having the hardest time getting motivated these last few weeks. Our weather has been a steady stream of grey, overcast days. Many have also included rain. And on days like that, it's about all I can do to pull myself out of bed in the morning and get laundry and cleaning done, much less re-decorate our whole first floor. Anyway, enough rambling. Let's take a look around!
If you remember last year's winter mantel, or even my mantel decor from this past Christmas, you'll know that I love using our paper snowflakes. Tom and I cut them out ourselves several years ago, and I am loving how versatile they are for holidays and seasonal decorating! Plus, they're easy to replace if one gets ripped or crumpled!
All I've wanted to do since the days after Christmas is curl up by the fire and read. And have I spent a day or two doing this yet? Of course not!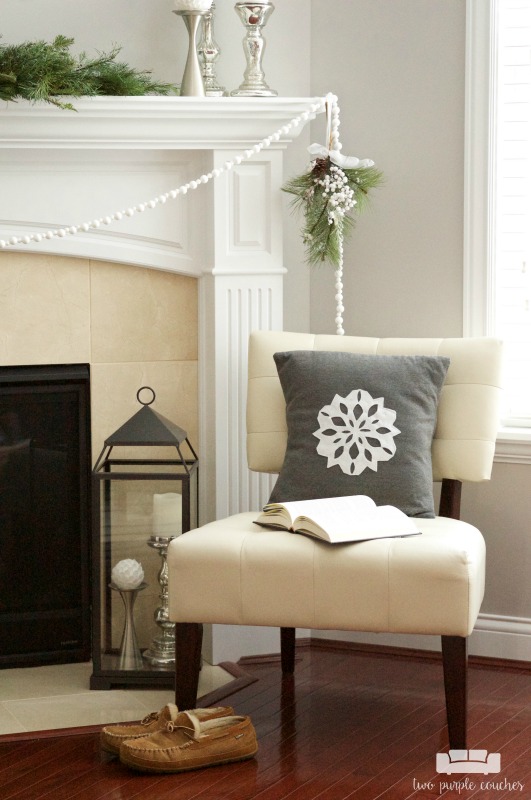 I brought a wood serving tray back to our coffee table. I was a little concerned about the wood-on-wood look wouldn't look right, but I think they work fine together.
A few books (that maybe I'll sit down to read one of these day!), modern geometric ornaments that I held back from packing away, and a white ceramic owl vase filled with discounted grocery store flowers add some color and personality to my coffee table. I whole-heartedly believe that fresh flowers belong on display year-round. The pop of color is so welcome at this time of the year!—plus, you gotta check the discount bin (if your grocery has one). I got a large bouquet for under $10 that I was able to split into two smaller vases.
The silver antlers were held back from Christmas as well. I'd display antlers any time of the year, but for some reason, they seem like a perfect symbol of winter to me!
Our bar shelf is still sporting this small potted fir. It's still going strong, and I like the burst of bright green. I probably could've removed the silver ornaments, but they do give it some extra sparkle 😉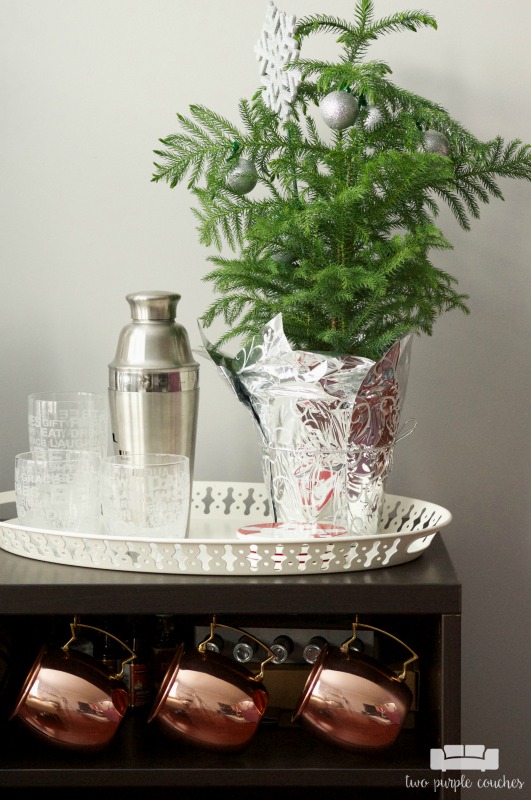 Despite having had temperatures around the 60-degree mark recently, I swapped out our holiday pillows for these S-N-O-W pillows I made a few years ago. I am hoping the weather will get the hint! If it's going to be grey and cloudy, could we at least get some snow out of those clouds?? You can find my tutorial for these pillows right here.
Love this? Don't forget to pin it!
Sharing with: Moonlight & Mason Jars,  Create Link Inspire
Winter Home Tour Blog Hop
Thanks for joining me for my winter home tour! There are even more winter decorating ideas and inspiration to be found below…