Reading books has always been one of my favorite things, a vital part of my life. When I was a kid, I would leave a book in every room, so I always had something to read no matter where I was in the house. My mom always wondered how I kept 3 stores straight at once! I am still a lover of books, though I don't make as much time for reading as I used to. I am also a lover of book-related projects, and today I'm sharing one of the easiest book-related projects ever: washi tape bookmarks.
I am always grabbing random scraps of paper or even business cards to use as bookmarks. Which is kind of funny because I actually had a bookmark collection when I was a kid. No idea what happened to all of them, but I won't be surprised if I find them still holding my place in some of my favorite childhood books.
As I was organizing paper in my new craft room, I came across tons of scraps of card stock. I hate recycling bits of paper that could maybe, possibly be used for something later, so I tend to shove them in drawers but then forget about them. Not anymore! I am going to check my scrap stash more often and find ways to utilize them, starting with these easy washi tape bookmarks.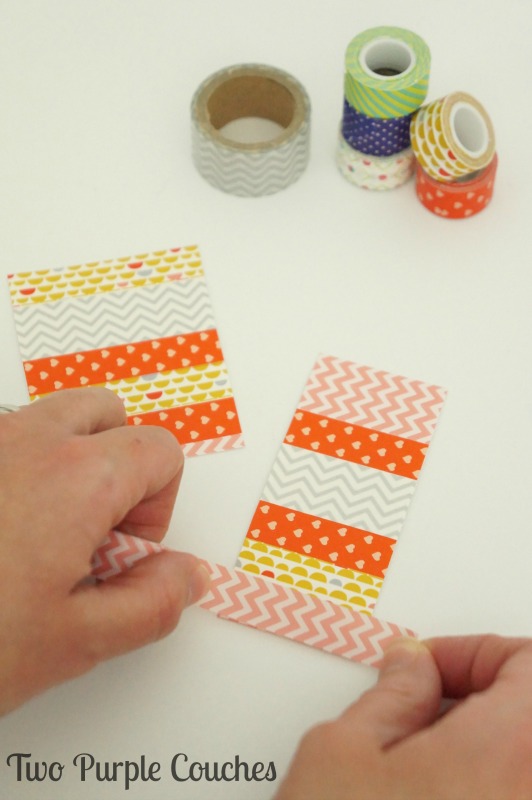 I don't even think you can call this a tutorial. All you have to do is add washi tape to card stock or construction paper. You could actually stop here, but I went one step further an used a sharp craft knife to cut a "V" slit so my bookmarks will slip right over the page.
Washi tape is my favorite craft supply because of its versatility. Even with a simple project like this, you can have some fun and add some style: layer different colors and patterns for a unique bookmark, or keep it simple with just one color or pattern.
These washi tape bookmarks would make great Valentine's – simply add a message to the back (mark my words, Valentine – you're the greatest!) You could also make up a bunch to use as gift toppers or easy party favors.
Are you a book lover? What are you reading right now?